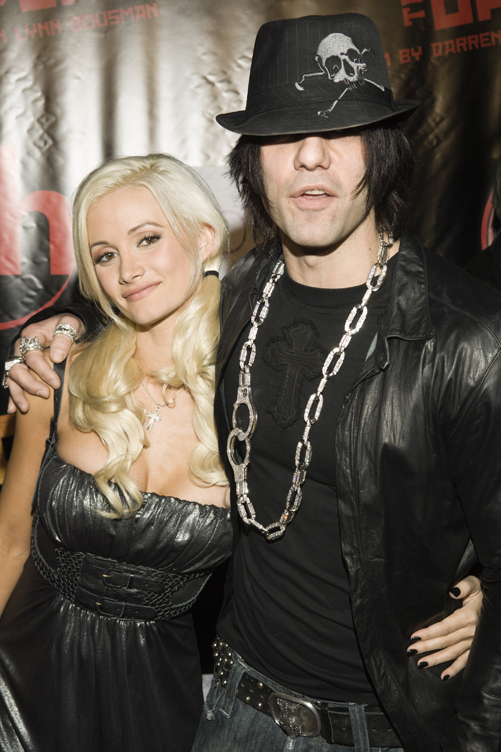 Holly Madison is no good at getting guys to propose to her. She spent years by Hugh Hefner's side, itching for marriage. After way too long she finally wised up – only to land herself with another guy who doesn't seem interested in popping the question. Holly recently told Us Magazine that she'll propose to boyfriend Criss Angel – but only after he agrees to wear the paper ring she made him.
Things are getting serious between illusionist Criss Angel and Holly Madison, but don't expect him to pop the question any time soon.

"I actually made Criss a paper ring, but he won't wear it," Madison, 28, told Usmagazine.com at Las Vegas club LAX on Friday. "When he starts wearing his paper ring, I will be the one to propose."

Added Angel: "You know, what Holly and I have is really something that money can't buy. She is enough for me."

In between passionate kisses, the couple — who were celebrating joint birthdays – Angel turned 41 on Friday – while Madison turns 29 on Dec. 23. – opened up about their Christmas plans.

"I am getting him all snowboarding stuff. But I'm not supposed to tell you that!" Madison whispered to Us.
[From Us Weekly]
It's hard to tell if that thing about the paper ring is some inside joke/pretend fight between the two of them or if Criss really doesn't want to wear it, and Holly's saying she'd propose to him if he puts it on in a "when hell freezes over" sense. But they seem pretty into each other and happy, so it's probably more of a joke.
The pair are – not surprisingly –spending New Year's in Vegas as well. In fact they don't ever seem to leave. Lest you think it'll be a romantic night for them, they've managed to make sure that doesn't happen – by inviting their parents along. Holly noted that it'll be the first time they all meet, which sure sounds like they're getting serious with each other. I'm guessing a non-paper ring will probably be in the works in short order.
Here's Holly, still doing her Playboy duties with Kendra Wilkinson and Bridget Marquardt, launching their new book "The Girls Next Door" at the Forum Shops at Caesars Palace in Las Vegas on December 20, 2008. Images thanks to PR Photos. Header at the premiere of "REPO! The Genetic Opera" in Las Vegas on November 7th. Image thanks to Splash.