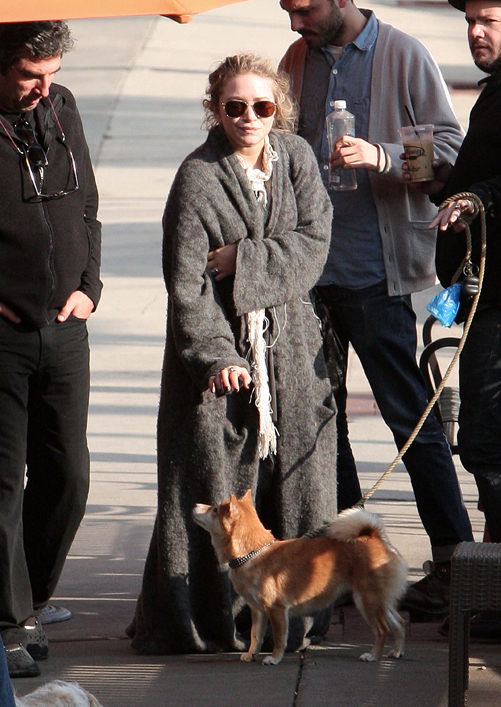 Mary-Kate Olsen appreciates the advantages of the recession. While the rest of us are panicking and stashing our cash in our mattresses, uber-wealthy Mary-Kate is looking at the bright side of things. How? Well all the sales on luxury goods of course! Instead of spending $42,000 for that fancy ostrich skin Berkin bag, Mary-Kate can get it for a paltry $35,000. Who said the economy is all doom and gloom?
MARY-Kate Olsen has found the silver lining in the recession. A Page Six spy, who recently shared an elevator at Barneys with the diminutive actress, reports Olsen was excited about all the discounted merchandise for the taking. "It's really sad – the recession is everywhere. But at least they are having good sales," said Olsen, who pointed to her hat. "That's where I got this! The recession!" Olsen ogled a $410 menorah and pillows and throws for her bed, but didn't buy them.
[From Page Six]
I love that Mary-Kate thinks the recession is a place. "That's where I got this! The recession!" She makes it sound like it's that store around the corner. On the one hand, it's sort of annoying to hear someone so wealthy talk about the recession in terms of the material stuff she can buy for less.
On the other hand, considering how much they're worth, the Olsen twins could singlehandedly shop the country out of a recession. So it's probably not prudent to actually chide Mary-Kate for mildly insensitive comments – the more tacky clothes and giant sunglasses the Olsen twins buy, the better for the economy. Now if only we could convince them to start snatching up real estate and Detroit-built cars, we'd be all set.
Here's Mary Kate Olsen leaving a cafe in Los Angeles dressed in what looks like a blanket on December 20th. Images thanks to Splash.