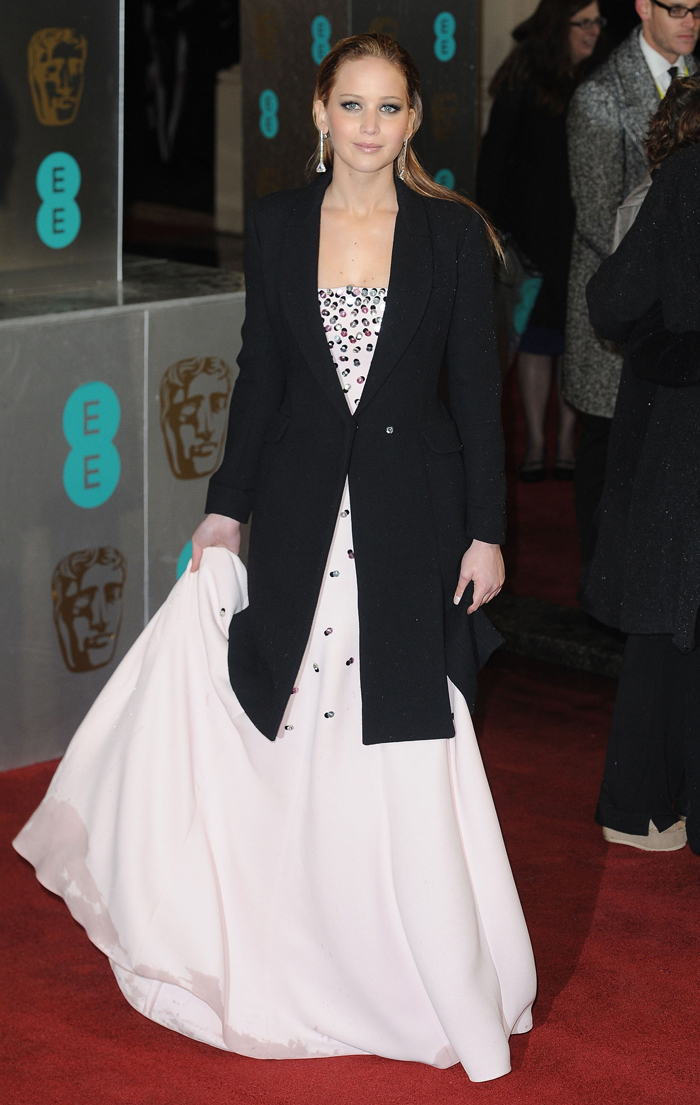 Jennifer Lawrence wore Dior at last night's BAFTAs event in London, but you couldn't tell at first because of the long, black overcoat she wore on the red carpet last night. She's technically still recovering from walking pneumonia, so I can't blame her for covering up on such a chilly, rainy night even if it messes up our agency photos somewhat. Once inside, JLaw removed that black monstrosity to reveal a very pretty, soft pink Christian Dior couture gown that held up quite nicely despite getting somewhat soaked in the rain. Jennifer is now one of the faces for Dior, so it makes sense that she's wearing a lot of the label's designs lately. This dress is quite lovely in a princessy sort of way, and the gown sparkled with an endless stream of iridescent sequins that managed to dazzle while not falling into the tacky department like sequins often do.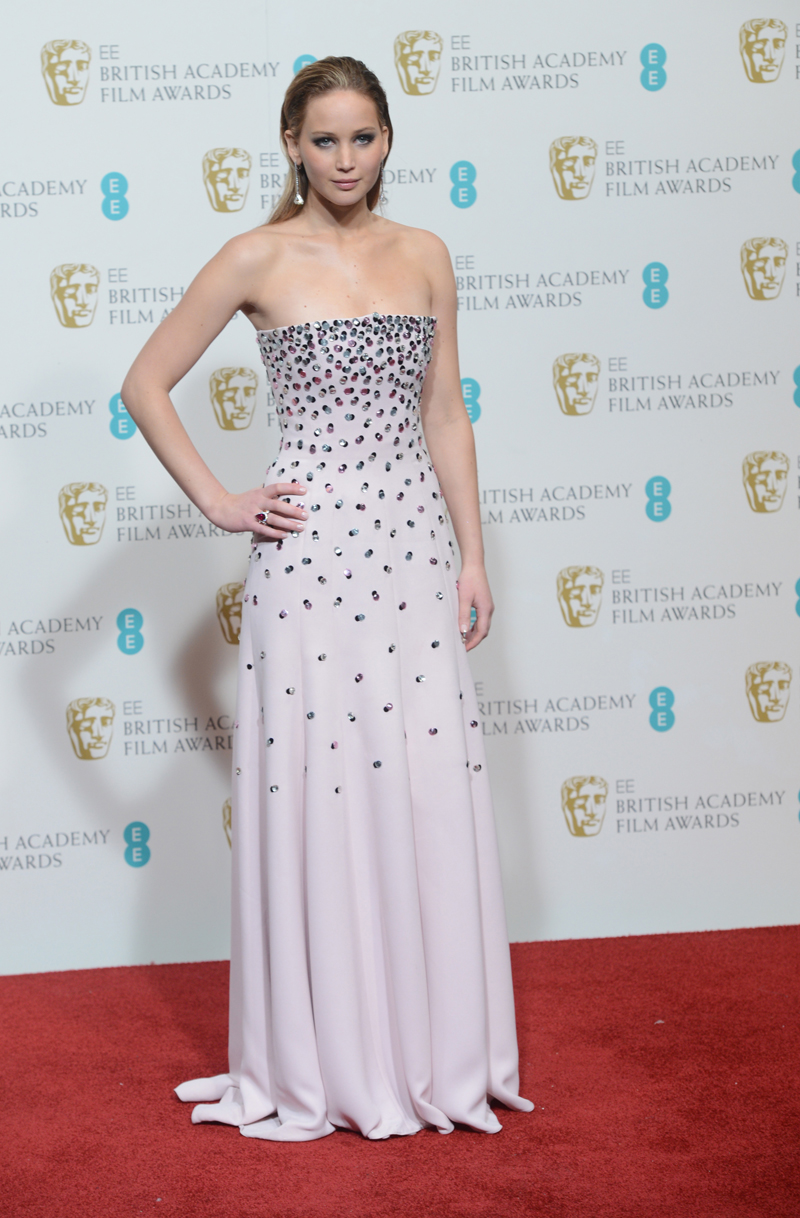 Jennifer stuck with simple for the rest of her look with pendant diamond earrings, and her hair and makeup were similarly simple with swept back hair and a slightly smoky eye to add some impact. The total effect, while gorgeous, left Jennifer looking quite washed out (not to mention tired) and unlike her usual vivacious self. She probably IS tired — it's been a very long awards season for her, and she's experienced recent illness and the end of a long-term relationship. JLaw needs a nice long nap. Oddly enough, Jennifer did not win the Leading Actress awards as expected. Emmaneulle Riva, age 85, pulled an upset for Best Actress for her performance in Amour! Emmaneulle wasn't even there to accept the award so hot Jeremy Renner did it for her.
Here's Jennifer in the press room with Quentin Tarantino, who won for Best Original Screenplay. He totally deserves that award! He and Christoph Waltz (who won for Best Supporting Actor) make quite the director-actor team. In fact, I think Christoph is QT's new muse. Hey, can you imagine if JLaw starred in a Tarantino movie? Honestly and as much as I love her and QT, I just can't see that happening.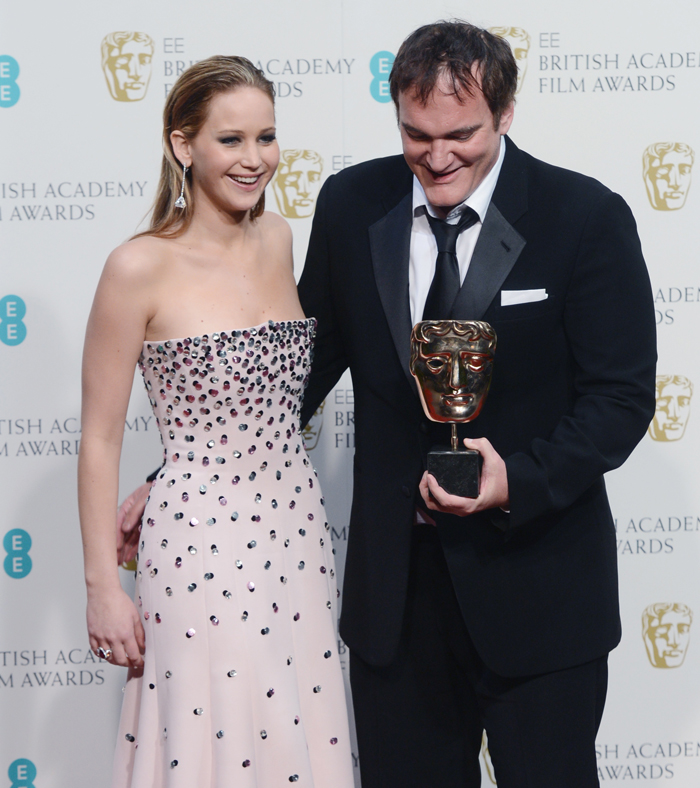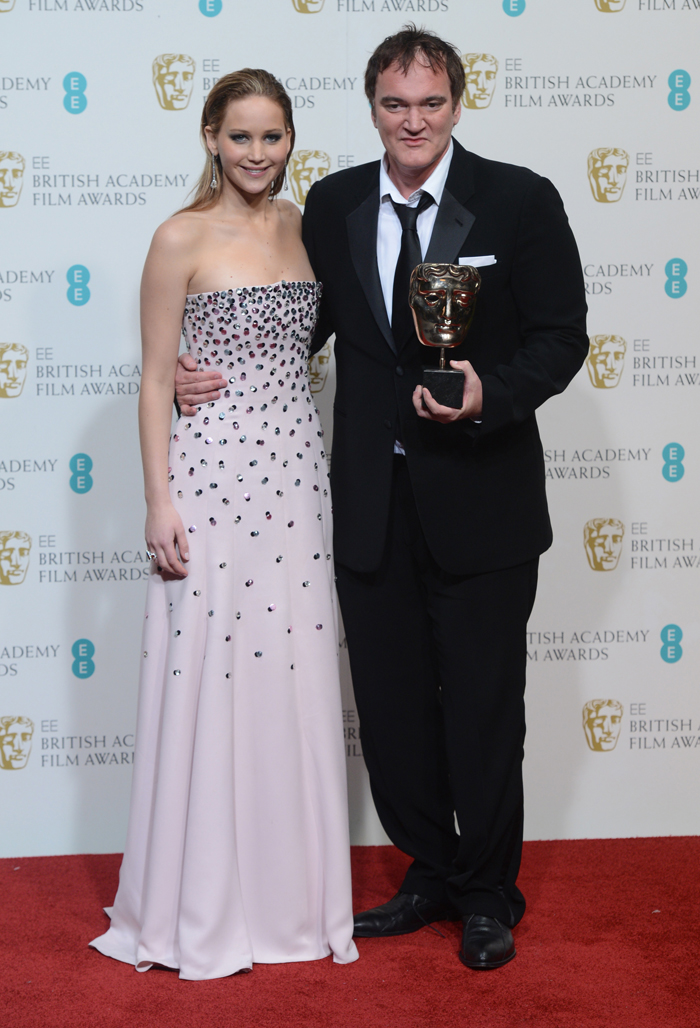 On Saturday evening in London, Jennifer stepped out for dinner in this orange-red dress. It's kind of cute, right? She looks so sleepy and jet-lagged though. Perhaps that excuses her damn near upskirt incident with the paps below. Luckily, she didn't do the full Hathaway, otherwise this year's Oscars race would be developing quite the pervy theme.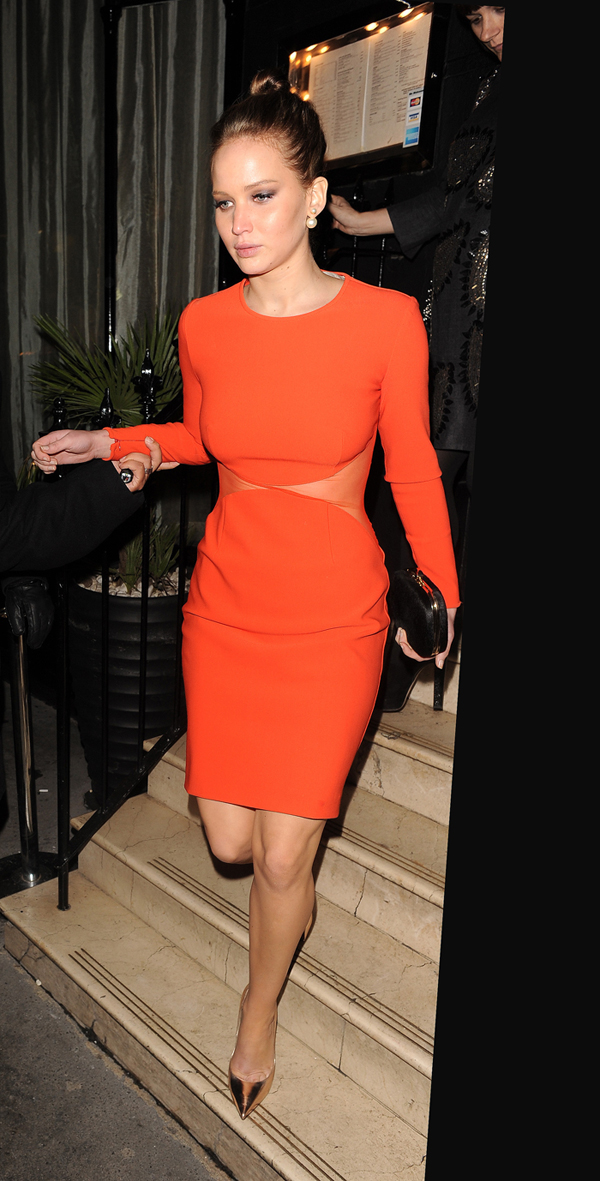 Photos courtesy of Fame/Flynet, Pacific Coast News, and WENN