I'm a Water.org donor/subscriber, so I got this announcement yesterday and wondered if anyone would be interested in it. It's a very clever way to get press and attention for Damon's charity. I personally will watch anything Matt Damon does so I thought this was awesome, but I recognize that I'm an irrational fan girl. Damon's charity Water.org brings fresh water and plumbing to rural third world communities around the globe. To raise awareness for World Water Day on March 22, Damon staged a phony press conference with actors playing journalists in which he emphasizes that we take toilets for granted. He also vows to strike from using the toilet, and to stop going number one and two entirely. It's clearly in jest but the bit is kind of hilarious as the actor/journalists give him crap and he gives it right back. Mad righteous Matt Damon is the best. Here's more and you can learn more about the cause on StrikeWithMe.org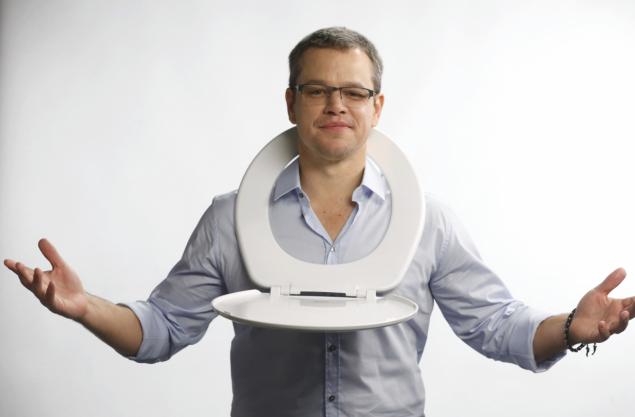 Matt Damon is on an extended bathroom break.

"The Rainmaker" star declares he will not go No. 1 or 2 until everyone in this world has access to clean water and sanitation.

"In protest of this global tragedy, until this issue is resolved, until everybody has access to clean water and sanitation, I will not go to the bathroom," the actor professed in a comedic video intended to shed light on the 2.5 billion people around the world who lack access to these essential elements.

In an effort to draw attention to this serious issue, Damon approached it in a funny way, hoping the video will go viral and get a conversation started.

"Does anybody have any idea what invention has saved more lives than any other in the history of humankind?" the 42-year-old actor asked a room of "reporters," "The toilet."

Damon is the co-founder of Water.org, a nonprofit that has transformed hundreds of communities in Africa, South Asia, and Central America by providing access to safe water and sanitation.
I'm glad that Damon finally stepped up to really promote Water.org. I think he was trying to let the cause speak for itself for a while, but realized that he could use his celebrity to bring a lot more awareness. (Water.org's Flickr is here if you'd like to see more of their work.)
Also, I got excited when I recognized some of the actors in that fake press conference video, particularly the dude who played the harmless gay vampire on "True Blood" and the crazy judge on "Justified," Stephen Root, (he's on at 2:30) and Lamorne Morris from "New Girl."
Damon also did a related interview with YouTube stars "Live Prude Girls." This made me laugh out loud several times and I need to include it here:
Here are some cute pictures of Damon with his lucky wife, Luciana, at the Naeem Khan show at Fashion Week in NY yesterday. Luciana looks hot in those leather pants.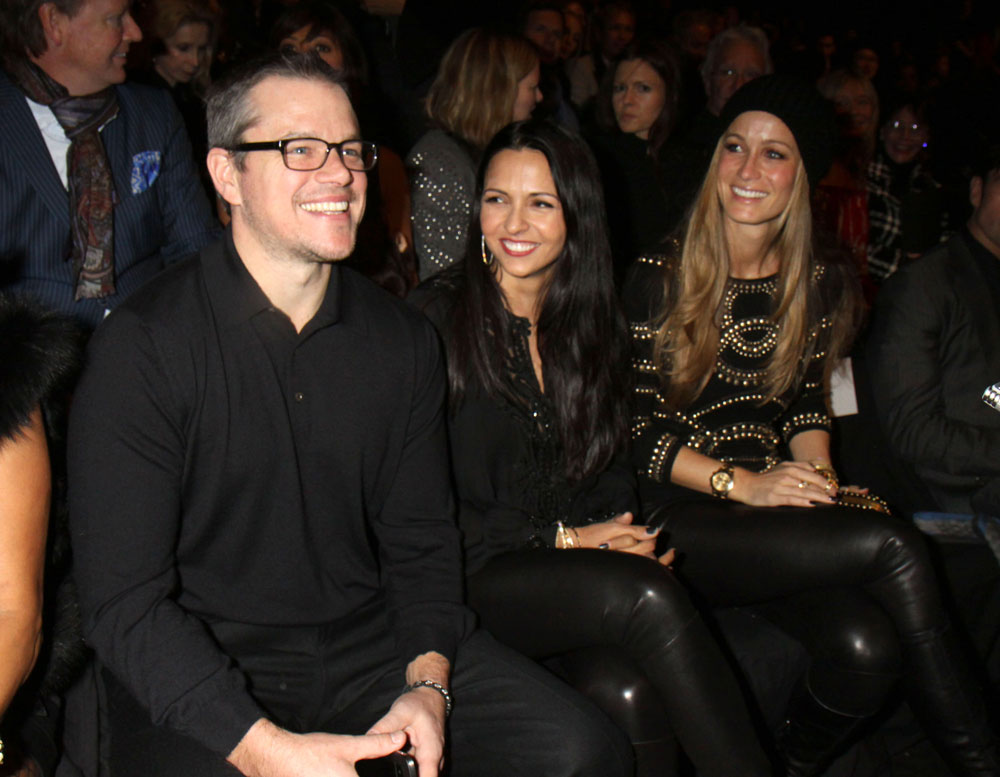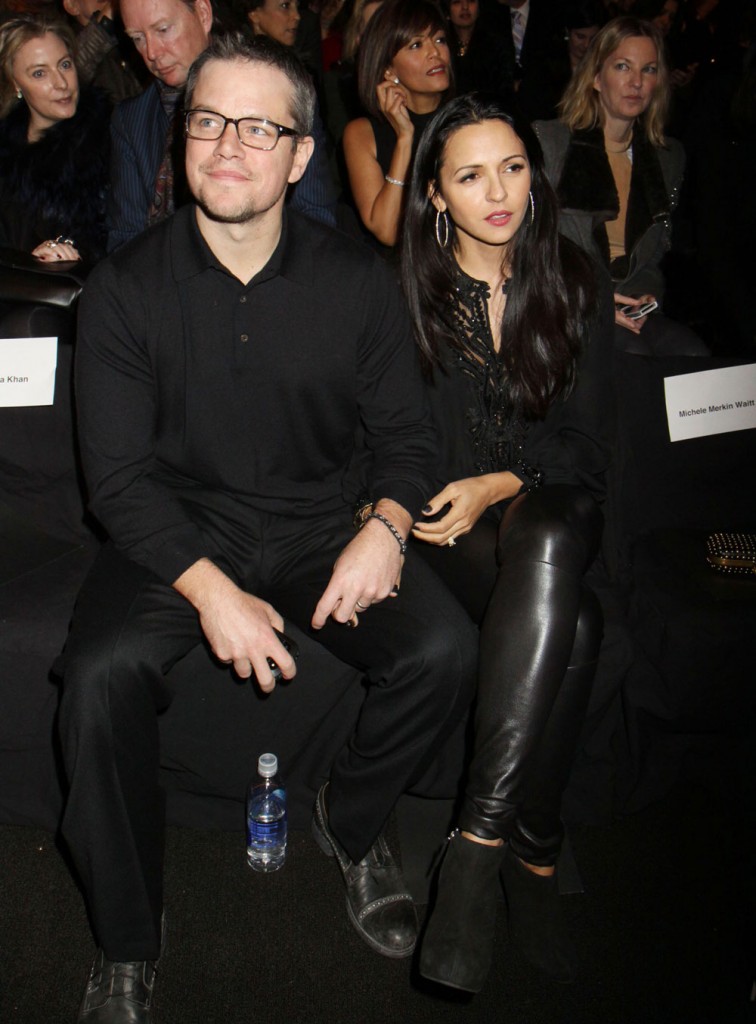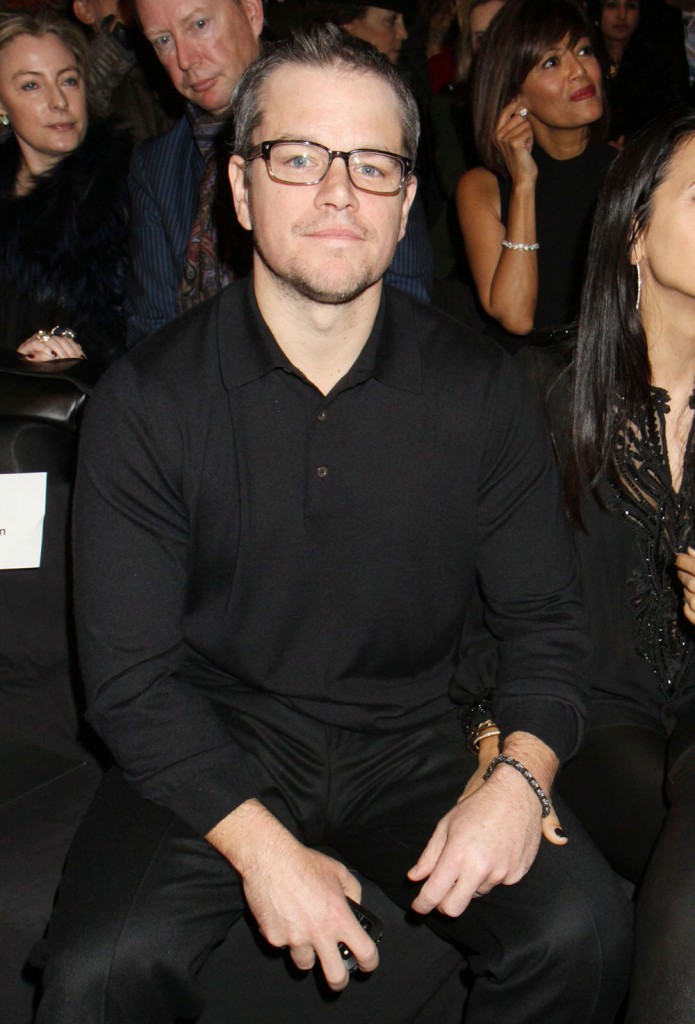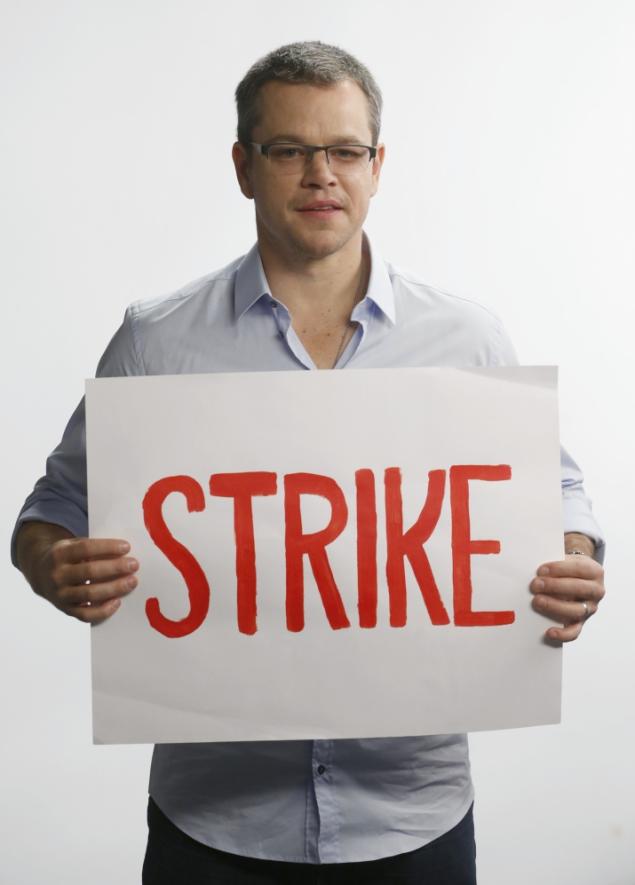 Photo credit: FameFlynet and Water.org