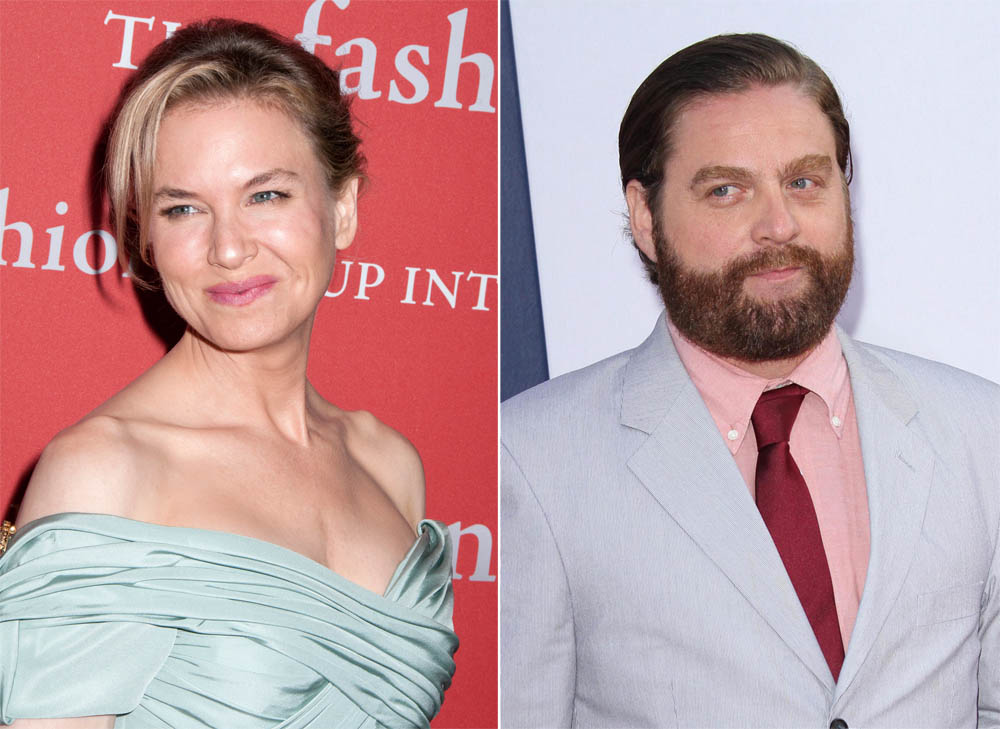 I really love this story, because it's about celebrities doing a good deed together nearly two years ago, and for nearly two years straight, without a leak to the press until now. (I couldn't do justice to this story in the title as there's not enough space!) You get the sense that these two did this out of the goodness of their hearts and that they never expected the news to get out. So Renee Zellweger and Zach Galifianakis live in the same neighborhood in Santa Monica, and there's a homeless woman who works at a local laundromat. (I doubt these two do their laundry in a public place, but they might, these are two celebrities who I could believe would do that and not think they're slumming.) Anyway they were really upset to learn that this lady is homeless, and according to Star Magazine Zach made sure he got her an apartment, which he's paid the rent and utilities on for over two years. His friend Renee Zellweger furnished the apartment and makes sure the lady has food in her fridge. This is getting me teared up!
Zach Galifianakis and Renee Zellweger have come to the rescue of one very lucky lady in Los Angeles. According to a source, Zach and Renee teamed up to take care of a homeless woman living in their neighborhood. "Zach befriended an elderly woman named Mimi, who worked at Fox Coin Laundry in Santa Monica," a source tells Star. And when the Hangover funnyman learned that Mimi had no home or family, Zach took action! "It just broke his heart, so he decided to rent an apartment for her – and he has been covering her rent and utilities for two years now," says the tipster, adding that fellow fluff-and-fold patron Renee wanted to help too, so "she furnished the apartment and makes sure that Mimi always has food in her fridge."
[From Star Magazine, print edition, February 28, 2013]
This is so nice! We've heard several stories of Renee doing random acts of kindness, and I bet that she does it way more than we hear about. Plus Zach just seems like a decent guy. Again, the reason this story touches me so much is that it's not just someone writing a check. Renee is visiting this lady and bringing her groceries while Zach is paying all her utilities and her rent every month. It's really amazing.
Update! I found an interview with Mimi. Some reviews of Fox Coin Laundry say she's in her late 80s.