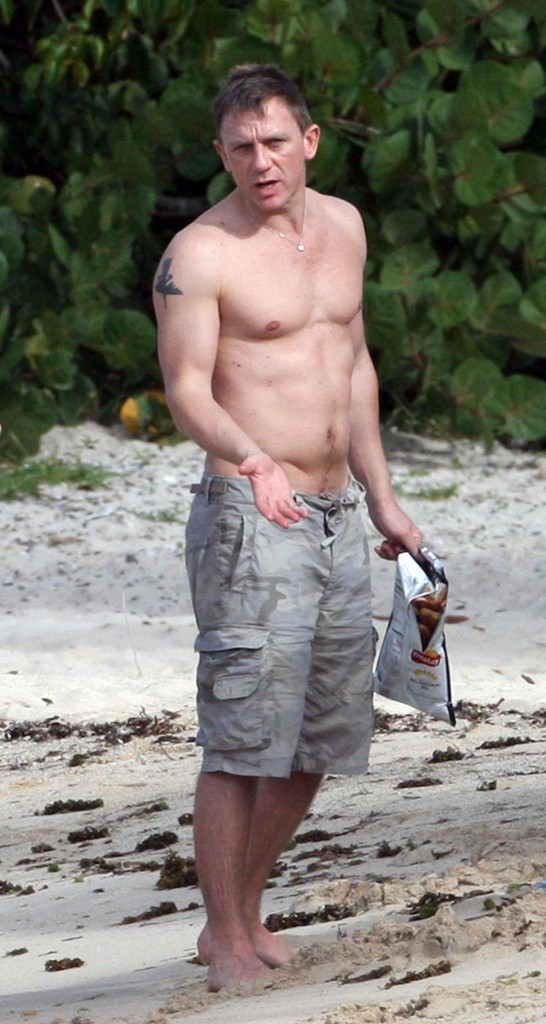 Daniel Craig, his girlfriend Satsuki Mitchell and some friends were photographed relaxing on the beach in St. Barths yesterday. Several agencies have these photos and they're pretty clear and close up so I suspect the photo opportunity was set up ahead of time by the actor.
Craig was seen drinking a beer and eating a bag of Ruffles potato chips with his friends. In some shots they're smiling and looking at the camera as they eat the chips like they're in a commercial. It could just be some friends hanging out and hamming it up for the cameras, but the fact that Craig was carrying a bag of Lays around makes me suspicious. We don't get a lot of shirtless photos of Craig and these just seem too good to be true. I'll take them though, even if it is an ad for Frito-Lay, which just happens to put out both Ruffles and Lays, the brands that are clearly shown in these photos.
First 7 chip-eating photos credit: Splash News Online. Last photos credit: TRB/Fame Pictures.