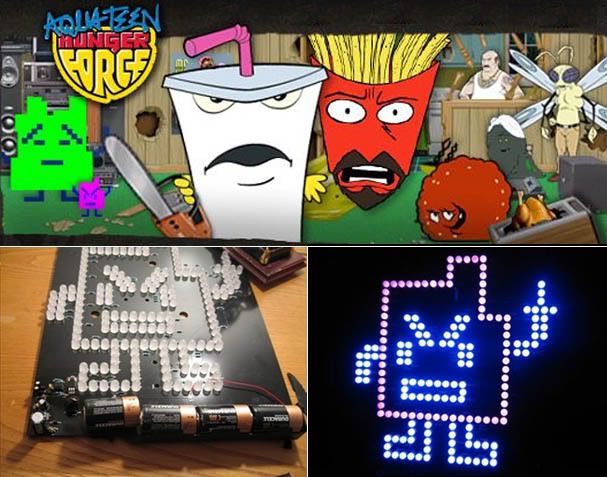 Some slang-talking marketing executives are cowering behind their aeron chairs after the entire city of Boston was shut down when little blinking electronic devices placed at key points throughout the city led to a bomb scare.
The circuit boards, featuring a rude gesturing character, were thought to be homemade detonating devices. It didn't help that they were placed beneath the supporting beams of bridges and appeared decidedly unfriendly. Bomb squads were all over the things, and highways, bridges, and even part of the river was shut down.
It turns out it was all a bullshit guerilla marketing ploy for a show featured on Cartoon Network's Adult Swim called "Aqua Teen Hunger Force." The angry crude-looking character on the ads was a talking pixelated blob called Ignignokt that is featured on the show.
Two local guys who were hired to put the things around Boston, Peter Berdovsky, 27, and Sean Stevens, 28, were charged with two counts each of disorderly conduct and placing a "hoax device," but it doesn't seem like they should be held responsible, since they were just doing a job: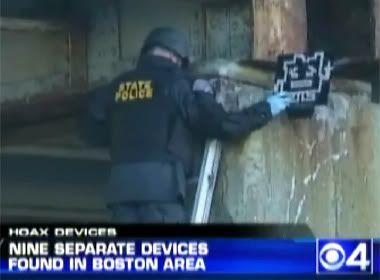 Berdovsky was arrested at 8:15 p.m. at his lawyer's office. His lawyer's name wasn't available, and phone number believed to be Berdovsky's did not accept messages.

Stevens was arrested at his home in Charlestown at about 11:30 p.m., Coakley said. It could not immediately be determined if Stevens had legal counsel.

Berdovsky and Stevens were to be arraigned Thursday in Charlestown District Court, Coakley said.

Berdovsky told The Boston Globe earlier Wednesday that he was an artist and installed the devices for an advertising company hired by Turner. He described himself as "a little kind of freaked out," the Globe reported.

The law under which the two men were charged allows the state to pursue restitution. Mayor Thomas Menino said the security scare may have cost the city more than $500,000.

At least 14 of the devices were found, and at least 24 more are still around the city, officials said.
Turner Broadcasting issued an apology of course, and while Boston is pursuing the guys who were doing a job, it seems like the network should be liable to pay damages to the city.
Boston isn't the only city infested with the suspicious blinking characters. Nine other cities throughout the U.S. including NY, LA, Chicago and Atlanta have had the devices up for at least two weeks without issue.
I've always had disdain for this type of marketing ploy. Surely some overpaid heads will roll at Turner after this incident.
Pictures from Yahoo!