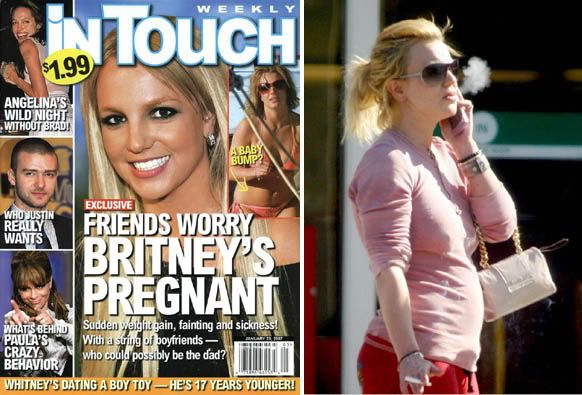 Britney has trouble keeping her weight stable, and I can relate after the holidays. In Touch speculated in an earlier issue that Britney's blossoming body means she's pregnant again. They point out that she got pregnant with mystery baby Jayden James a mere three months after she had Sean Preston, and that it's possible that her tummy is the beginning of a baby bump.
In Touch gives such compelling evidence as Britney fainting on New Year's, not drinking at one point, wearing boots, and buying a new dog. This is older news and I'm skeptical, but it's fun to repeat so you guys can humor me: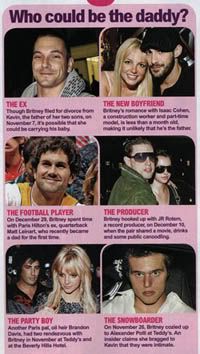 "Her dancers were indulging in Malibu rum and pineapple drinks and taking shots of vodka," says a witness to the January 14 party. "But Britney drank bottled water…"

Britney's sudden abstinence – plus her noticeable weight gain and a New Year's Even incident, in which she passed out at Pure – has launched new rumors that the soon-to-be-divorced star is pregnant again.
[From In Touch print edition, January 29, 2007]
I'm not buying it until she has a real bump, so we'll see. She's smoking a lot so I doubt it's true, but with Britney you never know.
The best part of the article is an inset with the question "Who could be the daddy?" Bodog.com had odds on who would father Britney's next spawn, and her new guy Isaac Cohen was ahead.
Here is Britney shopping at Target on 1/29. She is back to long black extensions since these pictures were taken, and was spotted out wearing a star of David necklance. Her new beau, model Isaac Cohen, is a Jewish guy and people say the jewelry is in honor of him.
Pictures from BreatheHeavy.com. Magazine scans and story from Sammie's Effluvia.