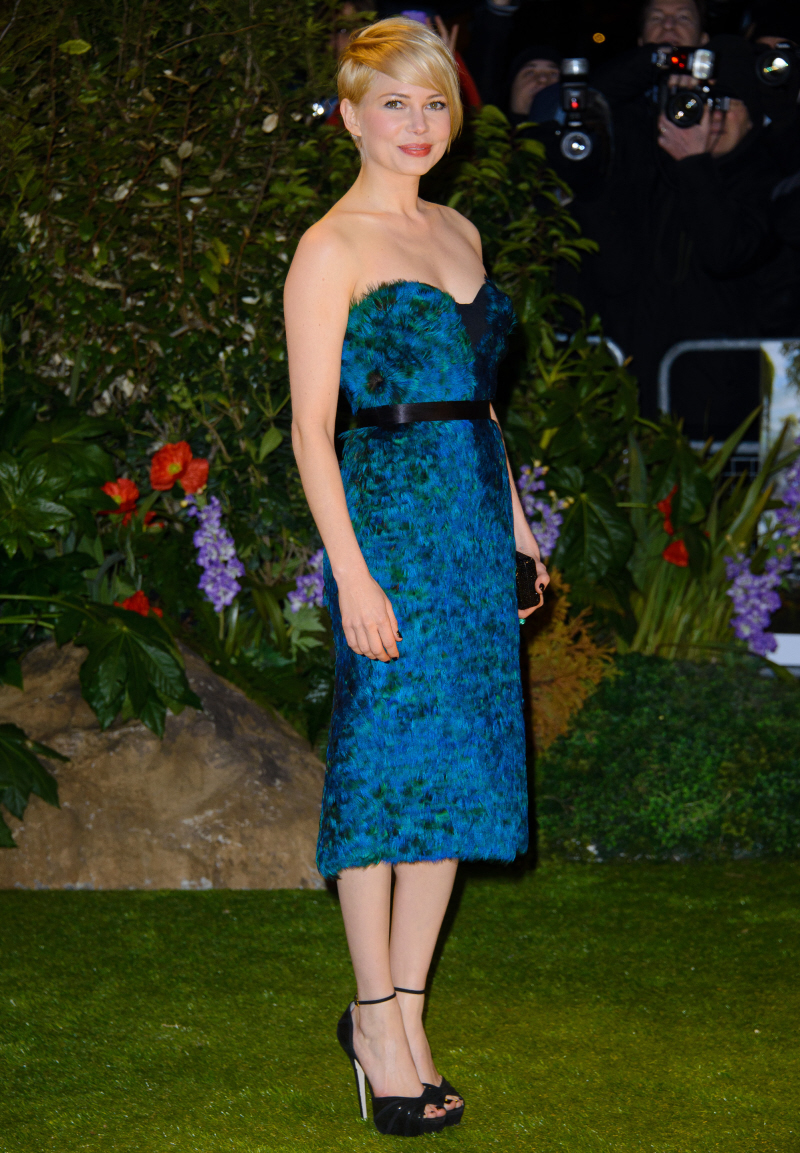 Here are some photos of Michelle Williams at last night's UK premiere of Oz the Great and Powerful. She's wearing Burberry Prorsum, one of my favorite labels to see on any red carpet. I've been staring at these photos of her dress for a while, trying to figure it out. Is her entire dress made up of peacock feathers? Or are they faux peacock feathers? Whatever is happening, it's a gorgeous and lux effect. My least favorite part of this look? Her hair. But I won't complain about it too much because Michelle recently admitted that she's growing it out and this current mid-stage is "insufferable". I don't really understand why she felt the need to give herself such a close crop in the back, but whatever.
This publicity tour for Oz comes during the same week in which Michelle's breakup with Jason Segel was announced. Coincidence? Or is all part of Michelle's PR? And trust me – Michelle engages in PR and media games just as much as any other celebrity. I feel the same way about Jennifer Garner – it's not that I don't believe Garner loves being a "normal mom," etc, I just think that some part of it is also a media strategy, an angle, a public persona. And so to with Michelle – her public persona is The Widow Ledger, the Brave, Fragile, Virginal Single Mom. When Michelle first began dating Jason, Us Weekly ran a suspicious story which completely white-washed Michelle's post-Heath dating past and promoted this "Brave, Fragile Widow" image (which went hand-in-hand with her Oscar campaign last year too). And now that Michelle and Jason are over, a new strategy is in play:
From the outside, it seemed as though Michelle Williams couldn't get enough of boyfriend Jason Segel. In reality, the actress may not have seen him as forever material.

"She cares a great deal for Jason but is not ready to make a commitment," a source tells PEOPLE. "Maybe if they were together day-to-day, she would have more confidence in a future. But not at this time."

Dating for a year, PEOPLE confirmed on Tuesday that the pair called it quits, citing long distance as the primary reason.

"Jason never got rid of his place in L.A., and Michelle's life with [daughter] Matilda was and has always been in New York," a second source says. "While Jason made every effort to make them a priority in his life – and they were top priority – he still couldn't drop everything and leave his life and career in L.A."

The road to romance has not been an easy one for Williams, 32.

The actress's ex, Heath Ledger, was found dead of an accidental prescription drug overdose in 2008, less than a year after they split. Left to care for their daughter alone, Williams stayed out of the spotlight, but began dating director Spike Jonze for about a year. Following their split, she didn't have a public romance again until Segel, 33, in 2012.
Will people stop liking or caring about Michelle if they learn that she's slept with more than two dudes since Heath? Really? Is that what Michelle's publicist thinks? Because Michelle was dating other men after she and Heath broke up, and she also dated Cary Fukunaga after Spike Jonze. But I guess they don't count because it wasn't a "public romance". As for the "reasons" why Michelle and Jason split – sure. That's coming from her publicist, you know. Which makes me suspicious because… why does Michelle need to put that out there? But sure, I'll buy that she didn't feel like doing the long-distance, bicoastal thing. How long will it be until Michelle is talking about Heath and how fragile she is again?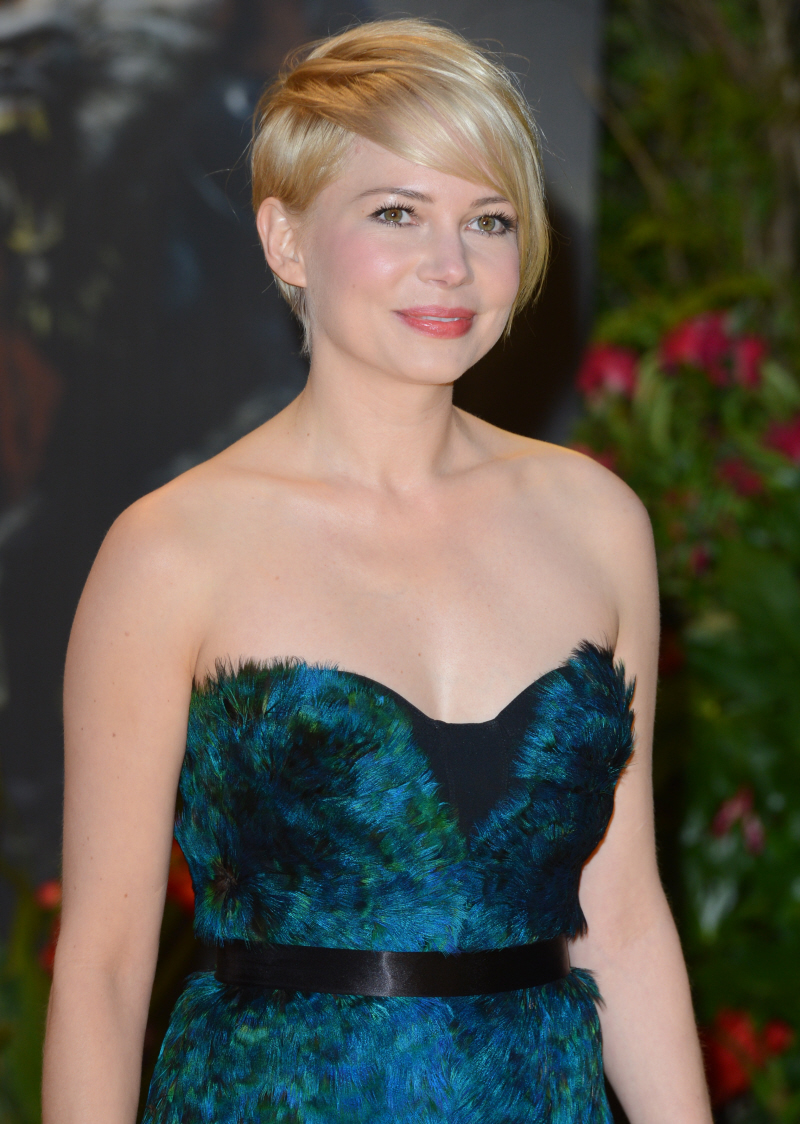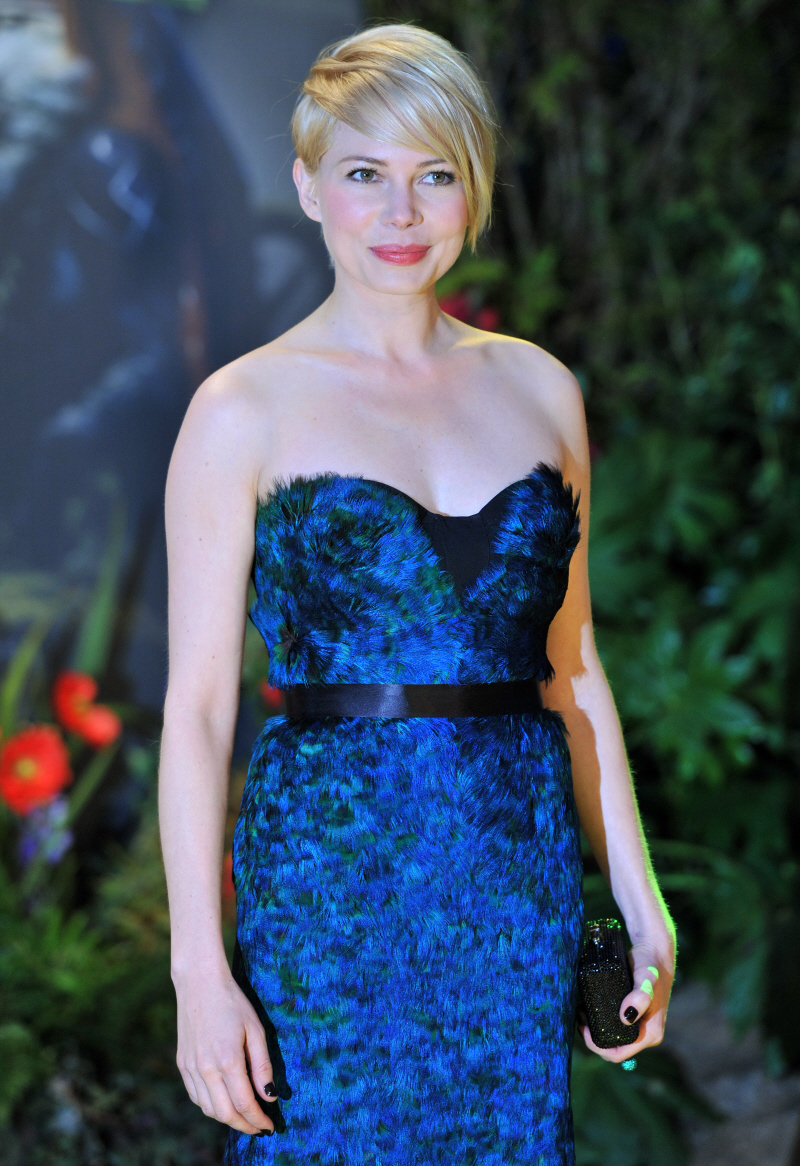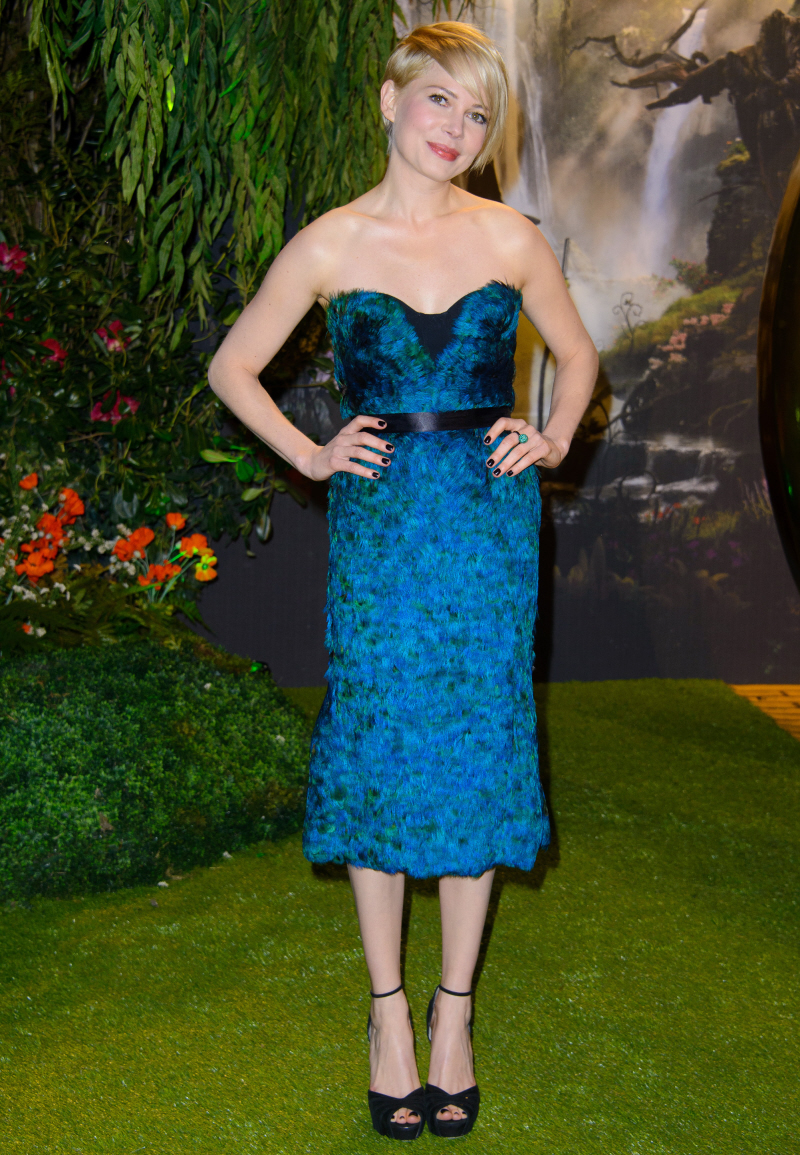 Photos courtesy of WENN.