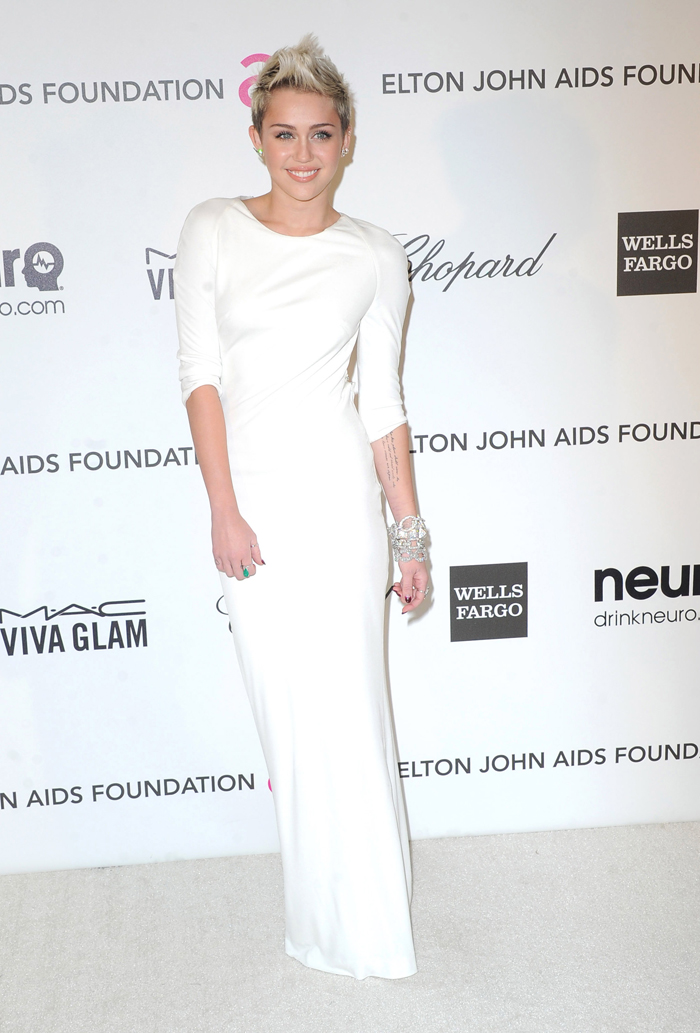 Here stands another day in the Miley Cyrus/Liam Hemsworth/January Jones "did they, or didn't they?" saga. To recap, Liam and January were spotted suspiciously sharing a car ride home after a pre-Oscars party at the Chateau Marmont on Saturday evening. Miley was not in attendance at this event, and she didn't take Liam with her when she went to Elton John's Oscar party the following evening. So for whatever reason, Liam ended up alone inside a car with January, and early previews of this week's issue of Star revealed allegations that Liam and January were pawing each other at the party and even locked lips. A lot of people also thought that Liam was the guy in Lainey's blind item who just happened to be too young to be engaged and stepping out on his betrothed.
Now the full story has appeared in Star. In addition to the details about Liam and January's supposed behavior before they were photographed droving off together into the night, we're getting word of Miley's alleged "single" behavior at Elton's party. Further, Star claims that "friends say Liam hates Miley's punky new look," which honestly wouldn't surprise me. I think Miley looks fine, but Liam did get with her when she looked very different from how she does now. Here are the details: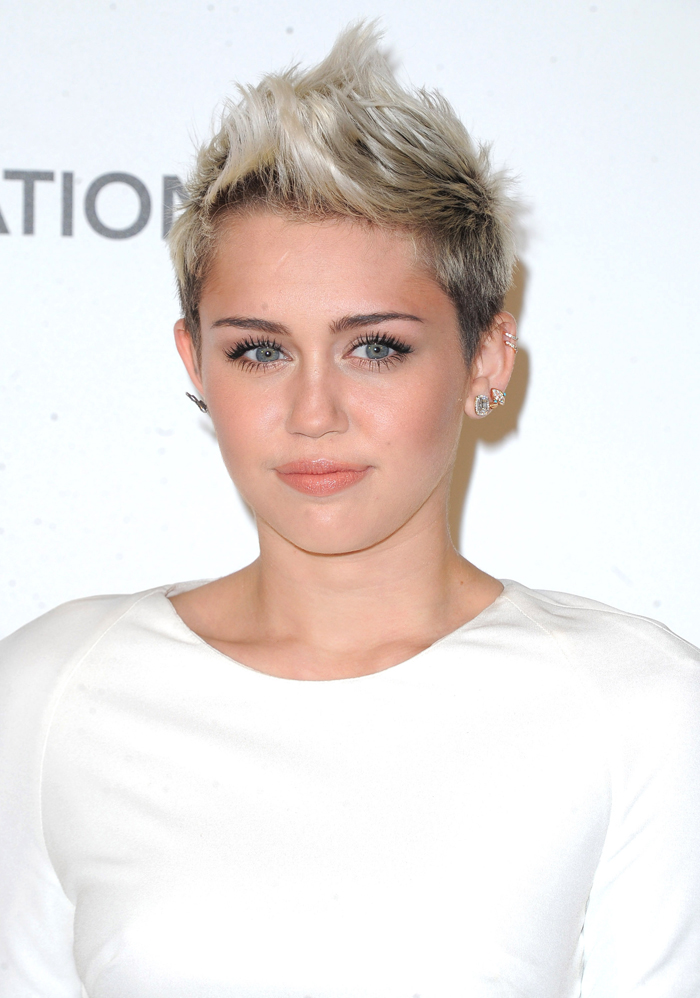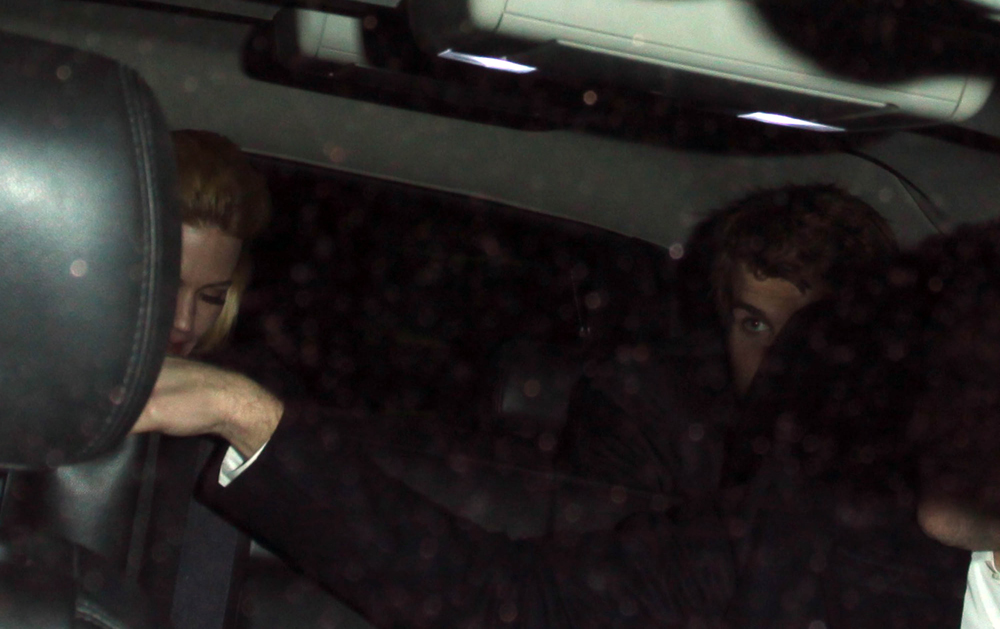 "Where's Miley Cyrus?" That's what onlookers were whispering on Feb. 23, when Liam Hemsworth spent the evening flirting up a storm with "Mad Men" actress January Jones at a pre-Oscars party at West Hollywood's Chateau Marmont. "It looked like they had some hot chemistry," reports an eyewitness at the event. "They were all over each other — and they even kissed!"

After steaming up the soiree, the pair left together. "Liam got January's coat and helped her put it on, then they headed outside," adds the source. "They made sure to leave a few seconds apart, so they wouldn't attract too much attention. Theyn they jumped into a waiting car and took off."

Of course, Liam, 23, is engaged to Miley — and their top-secret wedding is rumored to be happening in Palm Springs, Calif., in June. But lately, there have been rumblings that the couple are on the rocks and after Liam's lusty outing with January, 35, friends are wondering if the wedding is still on!

While Miley, 20, skipped the party with Liam, she did attend another Oscars bash the next night, thrown by Elton John's AIDS Foundation. "Miley was all over the place," a party guest tells Star. "She certainly gave off the impression that she's single. Someone even asked her how Liam was doing, and she said she doesn't care how he's doing!"

That's obviously a strange response from someone about to be married. But strange behavior is nothing new for Miley. While at New York Fashion Week in mid-February, sources say Miley partied nonstop. "She was fliring with every guy and girl in sight," an insider says, "Especially the models!"

January, meanwhile, has a reputation for romancing unavailable men. In addition to high-profile exes Ashton Kutcher, Josh Groban and Jason Sudeikis, she has reportedly been linked to married celebrity chef Bobby Flay and supermodel Claudia Schiffer's husband, producer Matthew Vaughn. But regardless of her history, January can't take full blame for the hookup. "Miley is not the girl Liam fell in love with," says a friend. "She's turned into an embarrassment."
[From Star, print edition, March 11, 2013]
Just to point out a glaring error in this story, January wasn't wearing a coat that evening, but that erroneous detail might just be filler and doesn't mean that the rest of the story isn't true. For what it's worth though, a Miley source has contacted E! News and to say that Liam and Miley are still "totally together," and there's "no drama" because they attended separate events over the weekend. Whatever. Miley would have Liam doing a photo op with her if they were still together, right?
No matter what we believe about Miley's alleged antics in this Star story, the fact still remains that Miley's Twitter remains dark and has been inactive since Monday, which is unheard of since Miley loves to tweet, and she regularly takes to the site to debunk gossip. There's also an unsubtantiated rumor floating around out there that claims Miley tweeted, "Not to worry, I won't break," on Monday and then deleted it, so who knows.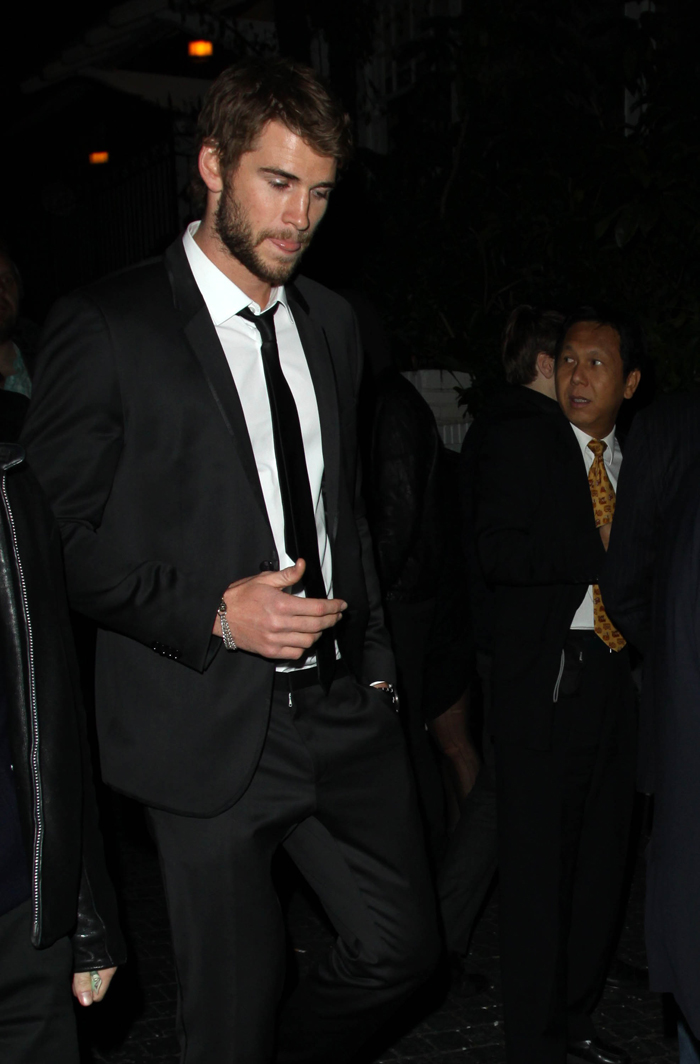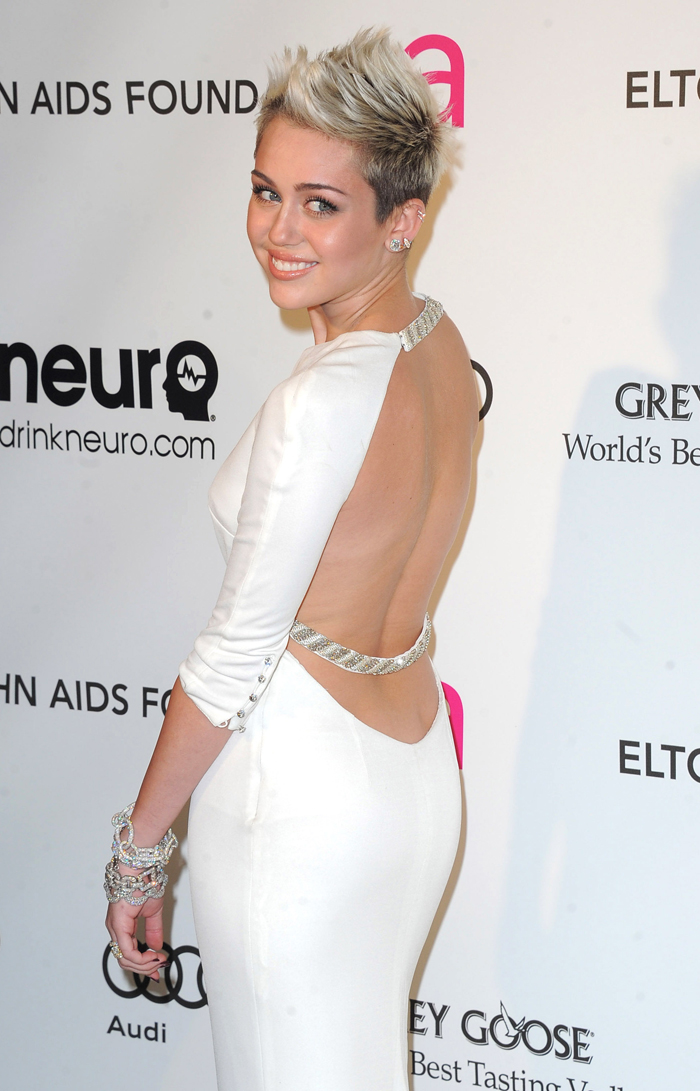 Photos courtesy of Fame/Flynet and WENN