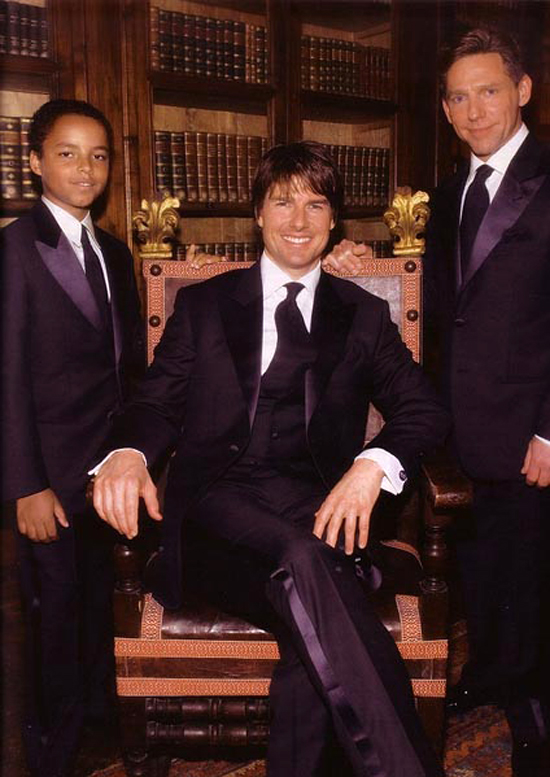 Tom Cruise wants everyone to know that he visited with Suri last week in London. Now, there won't be pictures of the alleged meething — because he's a very private person (cough) who doesn't want us to reset our "Suri clocks" on him — but Tom made sure his people spoke to People magazine about how he and Suri spent "four to five" blissful days in each other's arms. According to People, "they kept such a low profile that nobody really knew she was there." At this point, we just have to take Tom's word for it, but it's strange that Suri was pulled out of school for the trip.
There's also a new story about how Tom was dismissed from seminary school in the late 1970s, and the details come from one of Tom's old buddies. He wasn't exactly kicked out, but he got in trouble for stealing alcohol and was known to sneak out and smoke ciggies like a naughty little boy. We've heard about Tom's previous intention to become a priest, but these additional details about how he was discouraged from returning to school (he lasted two years) after he got in trouble for swiping beer from the Franciscan fathers are quite amusing. Here's some excerpts about Tom's brief stint as a seminary student: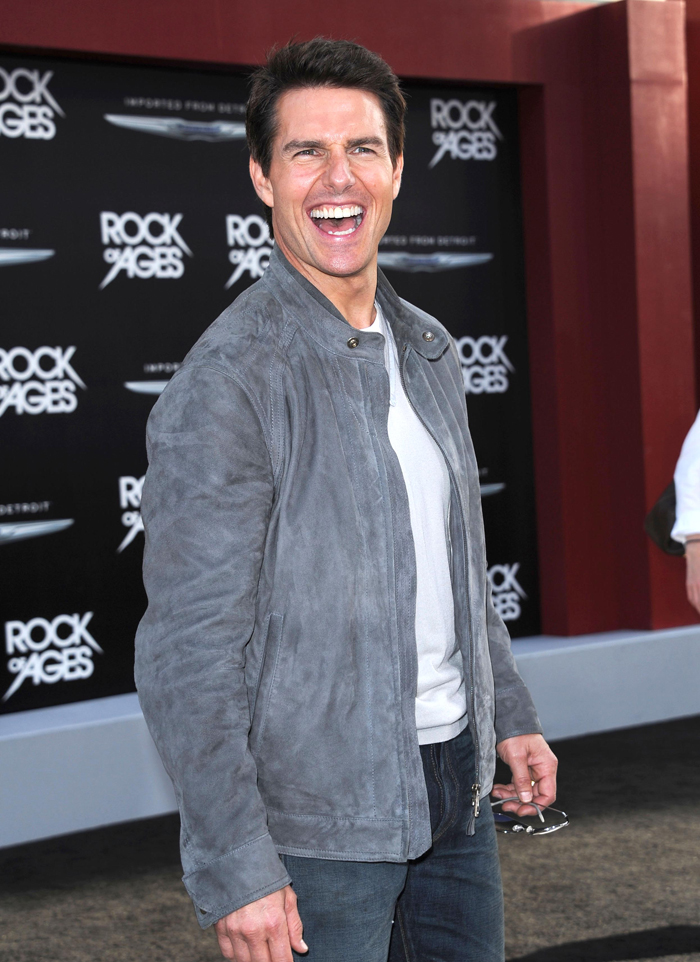 Father Ric Schneider on Tom: "Tom was instantly hooked. He as a typical teenager, trying to find his way in life. We would give them an IQ test, and he just about made the cut. The cutoff is 110, and he scored exactly 110."

BFF Shane Dempler on Tom: "He had a very strong Catholic faith. We went to Mass, spent time in the chapel and enjoyed hearing stories from the priests. We thought the priests had a great lifestyle and we were really interested in priesthood. In truth, we were too young to make that decision."

Tom and Shane, bad boys: One night, the duo got the bright idea of stealing some liquor from their Franciscan fathers, who were planning a celebration. Dempler sneaked into the room where the liquor was stashed and threw bottle after bottle out the window to Cruise, waiting below. "(I) tossed about six, most broke, but we managed to get a couple and hide them in the nearby woods. The priests didn't even realize until some of the other boys found out about our plan and snuck into the woods and got drunk. They were caught staggering down the road to the seminary and forced to confess. The school wrote a letter to our parents saying they liked us both, but would prefer if we didn't return. So we weren't kicked out, just preferred not to go."

Teacher Salvio Russo on Tom: "He was very unremarkable. You would never have thought he'd make it, although he did have a really neat smile."
[From NY Daily News]
From Tom's speedy move from Catholicism (where he was apparently very interested in joining the priesthood) to Scientology (where he has enthusiastically risen to the point where many would consider him #2 in charge after David Miscavige) may illustrate a tendency towards religious fanaticism. Tom can't simply identify himself as Catholic or Scientologist — he has to see himself as the best Catholic or Scientologist. In fact, if he had somehow managed to become a priest and was still in the Catholic faith, you can guarantee that he'd be in Vatican City lobbying for the empty Pope slot as we speak. Scary thought, right?
Here's some photos of Tom last week on the set of All You Need Is Kill in London. The cameras have been rolling on this movie since November, which feels overly long even for a big-budget action movie. Check out Tom's combat-boot lifts! He looks slightly winded, no?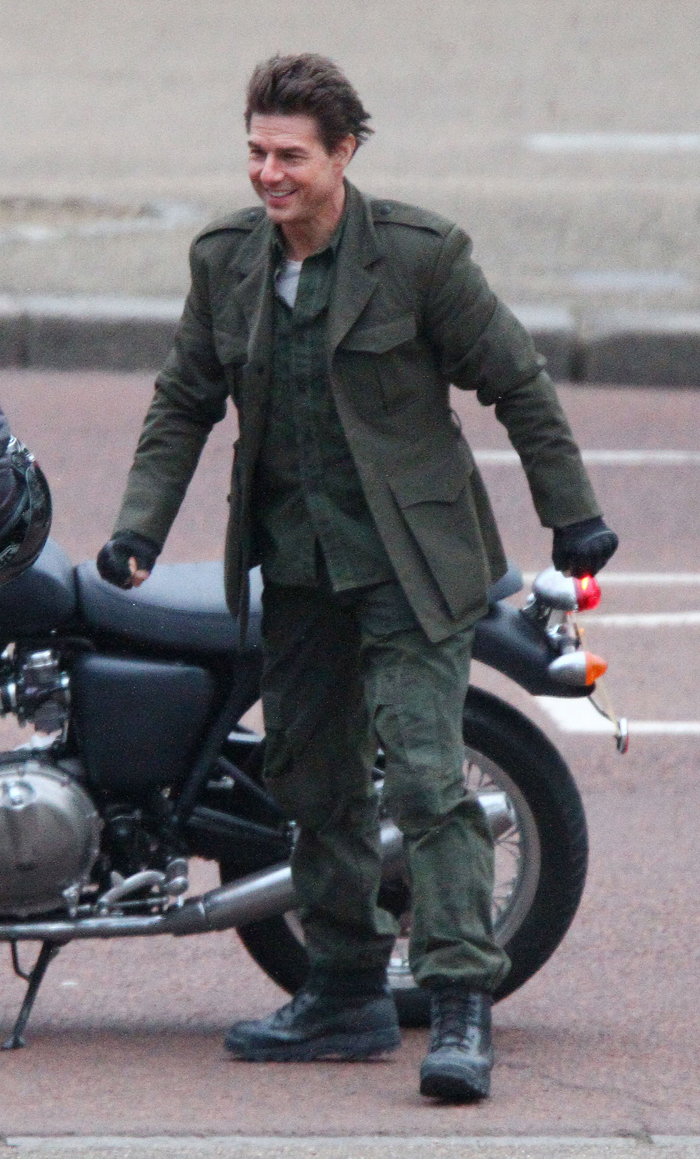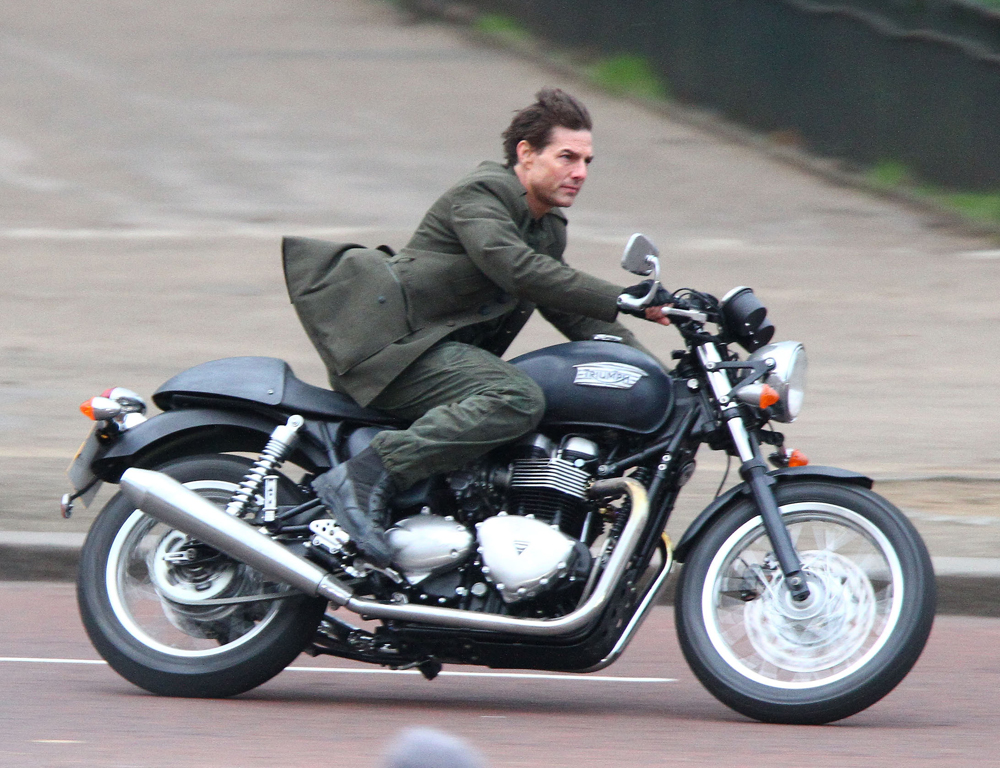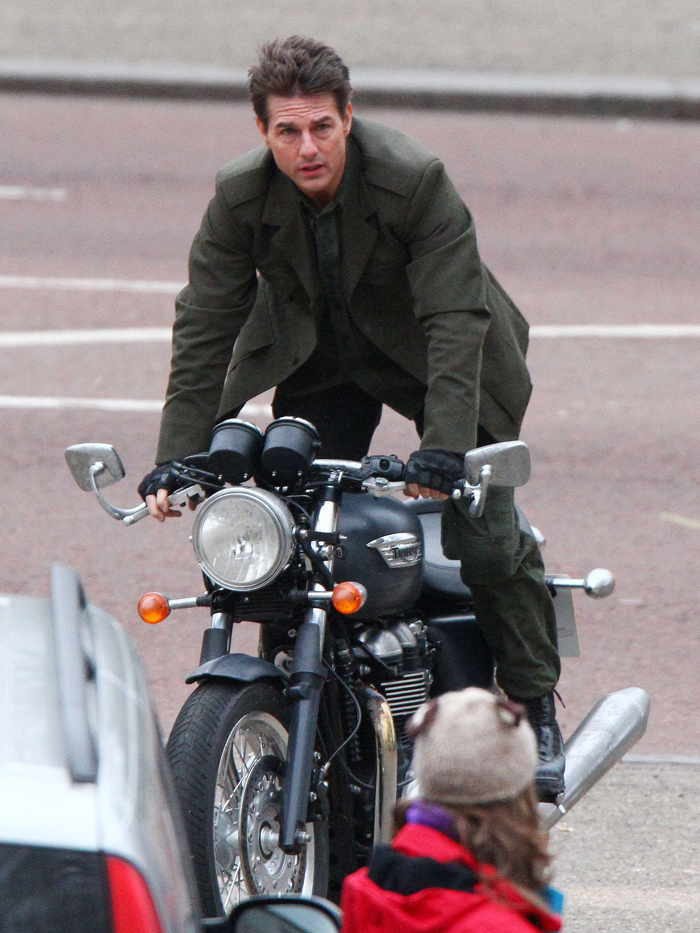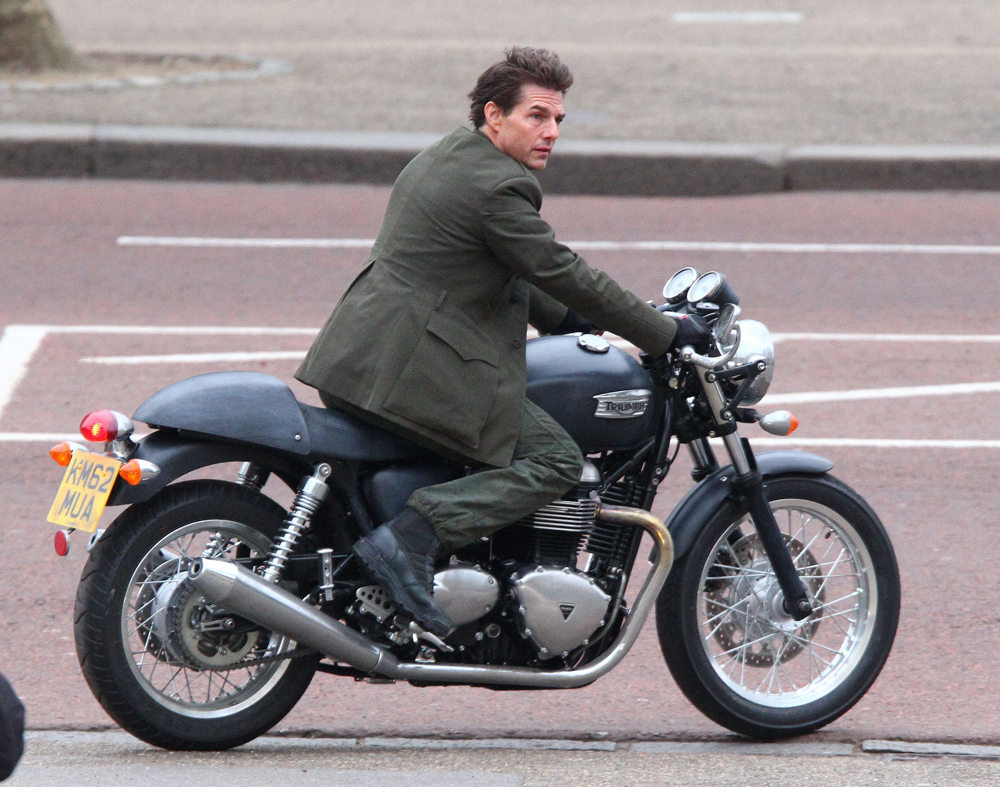 Photos courtesy of Fame/Flynet and WENN