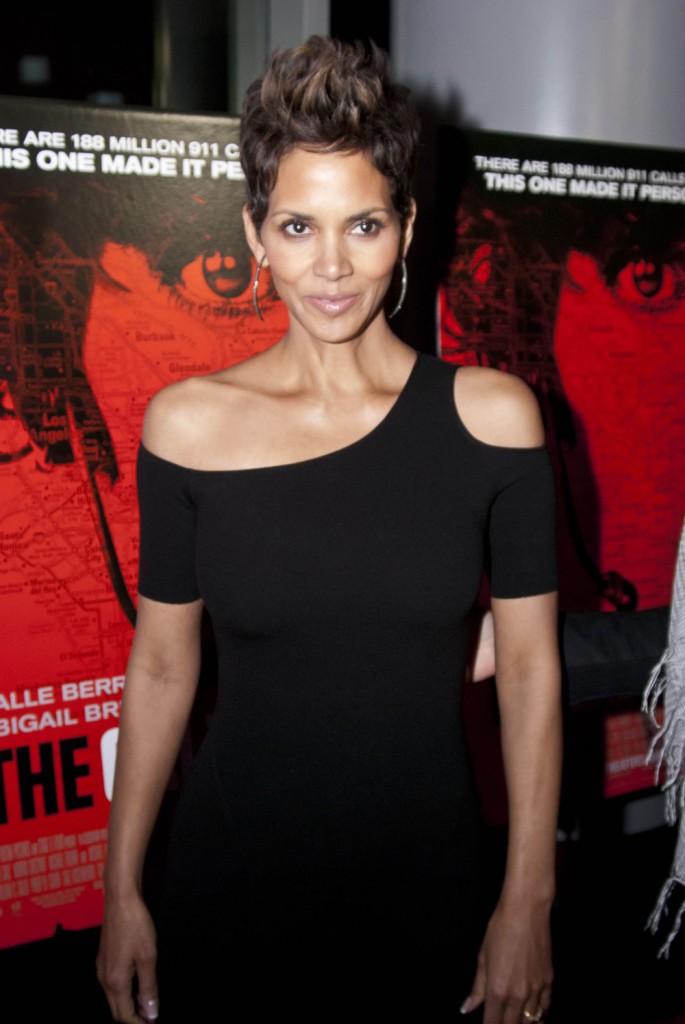 This is just a brief interview with Halle Berry following the Oscars. Apparently Extra named her one of the best dressed (she actually was) and was asked for her thoughts on the show, the paparazzi and her upcoming roles. Halle is also promoting that B-movie thriller she's starring in that I keep seeing commercials for, The Call. It's out next week and looks pretty bad. When Mario Lopez asked Halle if she was offended by the "we saw your boobs" opening skit at the Academy Awards she said she wasn't, because people always say bad things about her basically and she's developed thick skin. Here's more:
"Extra's" Mario Lopez sat down with Halle Berry and the superstar opened up about the Oscars, about life with daughter Nahla, and her new movie, "The Call."

Mario, did not have a chance to interview Halle Berry on the red carpet of the Academy Awards, but told the star she made "Extra's" best dressed list and asked her how she thought host Seth Macfarlane did. Mario, "What did you make of his performance?" Halle, "I think hosting that is one of the scariest things a comedian can." She went on to say, "He did what he wanted to do. That's his brand of comedy and people will love it and they will hate it, I thoroughly enjoyed the show…It takes so much to offend me these days after all the things that have been said about me, to me, so I didn't feel offended by that boob song."

What does offend, Halle, paparazzi and the pursuit of her and her daughter Nahla. Mario, "Does she ever think like it's normal when photographers take pictures of you?" Halle, "No, it's totally abnormal, it's weird for her and she's at that age where she's questioning why and she wants to be left alone and it's bothersome it's scary for her."

Halle's new movie "The Call", also scary, Halle plays a 911 operator desperately trying to save a kidnapped victim played by Abigail Breslin. Halle said she trained with 911 operators and listened to live calls to prepare, she also shot her own stunts. Shooting some of the movie scenes so intense that Halle ended up in the emergency room. Halle, "I get hurt almost every movie, I always want to do my own stunts, I got a little hurt, but that's ok."

One of the next possible roles up for Halle, reprising her role as Storm in the upcoming "X-Men: Days of Future Past, Halle, "It looks like that's gonna happen. I love that character and people love Storm too so it will be good to be back."
I like what Halle said about how that's MacFarlane's brand of humor and what we should expect, that's pretty much what I said about it too. Note that she then turned it around to how she's a victim and people are always talking smack about her. She was just one actress mentioned in that skit, but it's all about her and how she feels, not the larger context.
One actress included in that bit who was offended, and whose opinion I respect a great deal more, was Jamie Lee Curtis. She wrote a whole editorial on it for The Huffington Post if you're interested. It wasn't just about Jamie Lee, she thought the Oscars should be classier and that they shouldn't be reduced to "roast" type adolescent humor. I won't get into all that, we covered it last week, but her opinion is interesting to me in contrast to Halle's "they always talk about me" sentiment.
In terms of the rest of Halle's interview, it's typical from her. She definitely hates the paparazzi and she'll tell you about it. She used it as a premise for her bid to move to France, which has either stalled or been shot down at this point. But she's not above calling some friendly paps when she wants us to see her on the beach with her fiance and daughter. Or at least she plays nice for them occasionally, it's hard to tell.
Last week Kaiser mentioned that Halle's man Olivier didn't accompany her to the premiere of The Call in Chicago, which was strange. It's possible they're having trouble, especially considering who we're talking about. There was a photo of Halle and Olivier at a My Little Pony event together with Halle's daughter Nahla on February 9. (That's the last photo I can find of them together.) Olivier looked pissed off, but he was a grown man at a My Little Pony show, so that may not mean much. We haven't seen them together in a while though and they've been traveling separately recently.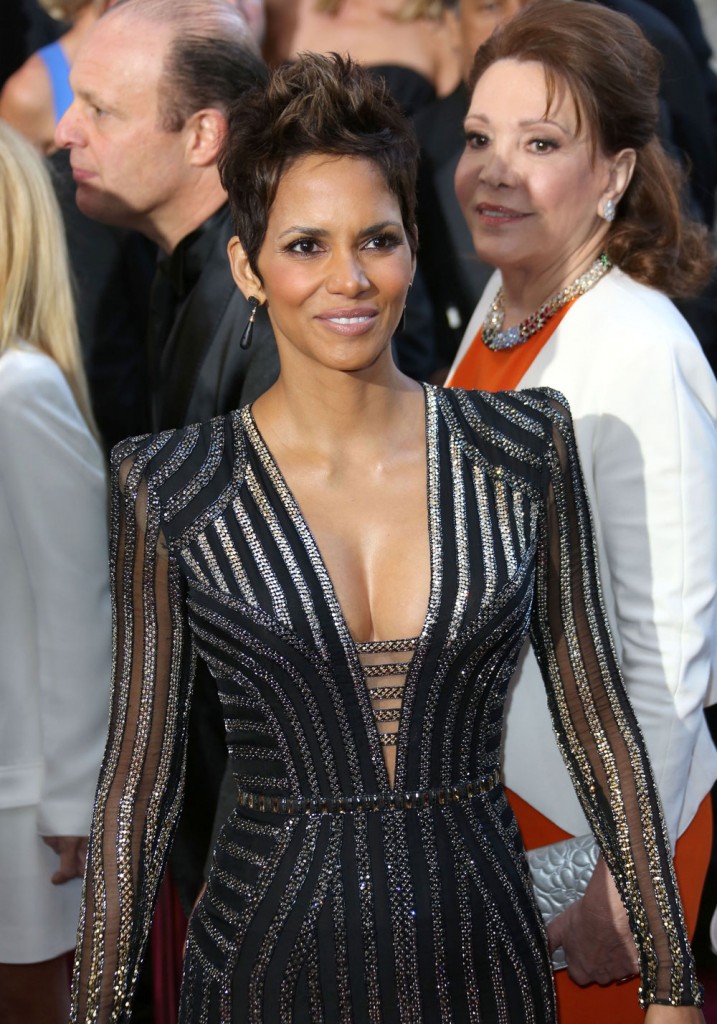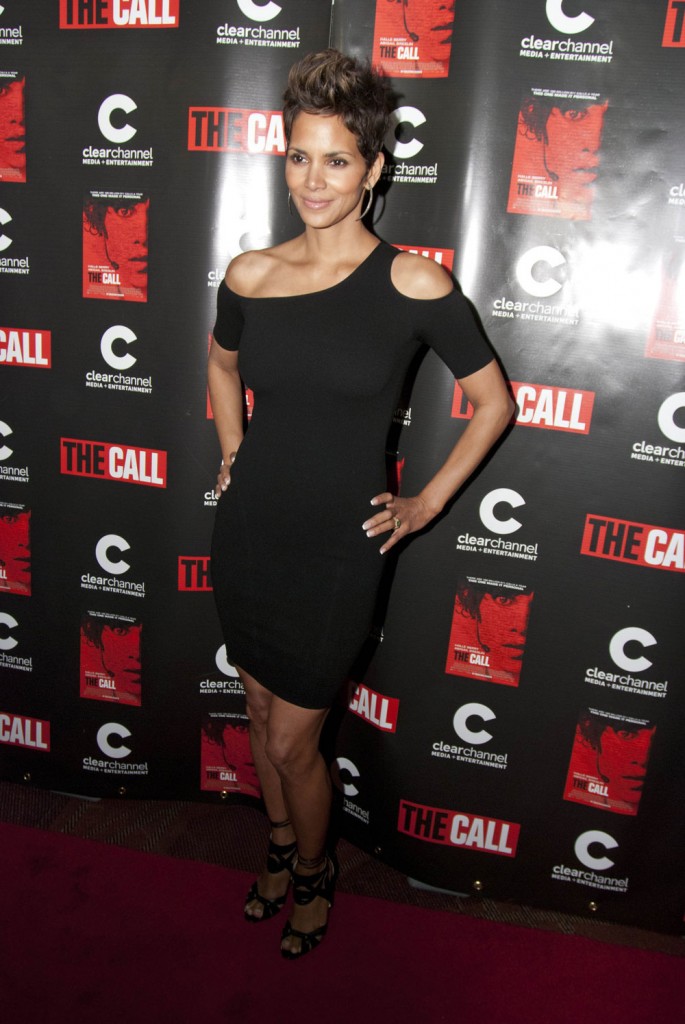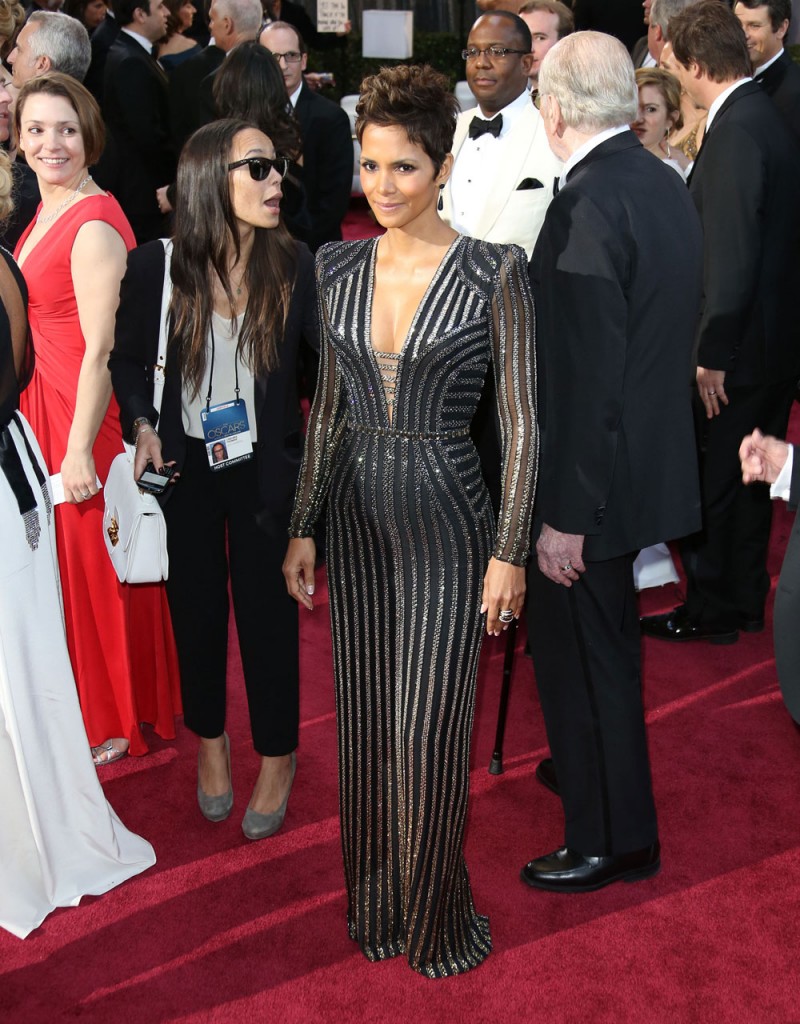 Halle Berry is shown at the premiere of The Call on 2-28-13 and at the Oscars on 2-24-13. Credit: FameFlynet