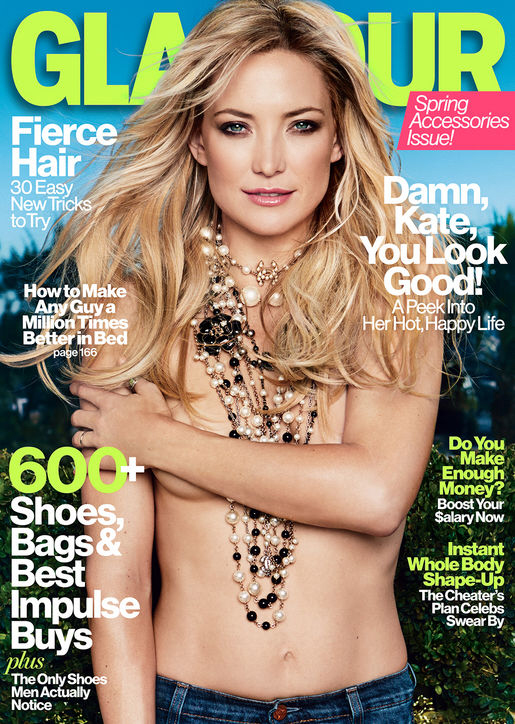 Kate Hudson covers the April issue of Glamour mag. I'm kind of meh on the photoshoot – I mean, it's not like I'm expecting much from Glamour editorially, but I normally think Kate has a kind of fresh/sexy appeal and she just looks kind of busted in this shoot. Kate scored the cover because she has a supporting part in Mira Nair's The Reluctant Fundamentalist, which is a straight drama and not a normal Hudson rom-com. She will not be adorably bumbling or running through an airport into the arms of the guy that she had a one night stand with even though they argue all the time and he wrote an article about how much she sucks! Isn't that always the plotline? Anyway, some highlights from the interview (which was done by Mira Nair):
What is Kate reluctant about? "Not much! If I think about my life, I'm not reluctant about taking chances. I'm definitely not reluctant about relationships."

She trusts people even though she lets it all hang out: "I choose to [trust people]. The reason I trust so much is that I don't feel like I have anything to hide. If somebody betrays that trust, it could never be so bad, because I don't keep any secrets. I've had friends who've lied to me, I've had friends who've done things behind my back, I've had people steal from me—and it doesn't stop me from trusting. The only thing that gets me angry is with [people who invade the privacy of] the kids. It's the only place where I sort of go, Is this worth it?"

Working actress versus "Celebrity": "Well, that's the work. There's a misconception that if you come from famous parents [Hudson's mom is Goldie Hawn, and her stepdad is Kurt Russell], you're seeking fame for the sake of fame. I see it as the opposite: Growing up with parents who were in the spotlight—it was almost like, Wow, if I didn't love to create characters, I would run as far away from fame as I could get. But I love performing."

Her workouts: "Dancing, Pilates, and running after Bing. He's sprinting! And he's got a natural mullet, which I'm cutting soon. It's growing only in the back, so we in the family say he takes after my Gogie—you know, Kurt [Russell]—because Kurt was a mullet guy in the eighties. Bing's been singing too. He loves music."

On Ryder: "And Ryder is the coolest cat—an amazing big brother, so patient and tolerant. Bing pulls his hair, and Ryder just laughs. He's such a good person. I couldn't be a prouder mommy.

Her children are her top priority: "I always remember my mom saying that there's only one thing in life she refused to fail at: raising her children. It just shows you it's very possible to do the thing that makes you happy and still raise a wonderful family."

What is Kate's "Everest"? "I have always been fiery; I go after things. But what I learned from my mother is to step back and actually experience things that are happening. So for me, it's about meditating. My Everest is to have that become a real part of my life."
[From Glamour via Us Weekly]
I always say this about Kate, but it's worth noting over and over: I love that she's not a whiner. I love that she really never pulls the "woe is me" card. She never throws pity parties or plays the victim or asks people to like her out of sympathy. She might not be the image we have of a "strong, empowered woman" but I do think she's a lot better than many of the ladies that get our love. And I do think it takes a particular kind of strength of character to be so consistently upbeat and positive. To play devil's advocate though – I mean, it's not like her life has been super-difficult, you know? Still. I like her more and more.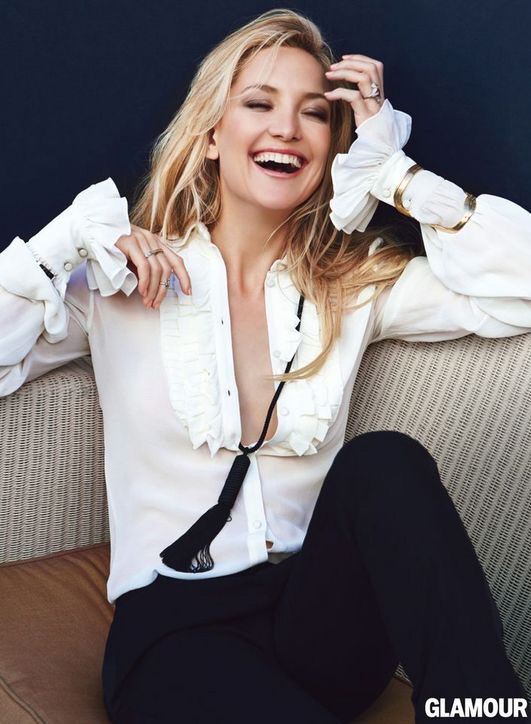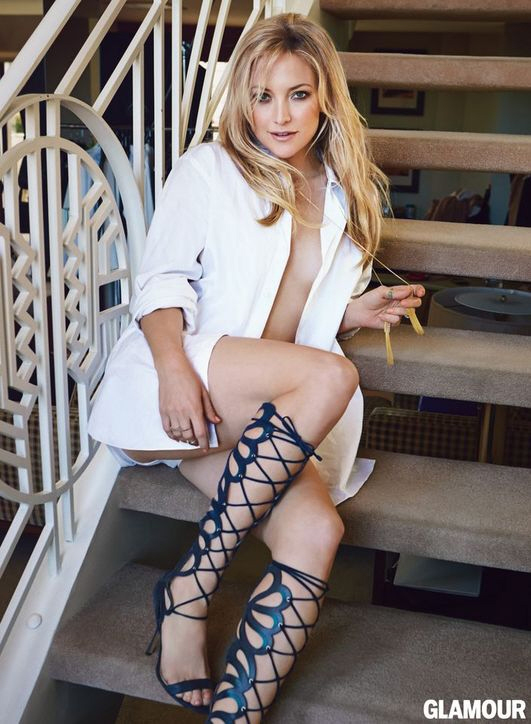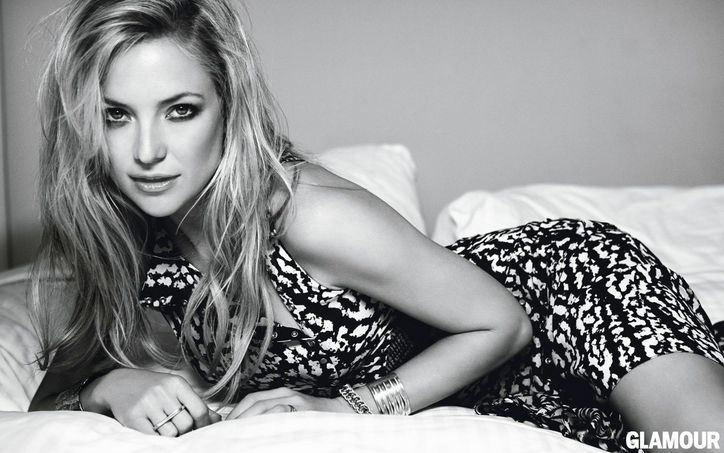 Photos courtesy of Glamour's slideshow.