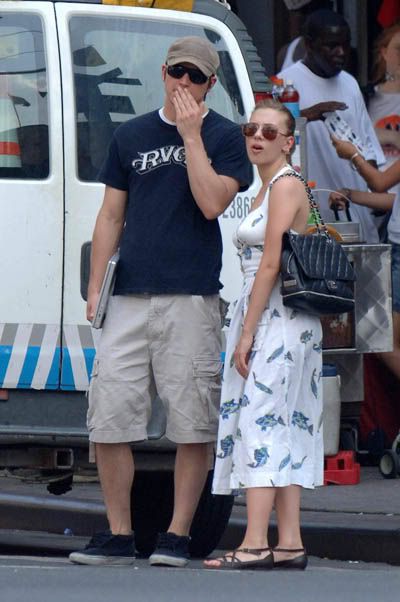 Josh Hartnett is being painted as a sad sack by London paper The Mirror, which has a video interview with him focusing on the cause of climate control. He is promoting the charity Global Cool in England, and will meet with Prime Minister Tony Blair at a dinner reception on behalf of the group. The video they have posted with him has an interviewer asking him about conservation and climate change. Josh talks about his interest in the cause and how he tries to offset his personal effect on the environment.
Somehow, though, the article focusses on Hartnett as this pitiful creature pining for his lost relationship with Scarlett Johansson. There are none of the quotes they mention in the text in the actual video interview, and indeed the topic of Scarlett is never even brought up.
The quotes they have from him in the text, which again are not in the video at all, are the kind of regular trite statements you're supposed to give when you break up with someone. While I doubt he even said this stuff it's not like the quotes show he's all broken up over it.
In an exclusive interview, the chiselled star admitted that their break-up last year was "really painful".

He told us: "It was difficult spending so much time apart with all our different commitments and both of us flying all over the world."

The sexy actor dated Scarlett, 22, for a year after they met on the set of the movie Black Dahlia.

But they decided to call it quits last November as dates grew more and more infrequent. And Josh, 28, has remained tight-lipped about the one that got away. Until now.

He reveals: "At the end of the day, we're just ordinary people and it didn't work."

Pining for his ex he might be but the stud is far from lacking female attention.

He has been spotted with both Brit babe Sienna Miller and Spider-Man star Kirsten Dunst.
Then then go on to quote an "insider," which just means the person who wrote it, saying that "Josh was gutted when he and Scarlett split."
They're not going to get another interview with Hartnett after asking him about climate change and then making up shit he said about Scarlett and basically calling him a pussy for it.
If you want to see the video, just right click over Josh's picture on the Mirror website and choose "save target as." I tried to click directly on the link and it just came up with a bunch of code.
Header image is from last summer, and I just thought it was cute because Josh was covering his mouth.