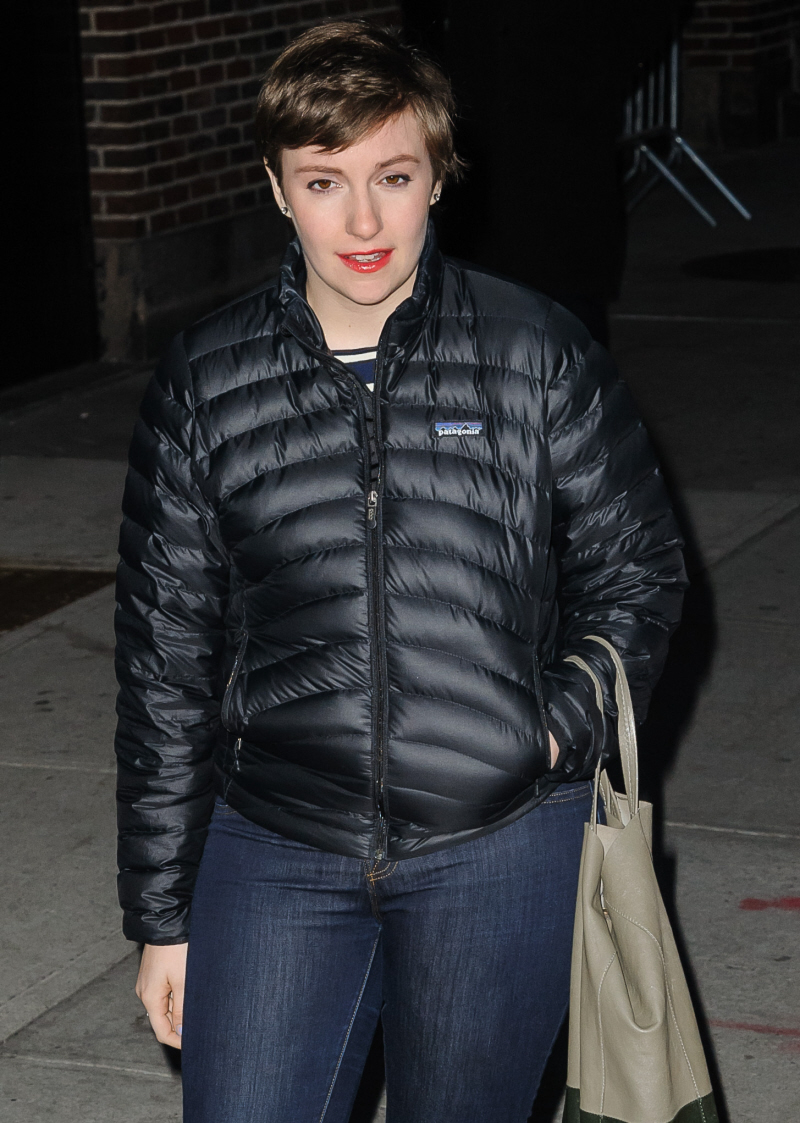 Lena Dunham did the "20 Questions" thing in Playboy's April issue, and… I don't hate her. I know that I'm supposed to have all of these complicated feelings about Lena Dunham and Girls, but I've only seen a few episodes and while I didn't think it was groundbreaking TV or anything, I admire Lena from a distance for many different reasons. And I seriously didn't hate this interview. You can read the whole thing here and here are some of the most interesting quotes:
On the gender divide: "I never chalk up anything to the gender divide and say, "Well, that's just a male thing." I hate the conventional wisdom that men are supposedly complete pieces of s–t and it's our job as women to put up with them. Men are just as sensitive and easily victimized as women are, but there's not as much of an infrastructure for expressing it. That drives me nuts. We're all humans and doing human stuff. We'd have a better world if everyone had someone they could pay for talk therapy."

Writing male roles: "Just as careful as when writing female roles. Saying that women have been written as sassy best friends or slutty girlfriends since the beginning of time so now guys deserve whatever comes to them is not an acceptable excuse—even though it's amazing to me that Hollywood persists in writing these two-dimensional female characters who don't really exist. No wonder it's hard for actresses to find parts that are meaty enough to connect with. It's important to me to create fully formed characters who don't feel just like good guys, villains, creeps or sluts. I want it to feel real. I want my male friends to feel just as much of a connection to my work as my female friends do."

The feminism of Girls: "On Girls I like being a mouthpiece for the issues I think young females face today. It's always shocking when people question whether it's a feminist show. How could a show about women exploring women not be? Feminism isn't a dirty word. It's not like we're a deranged group who think women should take over the planet, raise our young on our own and eliminate men from the picture. Feminism is about women having all the rights that men have."

What if she woke up and had the body of a Victoria's Secret model: "I'd be really disoriented and wonder what had happened in the night. Which enemy had dragged me to the doctor? I don't think I'd like it very much. There would be all kinds of weird challenges to deal with that I don't have to deal with now. I don't want to go through life wondering if people are talking to me because I have a big rack. Not being the babest person in the world creates a nice barrier. The people who talk to you are the people who are interested in you. It must be a big burden in some ways to look that way and be in public. That said, I probably would want to see if I could get free food at restaurants. Then I'd call a doctor and see if she could return me to my former situation."

She's a romantic: "When I was younger I liked men who gave me some guff. I liked badasses with hearts of gold, though they often ended up not having a heart of gold. They were a little like the Adam character on Girls. Now I'm much more into someone who is interesting and open with his emotions, has a really good sense of humor and a passion for what he does, wants to hang out with my parents and doesn't want to stay out too late. If I can get excited imagining funny things he did as a kid, there's a pretty good chance I'm in love with him. It's a sad day when you stop believing in the idea of having a soul mate or having someone who understands you deeply and loves you eternally. I'm a pretty unorthodox girl, but I guess people might be surprised to learn that despite what some of the characters on the show are doing, I remain an eternal romantic with a desire to hear all the things girls like to hear said to them."

Her favorite items at the grocery store: "I cannot get out of the market without six trashy magazines and seven packs of gum. I wish I could resist those things. Oh, and sometimes a Cadbury Creme Egg, if it's in season."

How she learned about sex: "I think I was five. A girl at school explained it to me. I didn't believe her because it seemed so barbaric, so I went home and asked my parents if it was true. They sat down together and explained sex to me. My parents were sensitive. They said, "Your dad and I did this so that you could get made." They gave me the male and female perspective. That was the traumatic part. I remember thinking, I don't want to learn this, and I definitely don't want to learn this looking at the faces of both of you. I wish one of them had taken the job and come into my bedroom alone. But I asked. It was because Amanda DiLauro told me, so it was really her fault.

On Girls not being representative of a wider demographic: "I think that's a valid criticism, but we can't let that erase someone's ability to tell a personal story. While being racist and promoting inequality are crimes that should be punished, the sin of writing two Jewish girl characters and two Waspy characters feels less egregious to me. I've tried to be elegant about it and receive the criticism, and I understand what's hard about it. At the same time I'm like, Really?"

What's in her purse: "I still keep a paper date planner, which seems pretty old-school. I always have a novel. The stray-vitamin situation is pretty out of hand. But most surprising? A spoon. I'm always dragging one around. It's a metal spoon. A plastic spoon makes sense. A metal spoon from your house makes it look like you're going to commit a spoon murder."
I think she's funny and clever. Is that wrong? I know I would probably feel differently about her if I actually sat down and watched all of the episodes of Girls – like, I'm pretty sure I would find her annoying – but I take Lena in small doses, and I enjoy her. She's an interesting voice added to the conversation about media, television and entertainment. And she's right about this: "we can't let that erase someone's ability to tell a personal story…" While I don't really relate to Lena or her life or her show, why is that such an all-or-nothing criticism?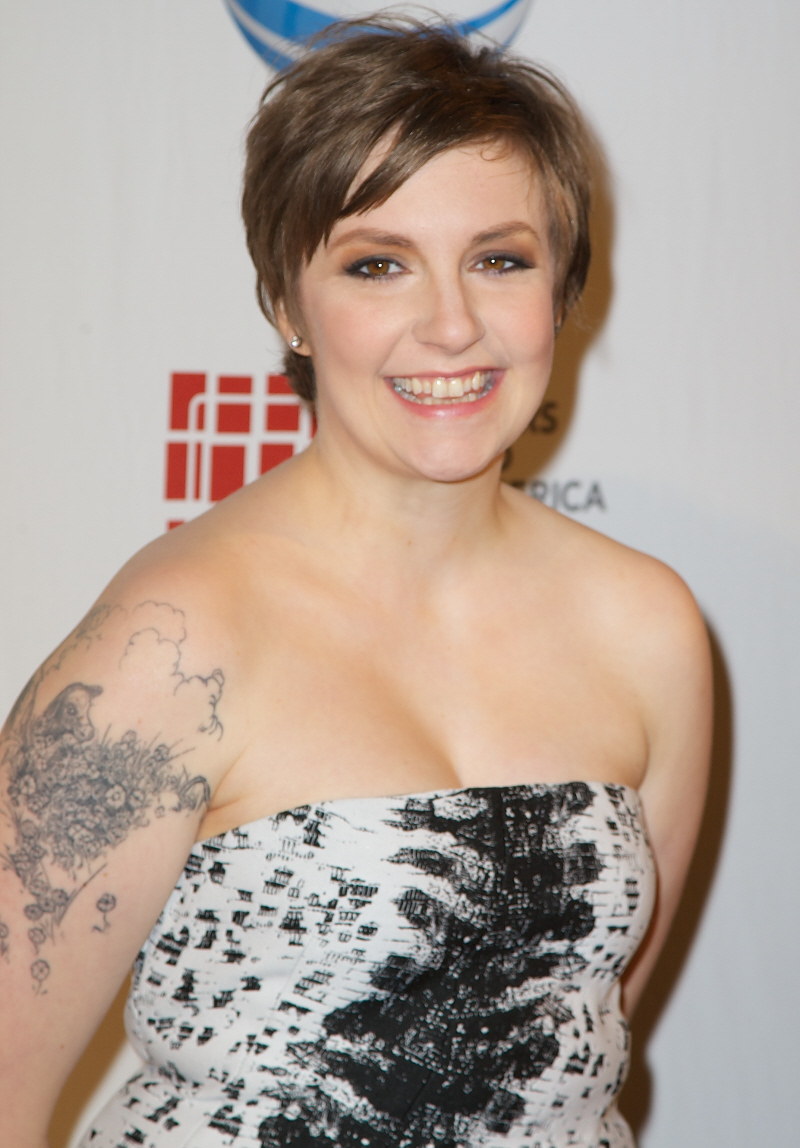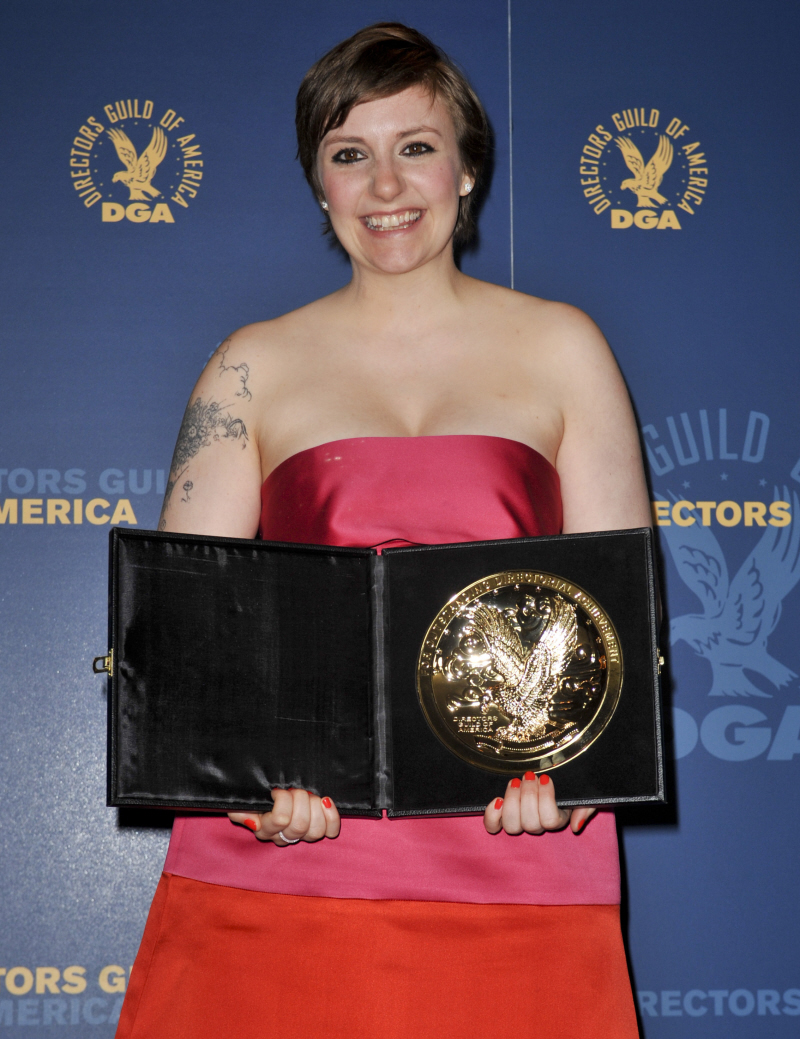 Photos courtesy of WENN.