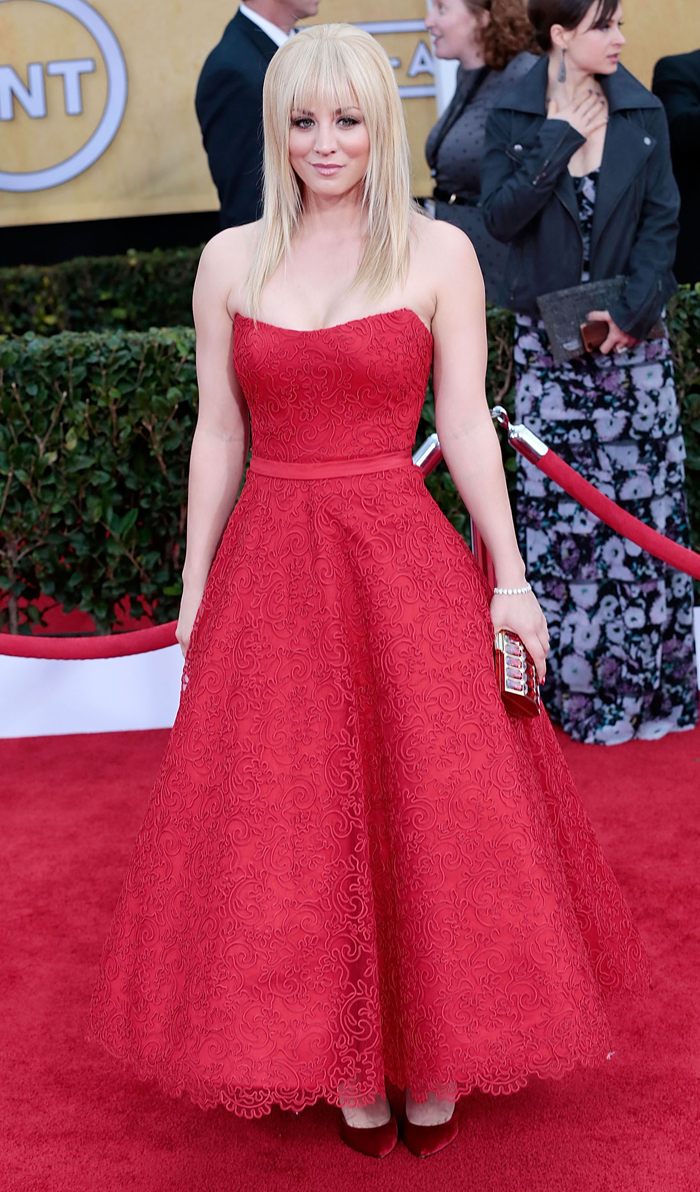 At this year's SAGs ceremony, one of the very worst red carpet turns came from Kaley Cuoco's awful bangs disaster as she supported her fellow "Big Bang Theory" cast members. This was, to quote Kaiser, a textbook case of "bangs trauma." Kaley's saccharine-sweet, red lace Romona Kevesa dress wasn't the best choice either, but let's be honest here and acknowledge that Kaley could have worn the most amazing dress out there, and her bangs would have ruined everything.
I'm not full-on anti-bang like Kaiser is, but I think most people look better without them. Some obvious exceptions are Reese Witherspoon and Zooey Deschanel, who can really rock bangs. But I think Kaley's face shape isn't well suited for bangs, and even worse — these were cheap, clip-on bangs. Clip-on bangs almost never look good and always look out of place. I remember quite vividly that Katie Holmes made the mistake of wearing clip-ons at last year's VF Oscar party, but she might have been attempting to divert everyone's attention from her ill-fated marriage to Tom Cruise at that point.
Back to Kaley, who has received everyone's message loud and clear: no more bangs for her! She admits that she only wore the clip-ons as a means of covering up a black eye, and she says that if given the choice next time, she'll totally go with a black eye instead: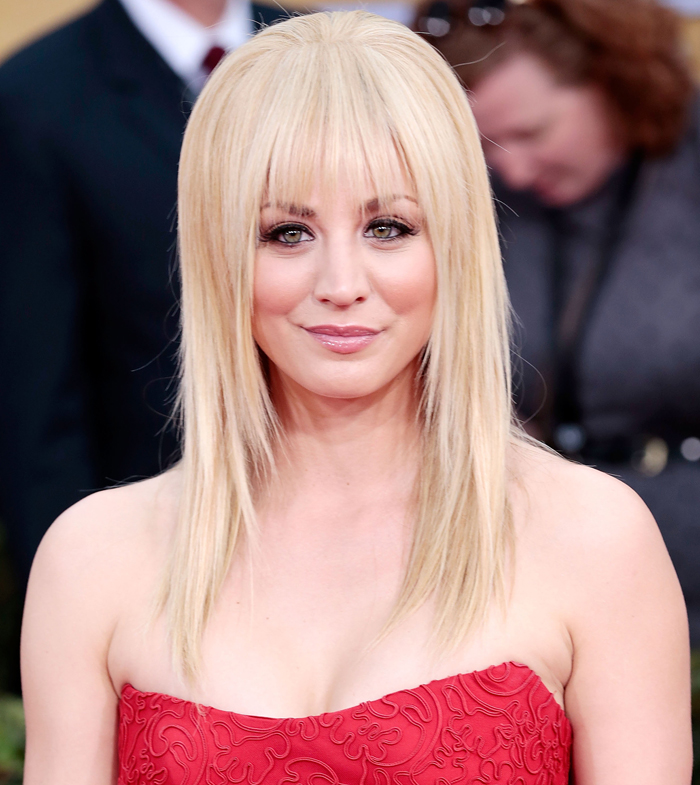 Kaley Cuoco is used to receiving accolades, but after wearing controversial bangs to the 2013 SAG Awards, the actress learned how it feels to be panned.

"I got reamed a new A-hole," The Big Bang Theory star, 27, told PEOPLE on Wednesday at The Hollywood Reporter and Jimmy Choo's Most Powerful Stylists luncheon. "I will never do that again! That was my faux pas, and because of that, they hated everything: the [Romona Keveza] dress, my shoes, everything."

She swears the bangs were supposed to serve a purpose: "I had a black eye, so we were trying to hide it," she says. "Next time, if you're going with a black eye or bangs, go with the black eye."

But at the time she made the decision, there was no stopping her.

"I know what I want, so even if everyone said 'Bangs don't look great,' I loved them," she said at the West Hollywood Soho House event, dressed in a colorful McGinn ensemble. "I think that on the carpet, they read worse than they did at home … I just accepted it and made fun of myself and moved on. You show up at the next one and you look fabulous and fine and they make fun of someone else."
[From People]
Poor Kaley. Many of us experiment with hair styles and have experienced at least one style that has resulted in tears, but most of us haven't had to live it down after a red carpet disaster. Here are some subsequent photos of Kaley at a Television Hall of Fame induction gala and PaleyFest where she looks much, much better. Hopefully, the entire world will someday be able to forget those awful bangs.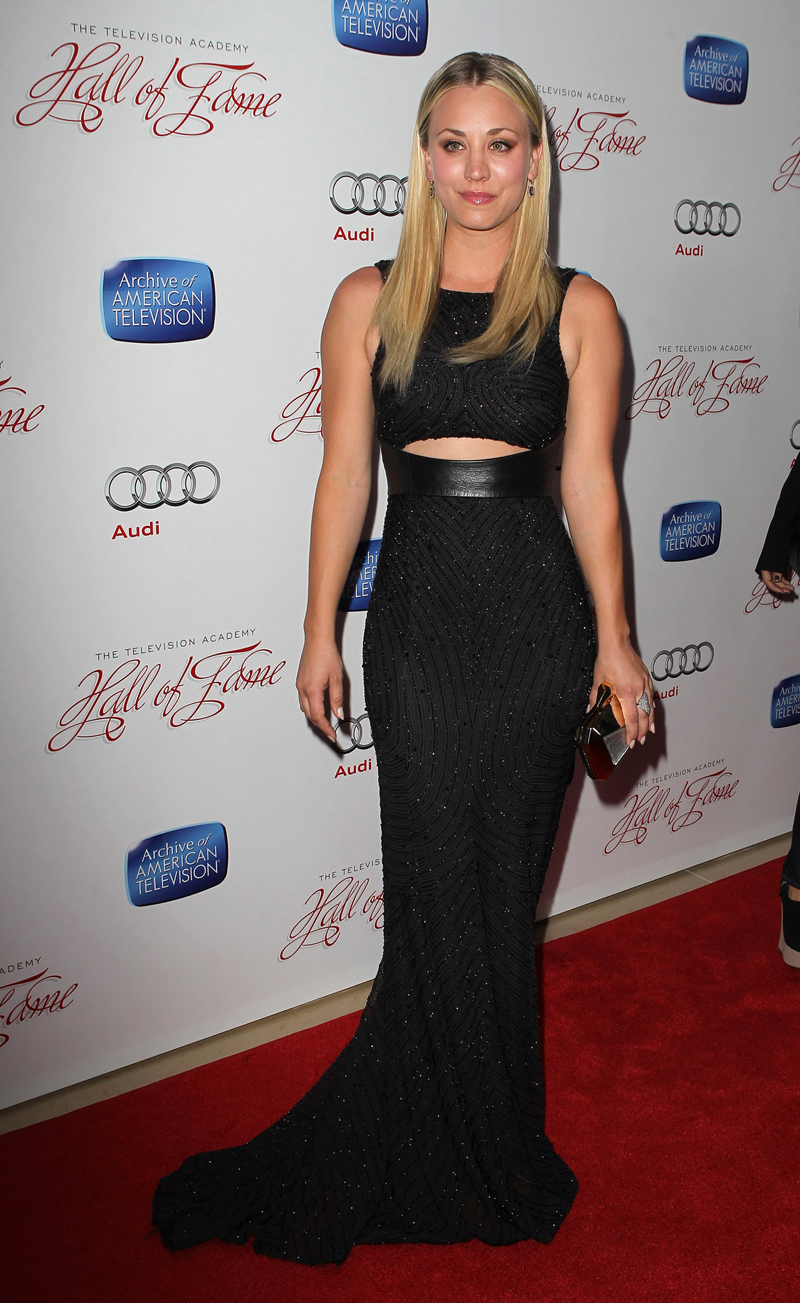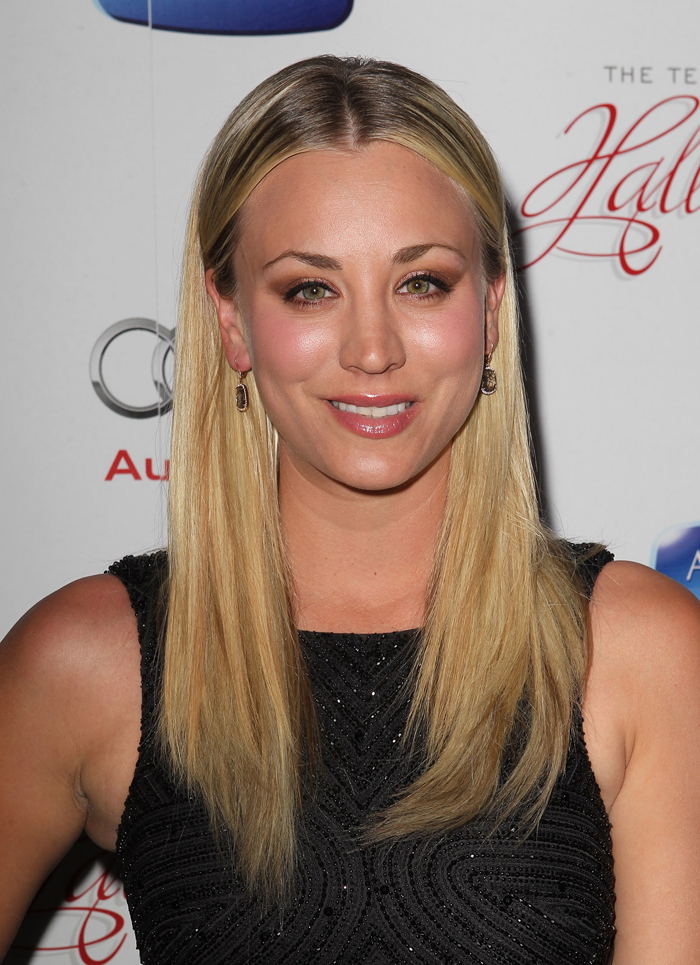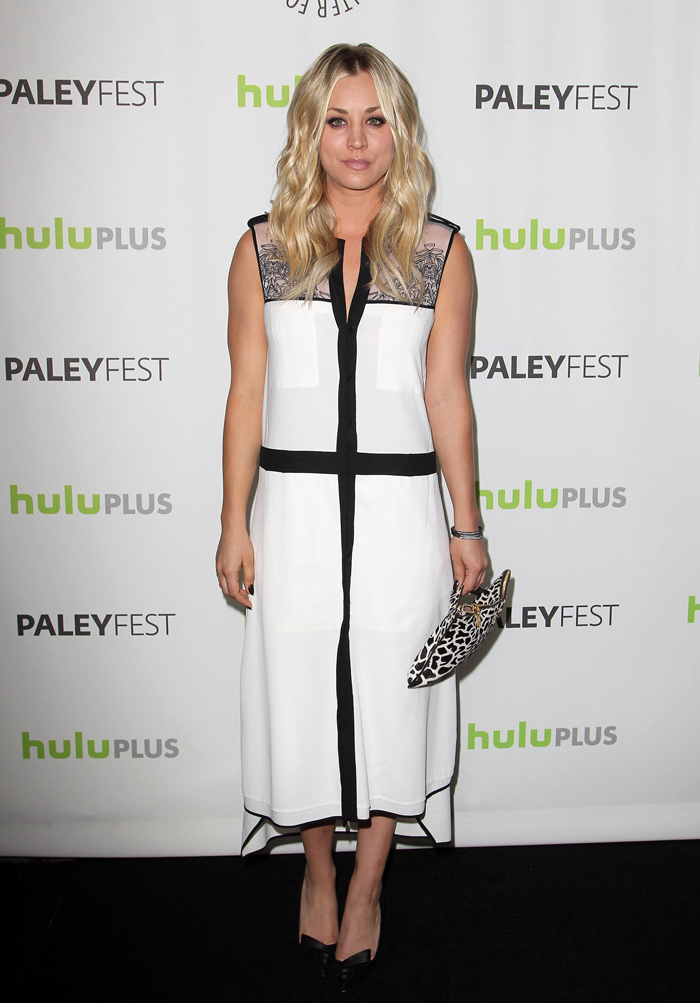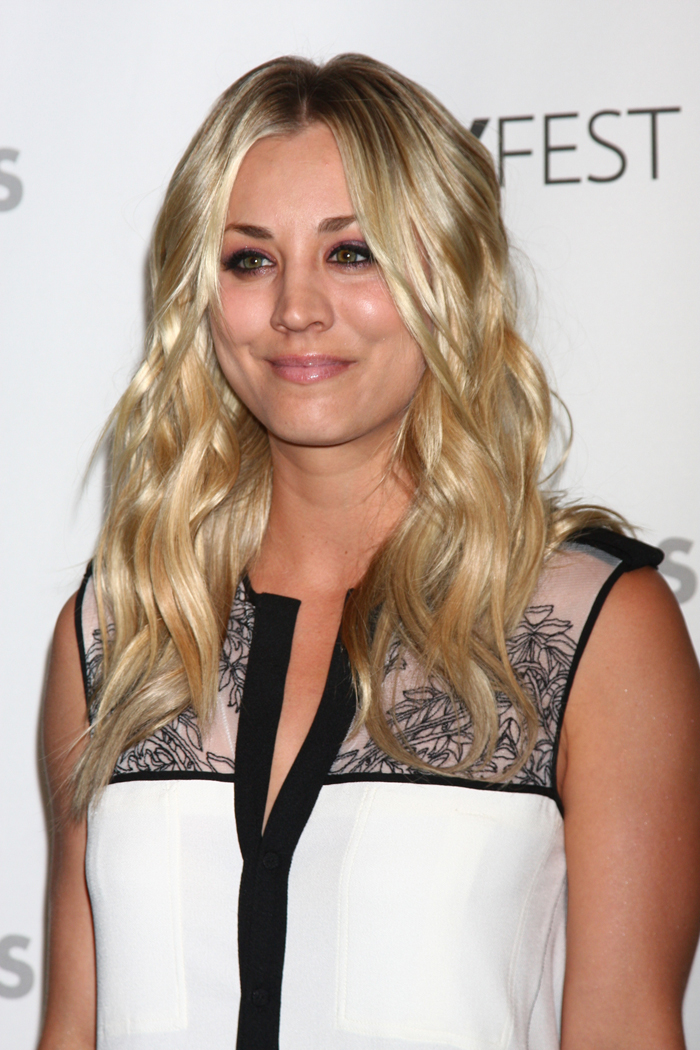 Photos courtesy of WENN