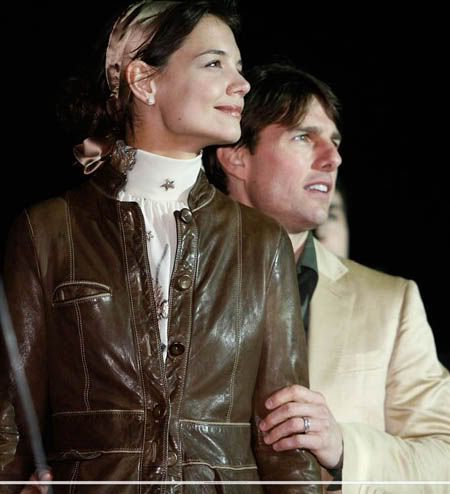 Katie Holmes showed her new Stepford face all over Miami this weekend, heading to a pre Super Bowl party on Saturday where Scientology-friendly J.Lo and Marc Anthony performed, and going out to a club with Tom afterwards. Tom's sister and son Conner were at the show too. The party at the club was hosted by Creative Artists Agency, so Katie and Tom's appearance was probably for professional reasons also.
Katie is represented by Creative Artists Agency, and made a visit to their offices recently. Commentor CountryBabe notes that she probably only has so long before they drop her if she isn't getting work. According to IMDB she has nothing in the works, and her last appearance was in 2005's Thank you for Smoking. Maybe Tom will cook something up for her to appear in.
Katie recently said that she loves calling Tom her husband and that "I was in love from the moment I shook his hand for the first time."
From the looks of these pictures of Tom clinging to her while Katie has a faraway look in her eye, it seems like some of that starstruck puppy love has faded, but the plastic surgery and Barneys perks must make it worth her while.
Pictures from KatieHolmes.com