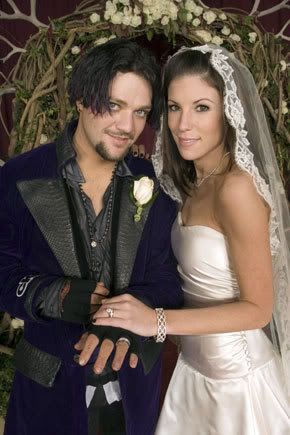 Proving that there still are people stupid enough, or maybe realistic enough, to doom their showbiz relationships by appearing in MTV reality shows featuring such, Bam Margera and his new wife have let camera film the events leading up to their wedding for a series called Bam's Unholy Union. The first episode aired on Friday and they were married this Saturday:
Bam Margera professional skateboarder, MTV star and amateur prankster, just earned himself another title: husband. Margera, 27, who became a punk hero on the shows "Jackass" and "Viva La Bam," married childhood friend Missy Rothstein, 26, in downtown Philadelphia on Saturday.

The couple wed in front of about 350 friends and family members and an MTV crew.

Margera is making his path to marriage into a nine-part reality television series called "Bam's Unholy Union." The wedding itself will be shown in the final episode in early April.

The festivities included a performance by rocker Iggy Pop, as well as appearances by skateboard legend Tony Hawk and James Iha, formerly of the alternative rock band Smashing Pumpkins.
Known for his role on Jackass and a follow-up MTV reality series in which he tortures his family inventively, professional skateboarder Margera might not be swift or self-aware enough to wave off the cash for opening up his new marriage to the harsh light of reality TV.
Bam, 27, was engaged to Jenn Rivell, a 33-year-old single mom, until 2005, when their relationship ended amid accusations of his infidelity with Jessica Simpson on the set of The Dukes of Hazzard. Rivell called into a radio station with the story about Margera bragging in an e-mail that he bedded the then-married Simpson, which he denied, then admitted, then denied again.
Margera has known his new wife since they were in grade school together, and rumor has it that he cheated on Rivell with her, too. They are honeymooning in Dubai.
Pictures from MTV.com