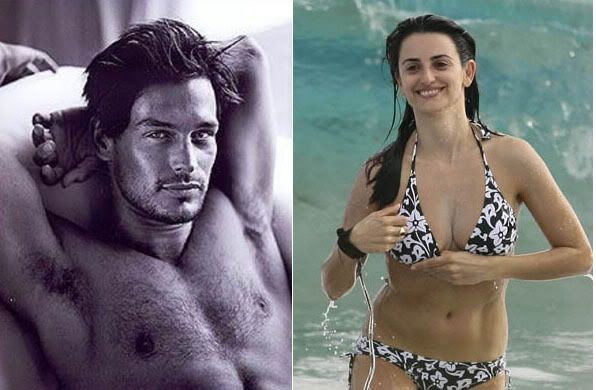 If you are an obscenely good-looking Frenchman desperate for the UK press to take you to bits as they run out of Big Brother scandal … just follow the Olivier Martinez playbook.
Flaunting your freedom from your recently dumped, much-beloved, cancer-recovering, gold-lame-shorts wearing, excellently-bottomed girlfriend turns out to be a near perfect plan for bad press. And surprise surprise the British tabloid press don't bother much with substance behind their accusations. Luckily their Commonwealth cousins (and original supplier for all things Kylie) are a tad more circumspect in their analysis of the material. Maybe when Minogue is your homegirl you can give the ex a bit more leeway … or maybe its just not having France a mere Chunnel away … Entertainment Australia sounds this balanced note
KYLIE Minogue's ex-boyfriend, Olivier Martinez, has been spotted in the arms of yet another woman, this time it's actress Penelope Cruz.
Britain's Daily Mirror made a meal of photographs showing the French actor in an embrace with the Hollywood star at a Los Angeles hotel 12 hours after ending his four-year relationship with Minogue.

But the pictures, carried on the paper's front page with the headline "Kylie Cad Cruz Schmooze" and in a double-page spread, only show Martinez and Cruz sharing what appears to be a friendly hug.
The status of his Cruz huggin' aside reports do seem to agree that the (up till this weekend) admirably supportive Martinez is wasting no time sampling L.A.s charms now that he is officially off the clock. His haste may be a bit unseemly … but if you add in the time difference, hemisphere switch and a Gallic presumption of joie de vivre rights – he comes out just the safe side of cad.
Cruz, who was at the Chateau Marmont hotel for lunch with three female friends, reportedly shrieked with delight when she saw Martinez.

An unnamed source criticised the Frenchman for being so brazen after he and Minogue announced their split at the weekend.

"Does he really have to rub Kylie's nose in it?", the source said.

Martinez has been seen at the same hotel in recent days with Israeli model Sarai Givati, Lost star Michelle Rodriguez and a mystery brunette.
It apparently takes a whole lotta brunette to Wash that Kylie Woman right oughtta your hair.
Kylie seems to be taking it all in her stride. She's in the UK opening an exhibition at the Victoria and Albert Museum of her very own costumes, glittery bobs, sparkly bangles and shiny beads. Wonder who she'll take to the opening? I suggest a red-head … maybe Prince Harry is done with Chelsy.
Update: Jocelyn at ICDK let me know that the header pic is not of Oliver Martinez, it's just a random hot guy that came up in my Google image search on his name. Here is a composite image that she made of the two, which includes the real Oliver, who is equally hot with his shirt off I'm sure: