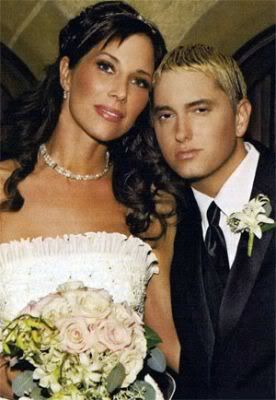 Eminem's double ex-wife, Kim Mathers, said his performance of a song wishing her dead, in which he choked a blow up doll on stage meant to be her, drove her to attempt suicide by slitting her wrists. She said he had promised not to include that song in his gig in their hometown of Detroi that night, and it just drove her to harm herself afterwards:
The rapper, real name Marshall Mathers, wrote the violent and graphic song Kim about the couple's turbulent relationship.

Kim was shocked when the song became public saying, "I was embarrassed. I was humiliated. I cried. He's supposed to be the man that loves me and protects me and here he is completely and totally disrespecting me in the worst way possible in front of millions of people. And in front of our kids, my family, my friends."

Soon after the song's release in 2000, Eminem promised Kim he wouldn't perform it at a hometown concert in Detroit, Michigan.

She adds, "Sure enough he decided to do that song and not only perform the song, but use a blow up doll to re-enact me being choked. I couldn't take it."

Kim felt betrayed by the performance and says it pushed her over the edge adding, "I made it home (after the concert) and I went upstairs in my bathroom and I slit my wrists and ended up in the hospital."
In that song Kim, Eminem details how he chokes her to death while their infant daughter is sleeping after he catches her with another man.
If that woman had an sense she would have left him for good at that point and packed up her stuff. From my cursory examination of the dates, it looks like she stuck around for some more heartache for a few months because they didn't officially split until 2001. Then she went back to him for another round of marriage in early 2006, which ended in divorce three months later. Mathers has said that Eminem didn't talk to her the last six weeks of those three months and that he is addicted to painkillers that were prescribed for back back.
Mathers and Eminem have a daughter, Hallie, who is 11. They didn't do her any favors by trying to make their incredibly dysfunctional public relationship work. Eminem sang about Hailie's reaction to her mother's suicide in the song "When I'm Gone," in which his daughter follows him to a concert in Sweden and says "Daddy it's me, help Mommy, her wrists are bleeding."
Eminem and Kim's second divorce was finalized in December of last year. The details were not made public, and Kim is said to be going to college now to study design.