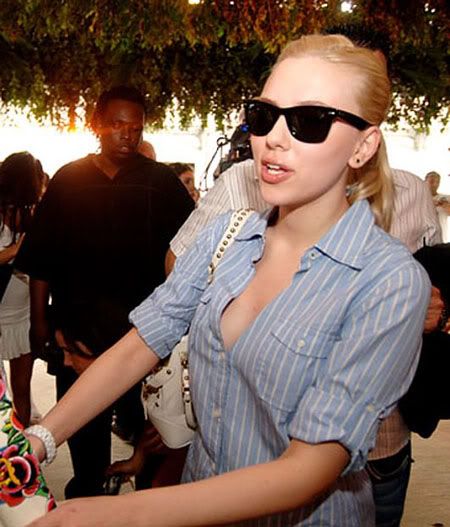 Justin Timberlake isn't content to just romance one high-profile starlet and move on quickly to another – he seems to be keeping two on the line. Word is he shared a high-priced rental condo and some fireside snuggling with bootlicious Jessica Biel at Sundance, and now he's back to bumping Scarlett Johansson – sort of. There was a rumor that Scarlett had rebuffed Timberlake and broken his heart after he hired her to appear in his video in an attempt to get close to the sexy actress. Scarlett is said to be a free spirit and only wanted a fling without ties.
Scarlett is either taking her chances or just toying with Timberlake, as she's said to have hung out with him all night and to have done a little sexy dance in front of him at a Super Bowl after party:
Johansson met Timberlake at the Hennessey Super Bowl afterparty at Mokai, where, spies say, "they were talking, dancing, holding hands all night – it was very cozy.

"Then, as they left through the back, Justin was leaning against the wall and Scarlett came up, leaned into him and did a sexy, little dance, grinding into his body."

Timberlake's spokesman, Ken Sunshine, had no comment, and Johansson's flack didn't get back to us.
I bet Johansson is messing with Timberlake and I'd like to see him get his heart stomped on, as cruel as that sounds. He dissed Cameron publically, so I kind of figure he deserves it even thought I still think Cameron is a snot bag. (Why do I care what happens to these people?)
No matter what happens in Timberlake's life, he seems to have help to get through the days. He recently admitted to being stoned off his ass during the Punk'd episode where he was tricked into thinking IRA agents had seized all his worldly possessions.
Scarlett recently won a free year at a South Beach condo, valued at around $50k. Her spokesperson said she will donate it to a nearby children's hospital, so that the parents of sick kids will have a nice place to stay. The NY Daily News points out that Jessica Simpson won a car in a similar celebrity swag giveaway last year and that she kept it.
Here are pictures of Scarlett winning that condo. I realize that Justin Timberlake does not appear in these pictures, so please do not point that out in the comments. [via Superior Pics]