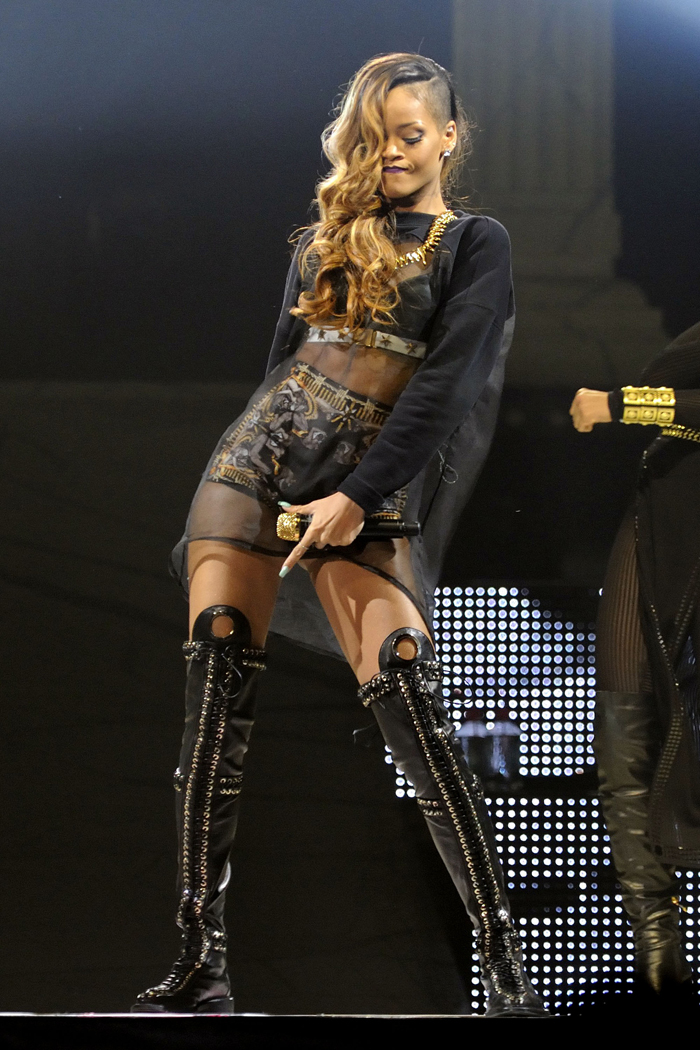 Note: These photos are from a Rihanna show in Canada on 3/18.
Being several hours late for a show must be a new trend for pop stars wishing to (for whatever reason) emulate Axl Rose. Only a few weeks ago, Justin Bieber kept thousands of his school-age fans waiting (and some went home early) when he was two hours late for a London concert. Now Rihanna has decided to be twice as bad by showing up over four hours late for a show at a Chicago high school on Friday afternoon. These poor kids were on spring break and waited all afternoon to see Rihanna because their school had won a contest for producing a video of their philanthropic work set to RiRi's "Diamonds." Students aided tornado victims in Joplin and provided assistance to Native Americans in South Dakota, and Rihanna couldn't bother to honor her word and show up on time.
Her official excuse? Chicago traffic is bad, and Rihanna Instagrammed the following photo (when she was already three hours late) as proof, which is a very weak excuse. But here's something even weaker — she only spent about 15 minutes performing for these students before leaving the premises.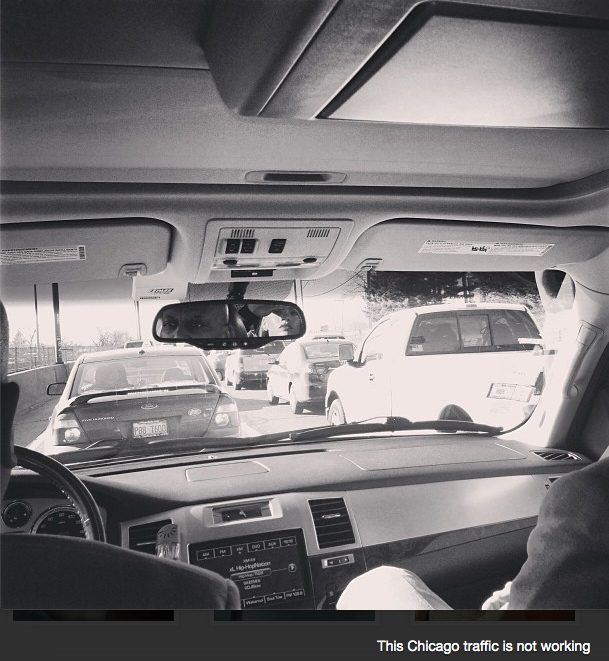 Rihanna, clearly, does not make excuses.

The Barbadian superstar barely acknowledged her tardiness when took the stage at Barrington High School moments ago – despite being more than four hours and 30 minutes late for her much-anticipated visit. Her fans, nearly despondent minutes earlier, greeted her with wild applause and Beatlemania-type screaming.

"Thank you guys for coming and waiting," the Barbadian signer said, before paying tribute to the school's charitable works. Sixteen minutes and roughly a dozen smiling pictures later, RiRi was gone and her late arrival forgotten by a starstruck crowd.

It was hard to believe that only minutes earlier she was the cause of quite possibly the most angst-ridden moment in Barrington High School history.

The overwhelmingly female crowd had been patient in waiting for hours for her arrival after the school won a visit from the star. Teens have been chatting on their phones, grabbing snacks and braiding each other's hair. Many have been at the school since the doors opened at noon.

Rihanna was originally supposed to start her visit at 1 p.m.; on Thursday evening, the school announced that had been pushed back to 2 p.m. As of 5 p.m., she still wasn't at the school.

"It's one thing to be fashionably late. This is just rude. Our lives don't revolve around a pop star," said junior Patricia Halle, who nicknamed the afternoon "the survive Rihanna event."

"Our school worked hard to win this. She should be more respectful," Halle said. Her friend Cassie Mullay said she was thinking about leaving, having waited since 1 p.m. "It's so rude." Seventh-grader Jaki Mora said: "Rihanna is pathetic. She shouldn't be making us wait for her."

At 4:22 p.m., Rihanna tweeted a picture from inside her vehicle and wrote, "This Chicago traffic is not working." The DJ — said to be the pop star's personal DJ, whom she sent ahead of her to entertain the crowd as they wait — is playing music while photos of the pop star are being shown on a big screen.

As the wait for Rihanna continued, the DJ hosted an impromptu dance contest, with a pledge that the winner will get to go backstage at her United Center concert tonight.
[From Chicago Tribune]
These poor kids were so excited to see Rihanna, and they were a complete afterthought to her. Why did her team even orchestrate this contest for schools if RiRi wasn't even going to take it seriously? I understand that no one made any money off this show, but Rihanna should have at least made an effort. Obviously, she didn't care enough to show up even close to "on time" and couldn't get out of there fast enough. Lame.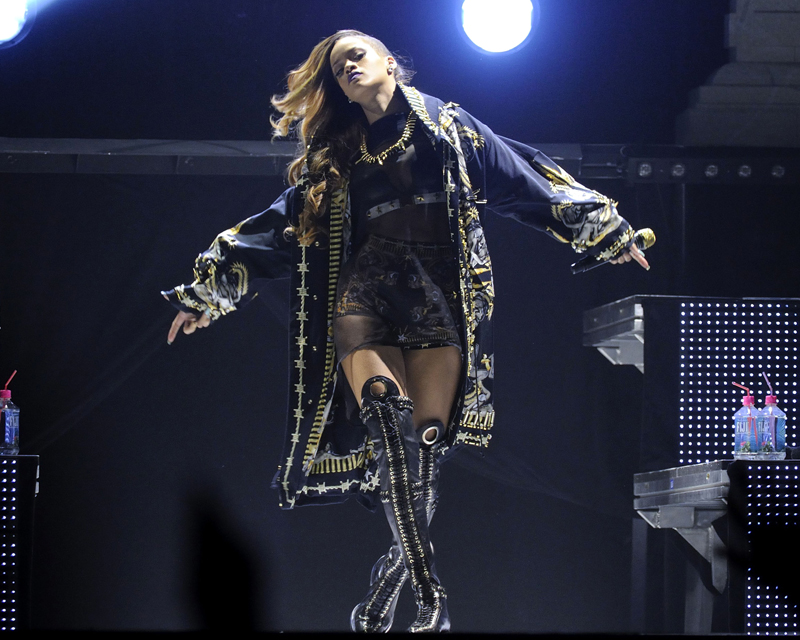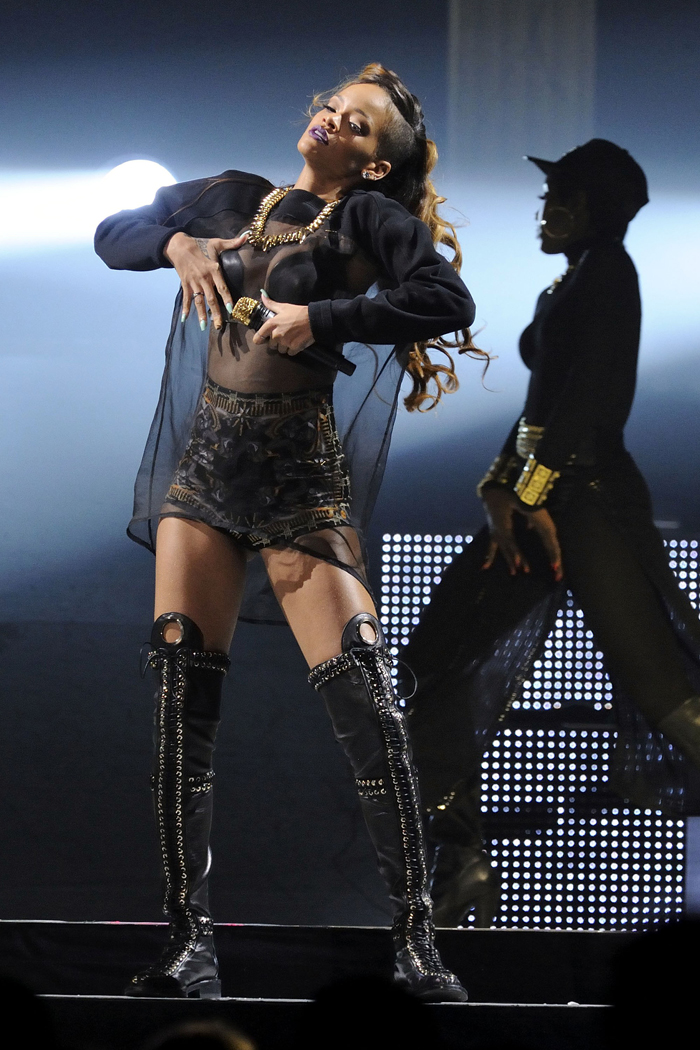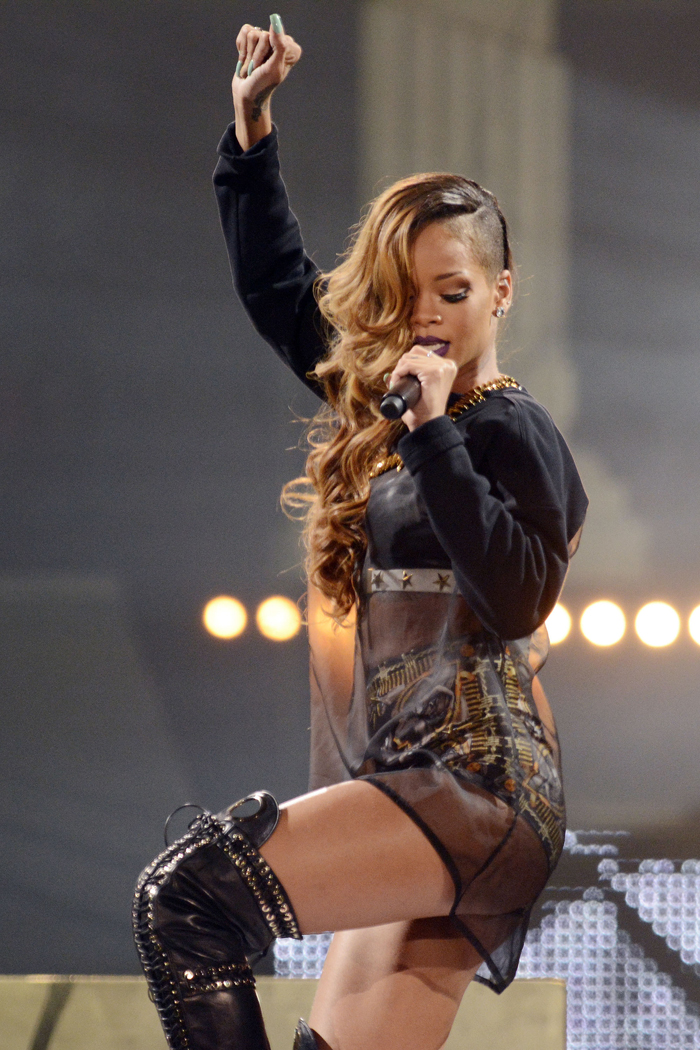 Photos courtesy of WENN