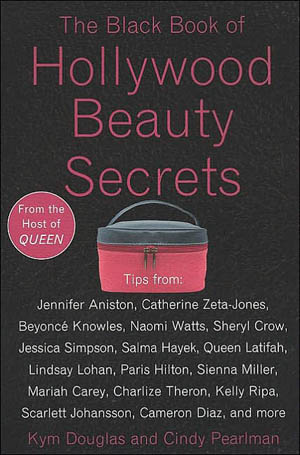 Okay, let's take a little break from the Anna Nicole Show and talk beauty secrets. Specifically, beauty secrets of the stars. If you thought your favorite celebs spend thousands of dollars on expensive beauty products and treatments to look gorgeous, you'll be surprised with what you find in this book.
The authors of The Black Book of Hollywood Beauty Secrets , Kym Douglas and Cindy Pearlman, have published everything you've ever wanted to know about celebrity skincare, fitness, and beauty routines. And surprisingly, most of the beauty secrets are affordable. With the exception of Paris Hilton, who swears by Creme De La Mer (Retail Price: $195 for a 2 oz. jar) to moisturize her face every night, many of the secrets stars use are available from your local pharmacy or the grocery store. Sometimes they can even be found in your local public bathroom.
Take for example, Sarah Jessica Parker. When she's out at an event and feels her face getting oily, she runs to the public bathroom and uses toilet seat covers to blot away excess oil off her face.
(I guess this trick could work great in an emergency, but if SJP really has that big of a problem with excess oil, wouldn't she be better off carrying her own blotting papers? You know, the kind you buy at Walgreens for about $5 bucks? Being the germphobe I am, I would be pretty skeevy of putting a toilet seat cover hanging in a public bathroom stall…on my face.)
Other beauty secrets include the power of natural fruit and vitamins. Vitamin E is used to help facial blemishes and fine lines around the eyes. A face mask made out of bananas tightens pores on your face and helps remove toxins. The book particularly touts the benefits of pomegranates. Many celebrities these days drink a cup of pomegranate juice every day because not only does it contain powerful cancer fighting antioxidants, it also helps reduce and prevent wrinkles in your skin. It may even eliminate your existing wrinkles.
(I've always loved eating pomegranates, but it's such a hassle to cut them and remove the seeds. Thanks to the recent pomegranate craze though, pomegranate juice is available in nearly every grocery store now. I've actually found that the best place to buy them is in wholesale clubs like Sam's Club and Costco, the juice bottles seem to be priced less there. Pomegranate juice tastes a little tart and reminds me alot of red wine, but without the side effects of alcohol.)
The power of fruit doesn't end at the face, Catherine Zeta Jones uses strawberries to brush and whiten her teeth. Apparently, the fruit enzyme in strawberries breaks down plaque and helps teeth look naturally whiter. She eats the strawberries after she's done brushing her teeth with them.
Overall, the book is a definite must read. The writing is both witty and informative and I loved the added touch of humour. The authors talk to you like your best girlfriends would, dishing out commentary along with advice. I know I focused mostly on facial beauty secrets here, but the book is chok full of makeup, hair, and diet tips too. If you love reading magazines like InStyle or Allure (and of course, UsWeekly), you're gonna love this book.