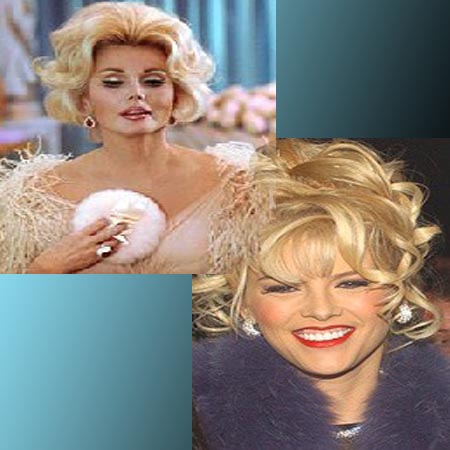 As if worried that the Ryan O'Neals might be outstripping them for recent drama with their PCP, fireplace pokers and dog run bondage The Anna Nicole camp has upped the babydaddy and death drama with a touch of class. Well more than class – royalty!
The husband of actress Zsa Zsa Gabor had a decade-long affair with Anna Nicole Smith and may be her daughter's father, he told The Associated Press on Friday.

The claim, by Prince Frederick von Anhalt, comes amid a paternity suit over Smith's 5-month-old daughter, Dannielynn. The birth certificate lists Dannielynn's father as attorney Howard K. Stern, but former boyfriend Larry Birkhead is waging a legal challenge, saying he is the father.

"If you go back from September, she wasn't with one of those guys, she was with me," von Anhalt told The Associated Press. He said he would file a lawsuit if Dannielynn is turned over to Stern or Birkhead.

Von Anhalt, 59, and Gabor, who turned 90 on Tuesday, have been married for more than 20 years.
One sees right there the first clear signs of what may have drawn Anna and the Prince together.
"Do y'all like to date and marry the aged Mr. Prince … why me too."
Yes Granny chasing … the bond that few can share …. and Granny catching only for the creme de la creme of the GC crowd. Its perhaps not surprising that eventually romance bloomed
Von Anhalt, who is Gabor's eighth husband, said he and Smith first met in the 1990s when Smith was still married to elderly oil tycoon J. Howard Marshall II.

He said Smith approached him and Gabor at the Plaza Hotel in New York.

"She was a very big fan of Zsa Zsa and wanted to be like Zsa Zsa," he said. "She wanted to be a princess."

He said the two started an affair soon after, meeting over the years in Los Angeles, San Francisco and New York. For much of that time, he said, Smith urged him to make her a princess like his wife.
But Both Freddy and Anna are, or were, not the divorcing kind … they see it out until the very edge of doom. Still he wanted to help her be a princess:
But short of divorcing the actress, he said the only solution would have been adopting Smith. Von Anhalt said he did consider that and even filled out adoption papers, but Gabor refused to sign them.
Likely due to that old fashioned Hungarian antipathy towards incest …
Granny chasing is one thing, but sleeping with your adopted daughter – that's pure Woody Allen and I didnt see Zsa Zsa in any 'Annie Hall" outtakes.
He said he never admitted the affair to his wife, but that he's sure she knows.

Von Anhalt expressed some regret about the affair, saying "Men do things we shouldn't do."

"She was a very sexy woman," he added. "To have an affair with her is the top, you know.
Ohh don't be so modest Freddy … surely the very top … the Mona Lisa, the Tower of Piza, the cherry on the Sundae – is fathering a multimillionairre baby on her. Then snatching said baby from the two fighting dads before the autopsy is done. Then its off to your Beverly Hills mansion for little princess Dannielynn – where she can play in her new Mommy's oxygen tent.
I think that's what Cole Porter had in mind when he penned the tune originally … its just hard to get that rhyme to scan.
via Mercury News
pics via AskMen