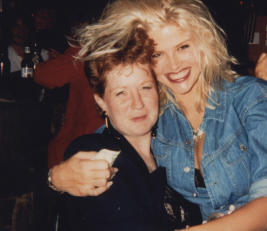 WCBS New York reports
while searching Anna Nicole Smith's hotel room late Thursday afternoon investigators found two key pieces of evidence — illegal narcotics and prescription medications.

Now, a toxicology report will determine whether one of these drugs or a combination of both substances contributed to her death. An autopsy is scheduled for Friday morning in Fort Lauderdale, Fla.

Smith, 39, collapsed and was unresponsive while staying at the Seminole Hard Rock Cafe Hotel and Casino, said the attorney, Ron Rale. She was rushed to Memorial Regional Hospital in Hollywood, Fla.
The press generally seems to be treating her death as a final sad chapter. There's a lot still up in the air … the paternity suit from ex-boyfriend Larry Birkhead over her new born daughter; the authorities in the Bahamas are about to open an investigation into her young son's overdose death next month; the family of elderly billionaire J. Howard Marshall II, continue their legal battle over Anna Nicole's inheritance of his money.
Those are just the big one's … and how they will progress, cross-over, be stalled and be complicated by her death awaits to be seen. The conspiracy theories are already in progress. They certainly have plenty to work with … its going to be a bit of an industry in the coming months.
Estranged from most of her family and surrounded by a randomly assembled reality tv menagerie these last years: the saddest footnote comes from an interview shot about ten days in her home in the Bahamas
"Everyone in my life has stabbed me in my back, or said something bad about me or sued me," she told The Insider.
There's no arguing with that
Update by Celebitchy: Apparently only prescription drugs were found in Anna Nicole's room and earlier reports that there were narcotics in the room were false. The coroner reports that she either died from natural causes, drugs, or a combination of both. Final results from the autopsy are expected in 4-6 weeks.