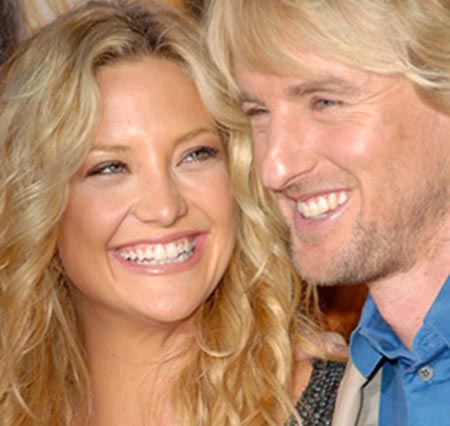 The arch, wry critics of contemporary mores over at Holy Moly deconstruct the the elder Mr. Wilson's face — before taking on his threeway eitiquette.
Despite having a nose which is in profile whichever way he turns, wonky-faced Owen Wilson is still a sizeable threat to the lady gussets of the world. He approached one lovely at the after show party of 'You, Me and Dupree' last summer and invited her back to his pad, pointing out that her husband could come too. Literally. The lady declined.
It's one of the real subtle points for a modern day Emily Post …what to do with all the excess husbands in the world. Happy, Hippy Owen obviously decided that even if you can be with the one you love – why not love him too … or rather three. Seeing the world through a blonde shag-cut must be very like seeing it through rose colored spectacles. Sadly his date had had the Lasik done … no word on whether her husband declined as well.
But the random accosting of attractive couples isnt enough to fill an Owen' days and nights. There are more things to be done with a wonky sideways nose than simply poke about in other people's business … and their husband's business … if he agrees to come along for the ride. No one knows the multifarious uses of the Wilsonian schnozz better than Goldie Hawn bio-retread, Kate Hudson:
At one point last summer she had to resort to banning Steve Coogan from Owen's LA home, due to the heroic amounts of cocaine that the pair were hoovering away together.
You'd think in an era such as this … dangerously low on heroes and without that many men who take a real interest in vacuuming … Kate could have cut him some slack. Or let Steeve Coogan cut him another line.
Image via Daily Blabber