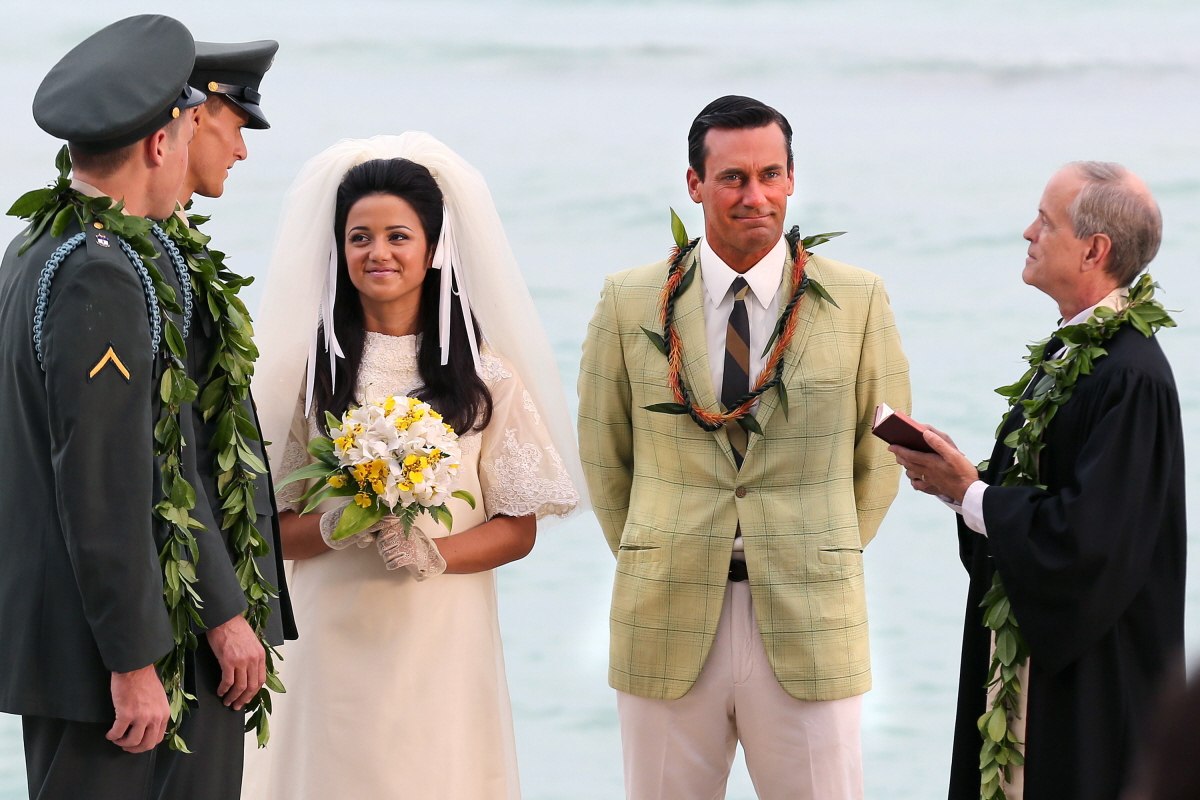 The entire post is full of SPOILERS for last night's premiere of Mad Men.
Season 6 of Mad Men premiered last night, and I ended up having Mad Men dreams all last night because that's just the way Mad Men works. I kind of like the 2-hour premiere episodes because Matthew Weiner really gets to stretch out the pacing and create the story in these odd little moments. This is a different kind of 1960s story – every character is not constantly referencing the Rolling Stones or Vietnam or the civil rights movement, but all of those cultural touchstones are used to make up the fabric of Mad Men, and you can really start to feel the weight of it.
So, as for Vietnam – I guess we're at the end of 1967, entering 1968 in the premiere episode. There were a few LBJ references, as well a horrific reference to soldiers killing the Viet Cong and cutting off their ears. But that was only a problem because Peggy had to change her "Lend Me Your Ears" headphone campaign. That was her story line, Peggy working through the holidays to figure out something to replace a campaign that now referenced a Vietnam War crime. I kind of loved Peggy's story, her quarter of the premiere triad. I loved that she's a bitchy boss who yells at her staff and orders them to work through the holidays. I love that she still uses the tools Don Draper gave her (writing a letter to a friend to describe the product). I love that her creativity gets inspired by little things, like her boyfriend Abe listening to music. Abe looks good with that beard, right? I love that they're still together and that he brings her dinner when she's working late. And I like that she's working for a man who understands her value and compliments her work on a regular basis.
The second part of the quartet of stories – Roger, Death, Therapy and the Women Roger Loves. This was one of the few parts of the story that didn't involve Vietnam, right? But even then, Roger referenced Pearl Harbor and WWII. I got a little bit bored by Roger in therapy, but I guess it's appropriate for the time and Roger has always been a little Woody Allen-ish (if Woody was a WASP with a heart problem). I loved Roger's immaturity (yelling "It's MY funeral!" and then flopping face-down on the bed with the coats). I also loved his breakdown with the shoe-shine kit. OMG. It was just… perfect Roger. Roger and his mortality, Roger being Roger, etc. Is it just me or were they trying to make his daughter look like crap?
As for Don Draper's quarter of the story… well, I wish they had dedicated some time to telling part of Joan's story, but whatever. Don Draper in Hawaii, barely saying a word. Don Draper meeting a young PFC about to ship off to 'Nam. Don carrying around the PFC's Zippo, almost coming to tears when he discovered it, trying to throw it away when he was drunk, and having it come back to him. I guess the point of the Hawaii campaign is that Don is suicidal and he doesn't even know it, right? He's just gone completely back to his old habits, cheating on his wife with someone she knows, being rather morbid and he's still drinking WAY too much. As the PFC said, what goes around comes around.
And for Betty Draper-Francis… I like that she's still Fat Betty. I thought her storyline was blah, though. So… whatever. But Betty dyed her hair! I guess that's news.
Some of my favorite parts: I love how everybody is so beardy these days! I loved that Don's still got Dawn the African-American secretary (and she seems like a good secretary too). I loved that Peggy still keeps in touch with Rizzo and they like to gossip over the phone late at night (how cute was that?). I love everything involving Roger and his first ex-wife, played by his real wife Talia Balsam. I loved that the episode wasn't full-on Megan, thank God. And I love how Sally is so moody and a typical teenager. What did you love/hate?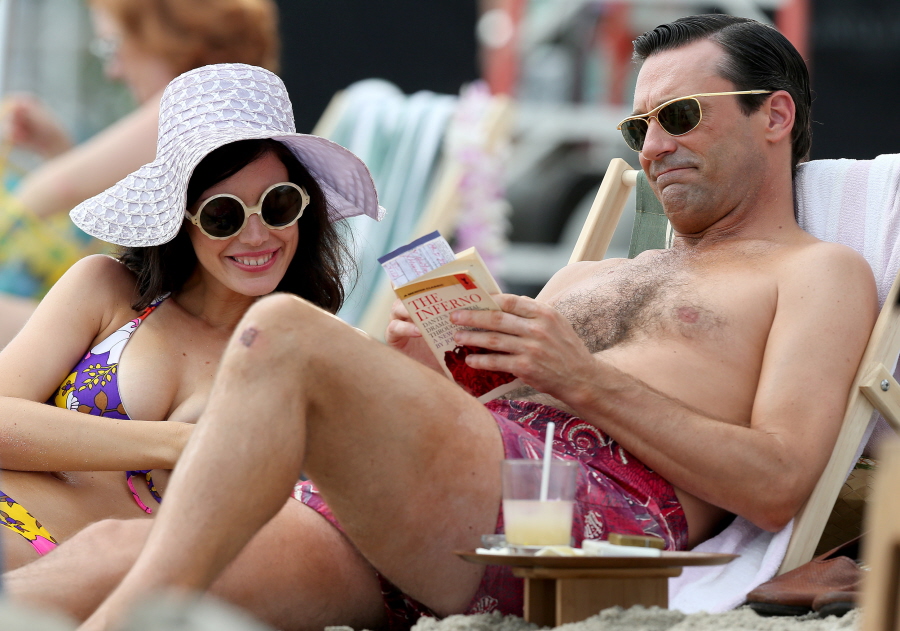 Here are some photos of Jon Hamm, Jennifer Westfeldt and their dog going for a walk yesterday in LA. Jon contained the Hamm Dong!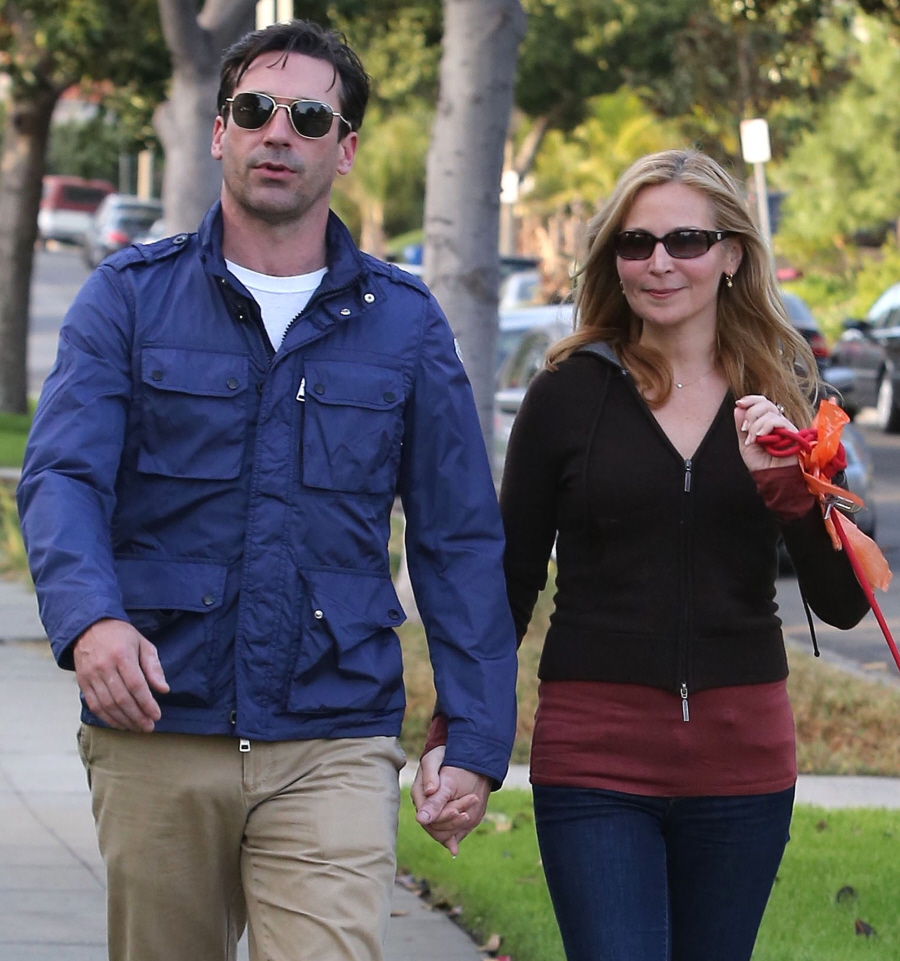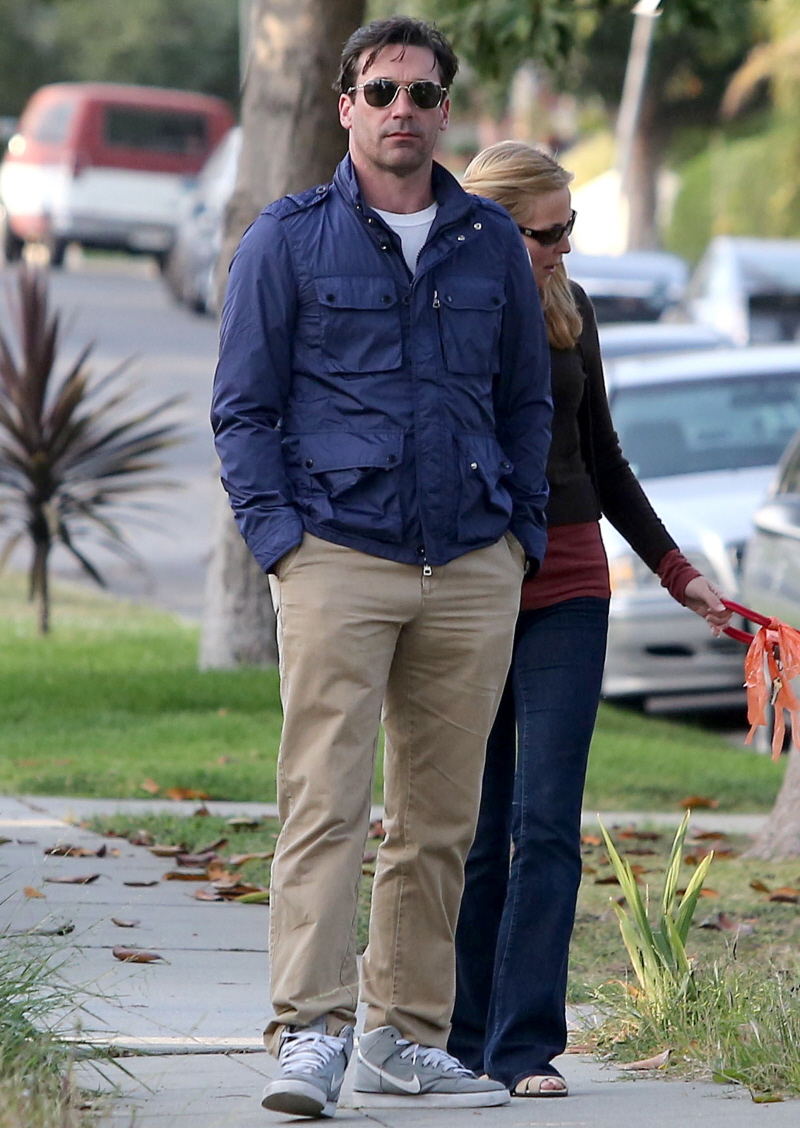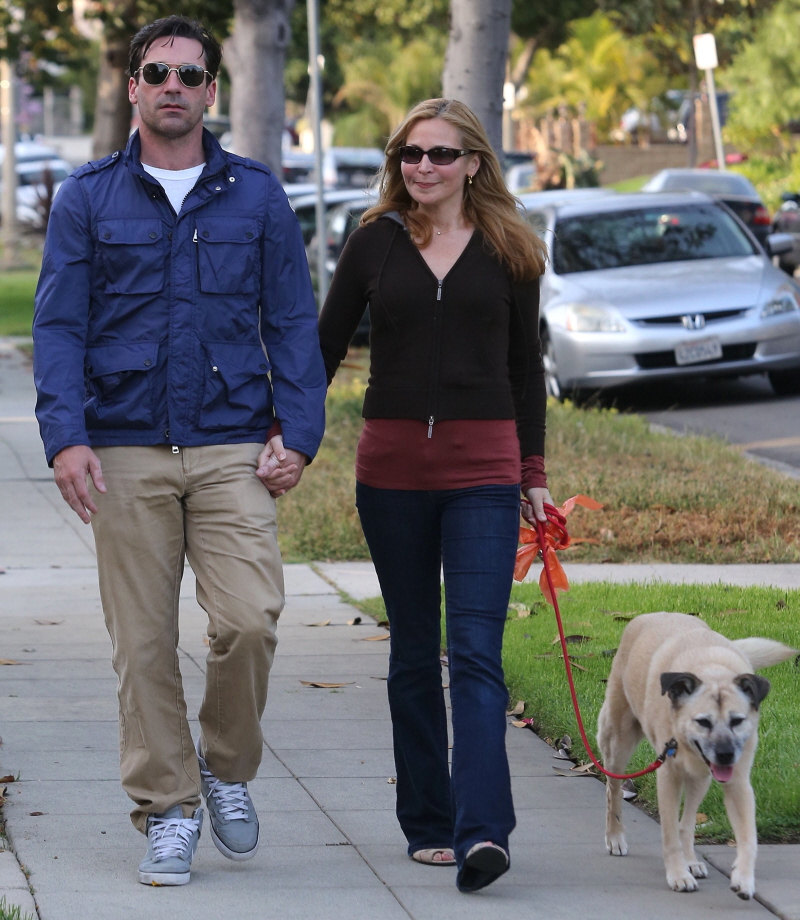 Photos courtesy of Fame/Flynet.