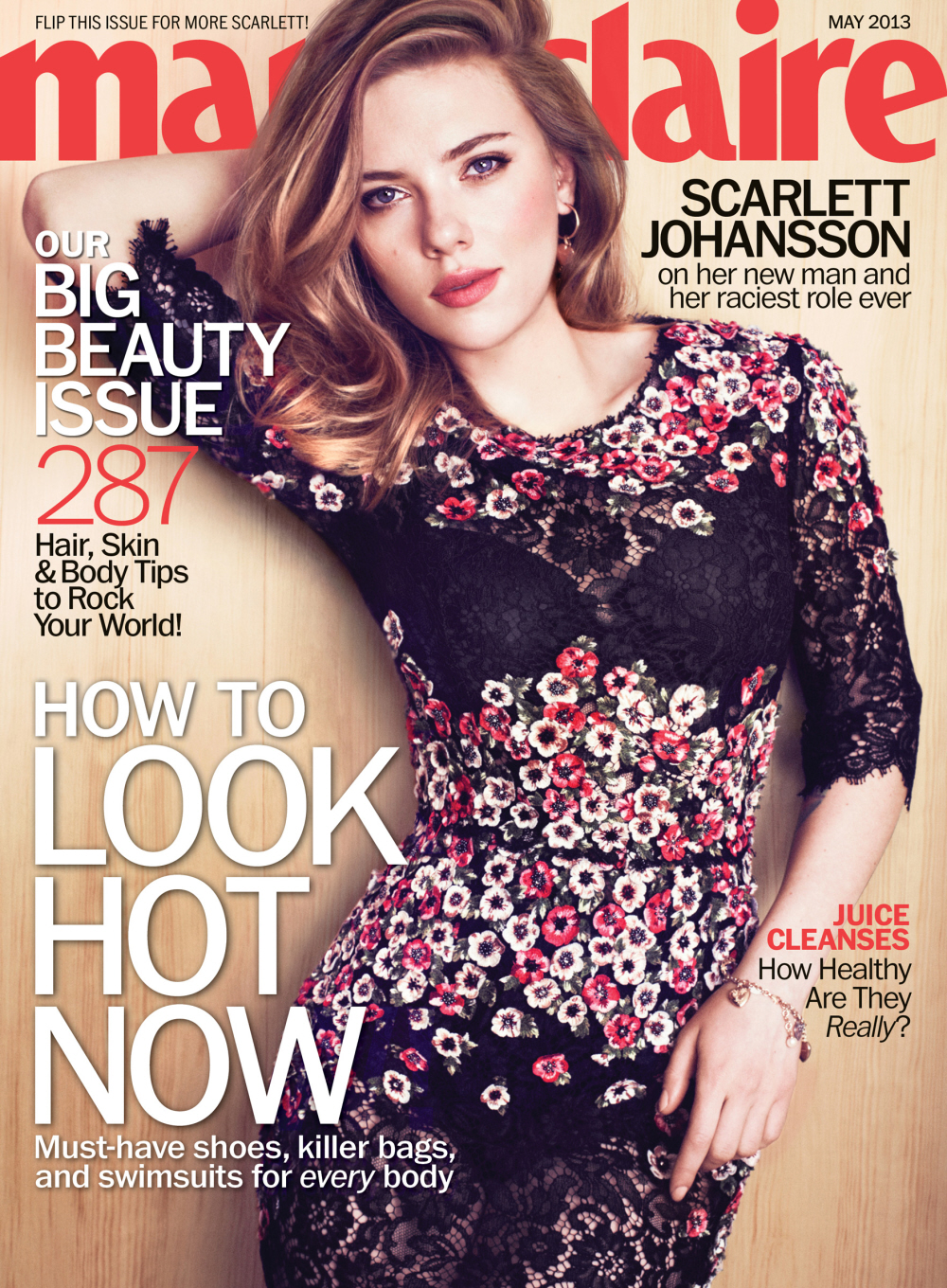 Scarlett Johansson covers the May issue of Marie Claire. I'm okay with the photo shoot – she looks pretty, they didn't Photoshop her to a crazy degree, and her hair is a decent shade these days. ScarJo is currently on Broadway, playing Maggie the Cat on Cat On a Hot Tin Roof. She has plans (which she discusses with Marie Claire) to adapt and direct Truman Capote's debut novel Summer Crossing. And of course, Scarlett is a major celebrity so I guess that's why she's on the cover of Marie Claire? Because she doesn't have any films coming out any time soon. Weird. In her interview, ScarJo talks a little bit about everything, including her Frenchman boyfriend, and if you'd like to hear what Woody Allen and Chris Evans have to say about her, you can read the first part of her interview here. Some highlights:
How she spends her downtime: "I've been obsessed with RuPaul's Drag Race. I love the makeup, I love the hair, I love the looks. That's been my escape."

On social media: "All of it drives me crazy. I don't understand this need to 'share.' We almost exploit ourselves in order to feel seen."

If she ran the world: "I would demand investment in finding and using renewable resources. Then I was thinking about other things, like cab stealing. I always say, 'You want it that bad, go ahead.' And they're usually like, 'F–k you!'"

On her divorce from Ryan Reynolds in 2010: "Well, it wasn't that long ago. But I think I've had a fair amount of time to process the experience and be able to move forward. I continue to get to know myself better as I get older, and that helps me in my relationships."

On something a man can't do around her: "I don't like jealous behavior. I don't mind an occasional check-in, but when somebody is passive-aggressively jealous, it's really unattractive because it shows a sort of insecurity that is…Oh, controlling behavior is awful. Nobody's going to say they love that."

Her boyfriend, 30-year-old French creative agency manager Romain Dauriac, who she brought to a party: "But we like to include everyone in a good party. That night was super-fun. I've never been the person who sits in the corner, orders bottle service, and judges everybody. The next day my boyfriend and I were saying, 'We were the best dancers in the whole world last night!'" She clarifies both were "completely delusional" to think that way: "I'm sure we were absolutely, like, ridiculous together."
Huh. Were those comments about "jealous behavior" particularly pointed? My first thought was… Ryan Reynolds. Some people think he's a genuinely nice guy – there are stories to support that. But some people think he was (or is) a piece of work, darker than you'd expect, jealous and moody – there are stories to support that version too. Of course, God knows, Scarlett could just be talking about Sean Penn. Ha.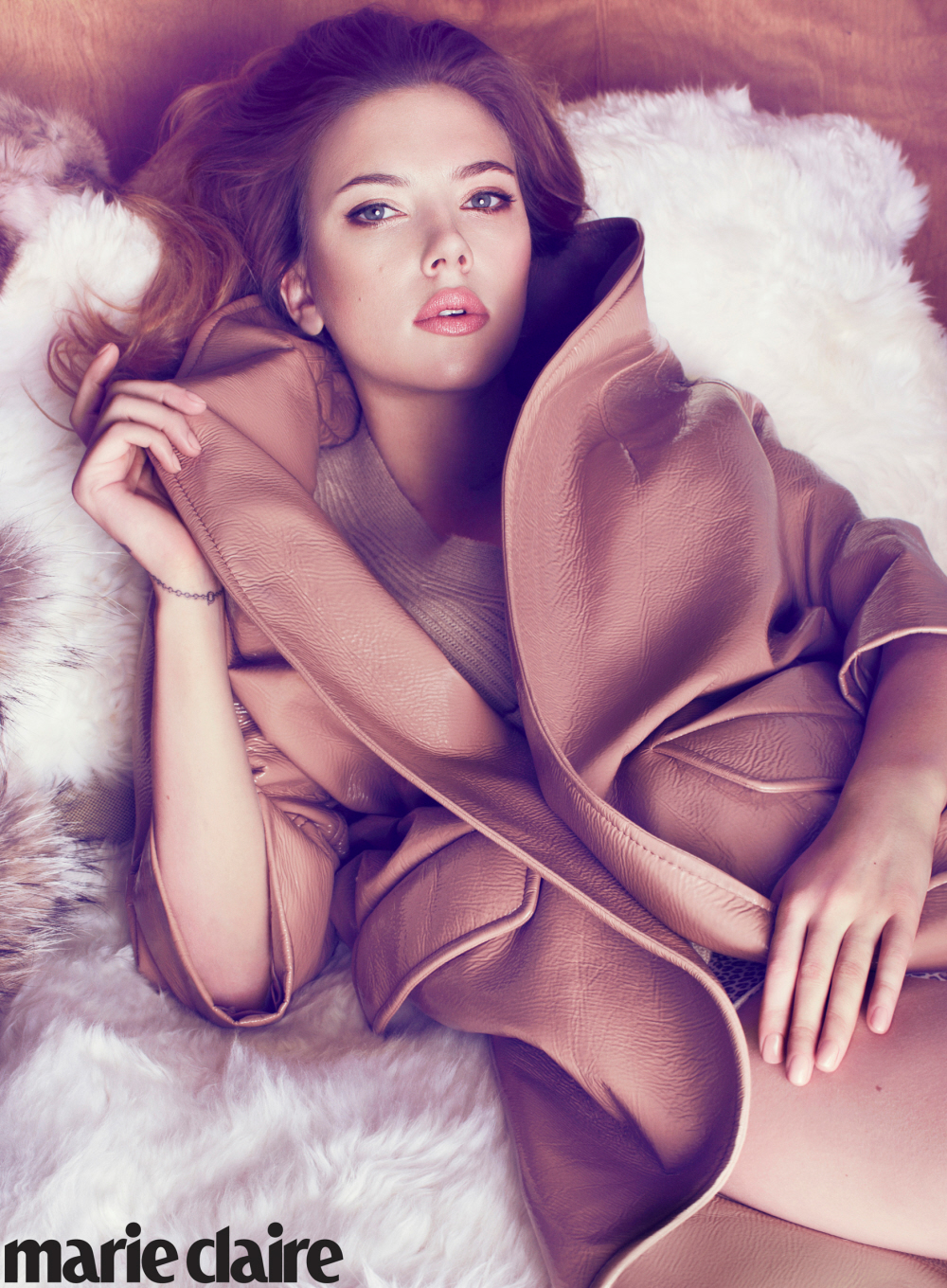 Photos courtesy of Marie Claire.