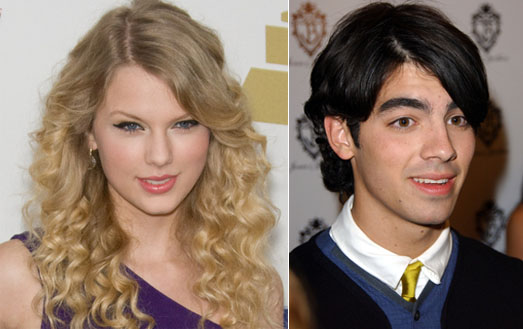 Teen country singer Taylor Swift and one of the Jonas Brothers, Joe- the really girly-looking one with the flat-ironed hair, if that helps you distinguish – had a short lived romance last year that ended, according to Swift, with a 27-second phone call from Joe. Since then, Joe has been spotted out with actress Camilla Belle, while Taylor has been openly nursing a broken heart. So you can imagine how uncomfortable it had to be for both of them to be booked as entertainment for Dick Clark's New Year's Eve special, live from Times Square. Sources say that both Joe and Taylor did their best to avoid each other all night, but then came the inevitable countdown to midnight, when Taylor, the Jonas Brothers and Ryan Seacrest were all standing together on the broadcast platform, watching the ball drop. Joe coped with the situation by mugging for the camera, while Taylor looked like she wanted to disappear.
JONAS BROTHERS star JOE JONAS and his ex, TAYLOR SWIFT, added to the big chill in New York on New Year's Eve (31Dec08) when they found themselves on the same stage just before midnight.
The Jonas Brothers had just performed as part of Dick Clark's New Year's Rockin' Eve with Ryan Seacrest when they were pulled up onstage with the TV spectacular's host to discuss the night's chilly temperatures and ring in 2009.

As the ball dropped on Times Square, revellers faced a freezing 19 degrees with a windchill of two – but it was even colder onstage as Swift and Jonas attempted to make the most of their end-of-year (08) face-off.
Bitter Swift recently revealed her ex broke off the couple's 2008 romance in a 25-second phone call.
The former couple refused to make eye contact as they stood at opposite ends of the stage, but they shared a brief hug in the early seconds of 2009 as fans celebrated the New Year.

Swift admitted she was stunned by her first New Year's celebration in New York: "I have never seen anything like this in my life. This is life changing."
I watched the live special, and I didn't see any hugs between these two. Maybe it happened off camera. The only thing more uncomfortable about this broadcast than the tension between these two kids was poor Dick Clark struggling to read the cue cards. I love Dick Clark, and his name is pretty much the definitive when it comes to New Year's Eve specials, but it is very difficult and depressing to see him in such rough shape due to his stroke.
Here's the countdown featuring Taylor Swift and the Jonas Brothers: