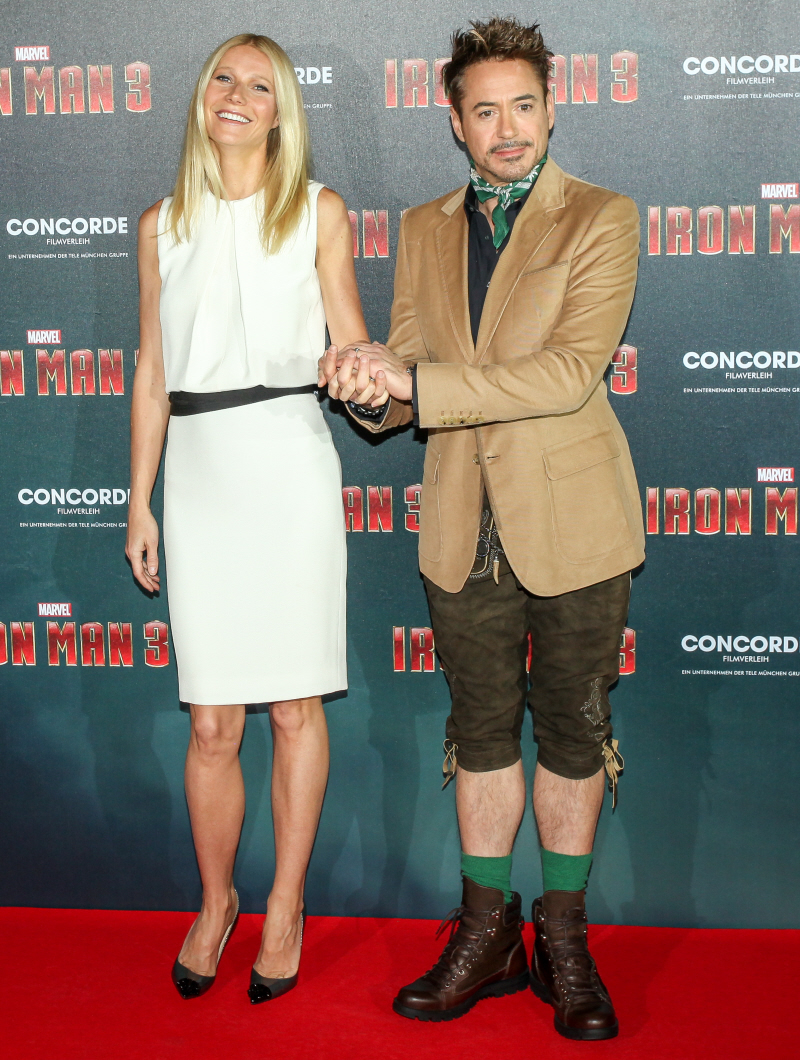 I know, even Gwyneth Paltrow's defenders (!!) are kind of sick of her at this point. But we shall power through! It sort of reminds me of Anne Hathaway's Oscar campaign. Annie got in everyone's faces for about three months straight, and it was the overexposure (as well as her breathy-little-girl act) that did her in. The same will happen with Gwyneth! Not only has she spent the last three weeks doing endless press for her cookbook (which is a New York Times bestseller but a critical flop), but now the press tour for Iron Man 3 has begun. These are photos of Goop and Robert Downey Jr. in Germany for an Iron Man 3 photocall.
Let's start with the good part – RDJ looks lovely/funny and he's dancing some kind jig and he's wearing lederhosen. Are you supposed to wear lederhosen with hiking boots, a corduroy jacket, a button-down shirt and a jaunty neckerchief? The dancing makes up for it! And Robert kind of pulls it off. He's got great gams.
As for Goop… ugh. I can't find the designer ID on her dress, but it's okay. It's pretty and chic. Her hair is… ugh. I think she just got it trimmed? Is it just me or was her hair longer earlier this week? And that g—damn center part. It's so awful. Goop, what are you still flat-ironing your hair for every appearance and insisting on that center part?! And by the way, I agreed with all of the complaints that Goop's Bazaar pictorial looked like CGI. Compare these photos of Goop (where she' had her hair and makeup professionally done) to the Bazaar photos, and you can see that the Photoshop is really crazy in the Bazaar pictorial. Oh, and you can see this week's Goop-letter here – it's a "scrapbook" of Santa Barbara. Blah.
PS… Am I the only one rooting for Pepper Potts to eat it in this movie?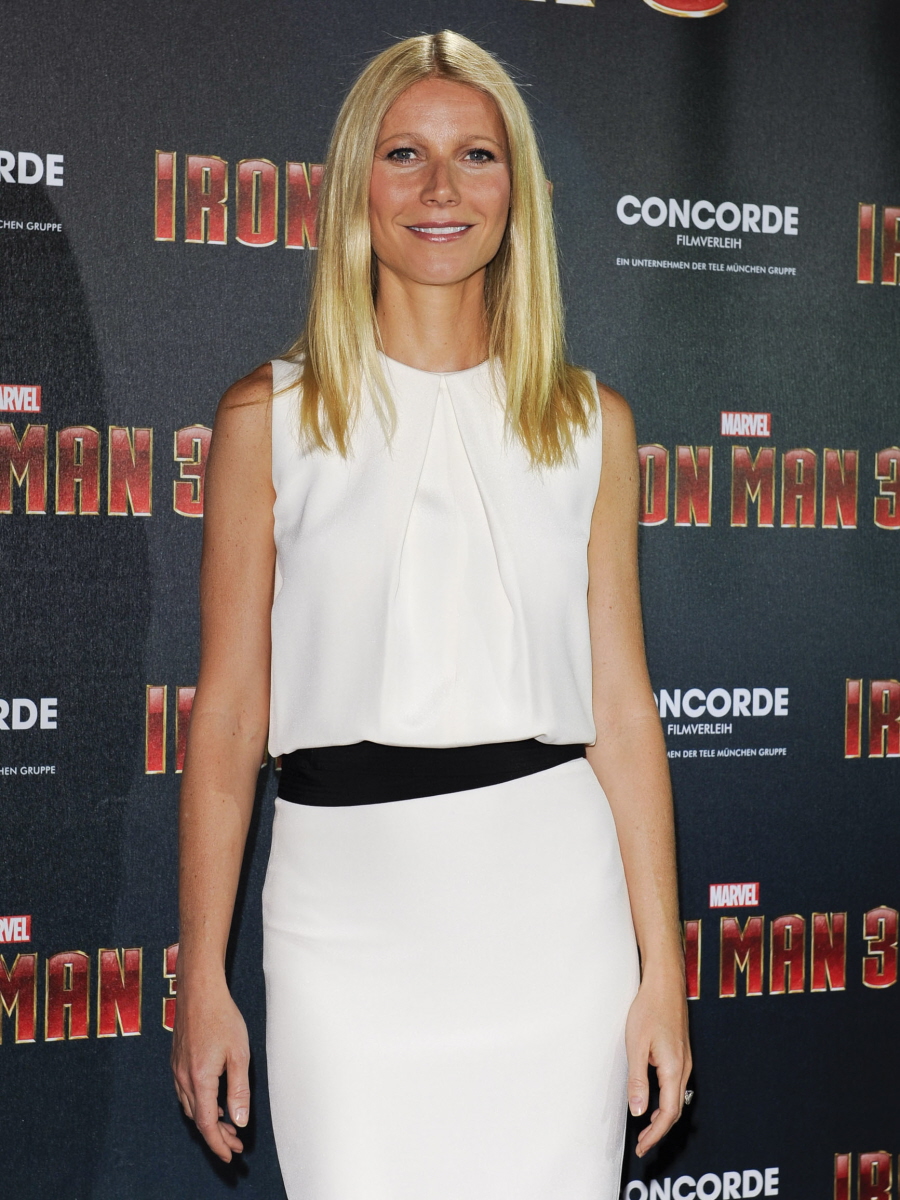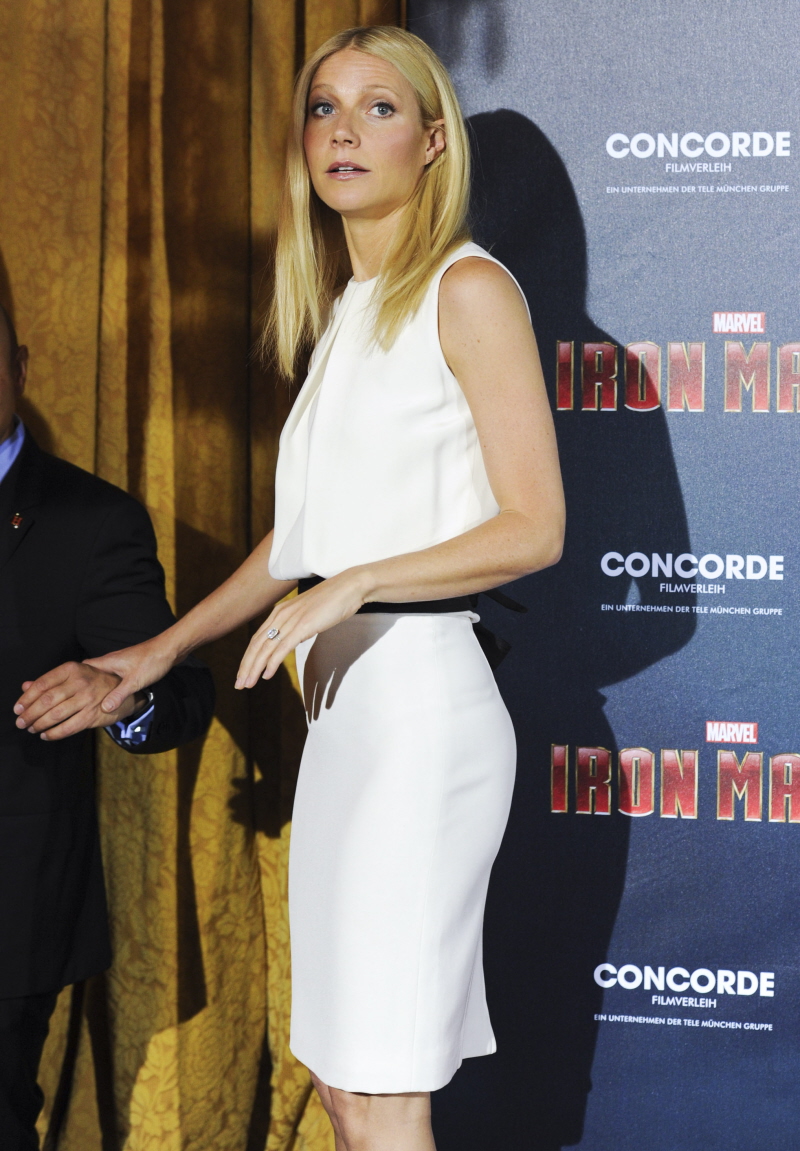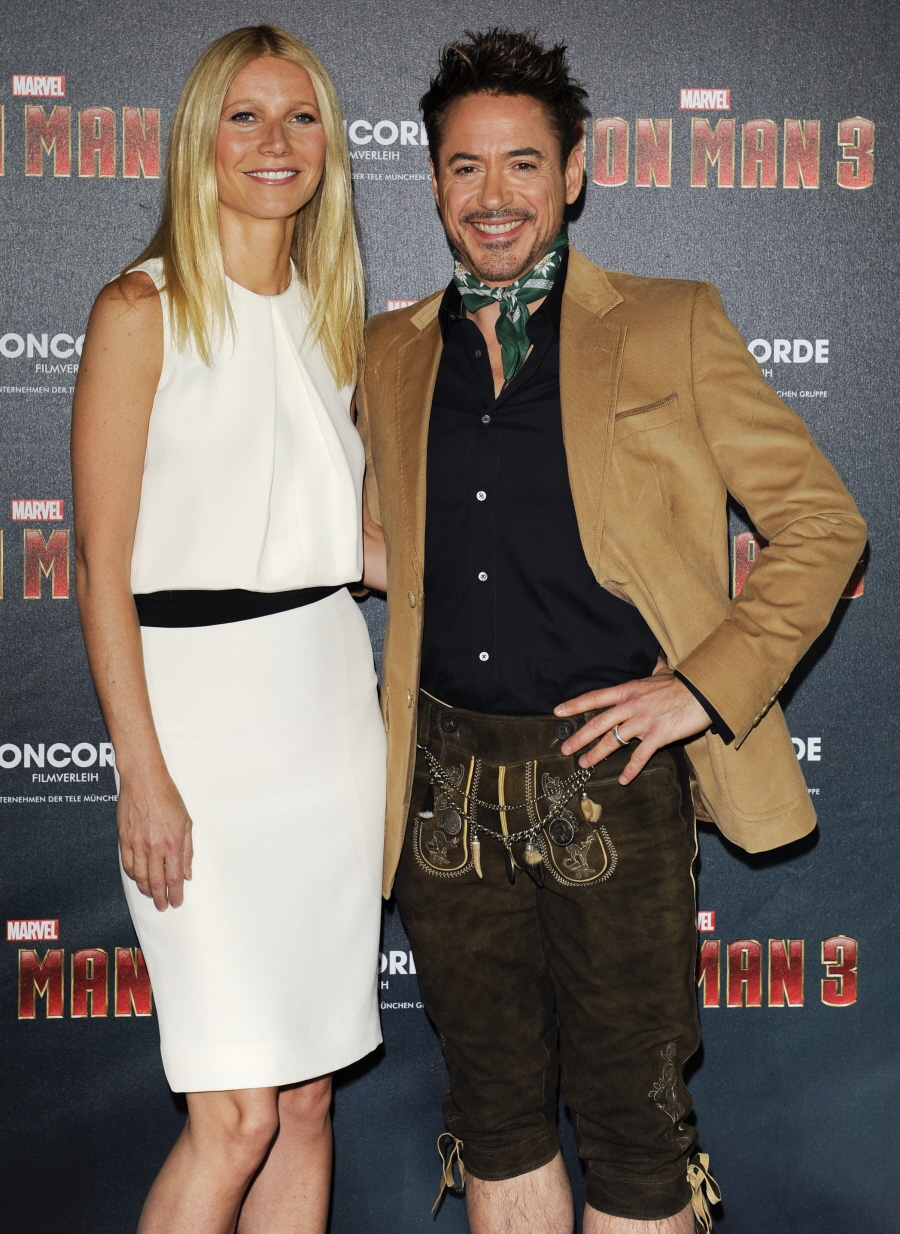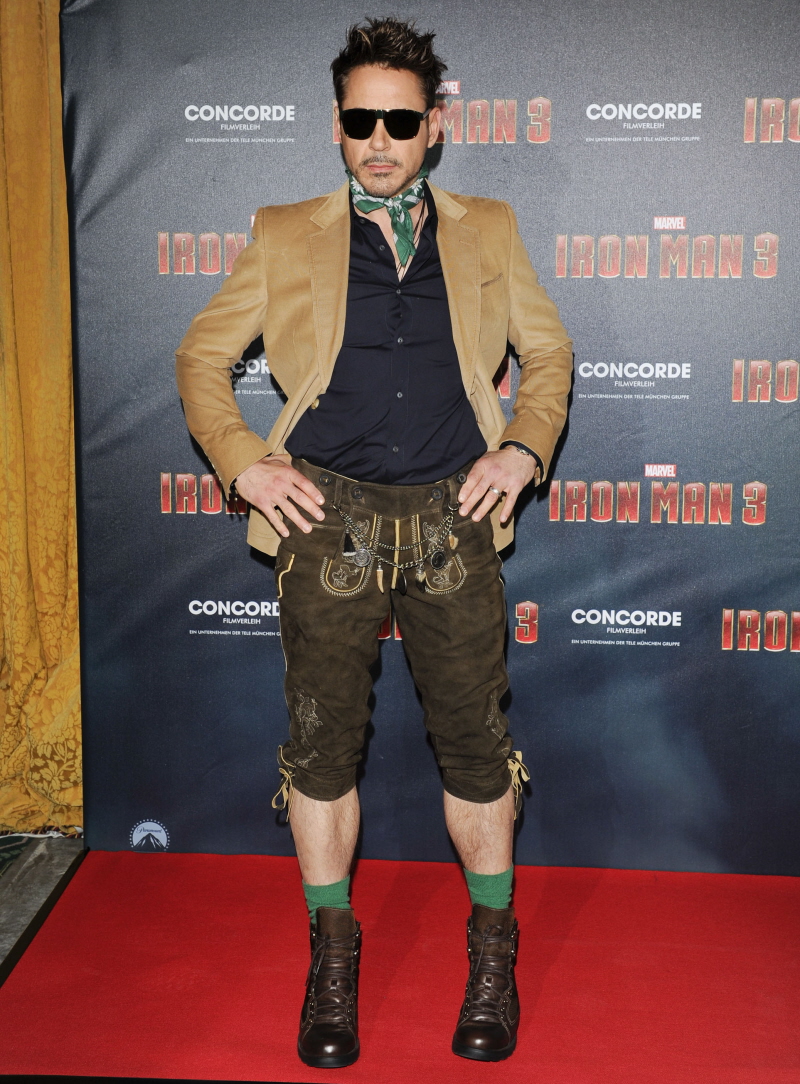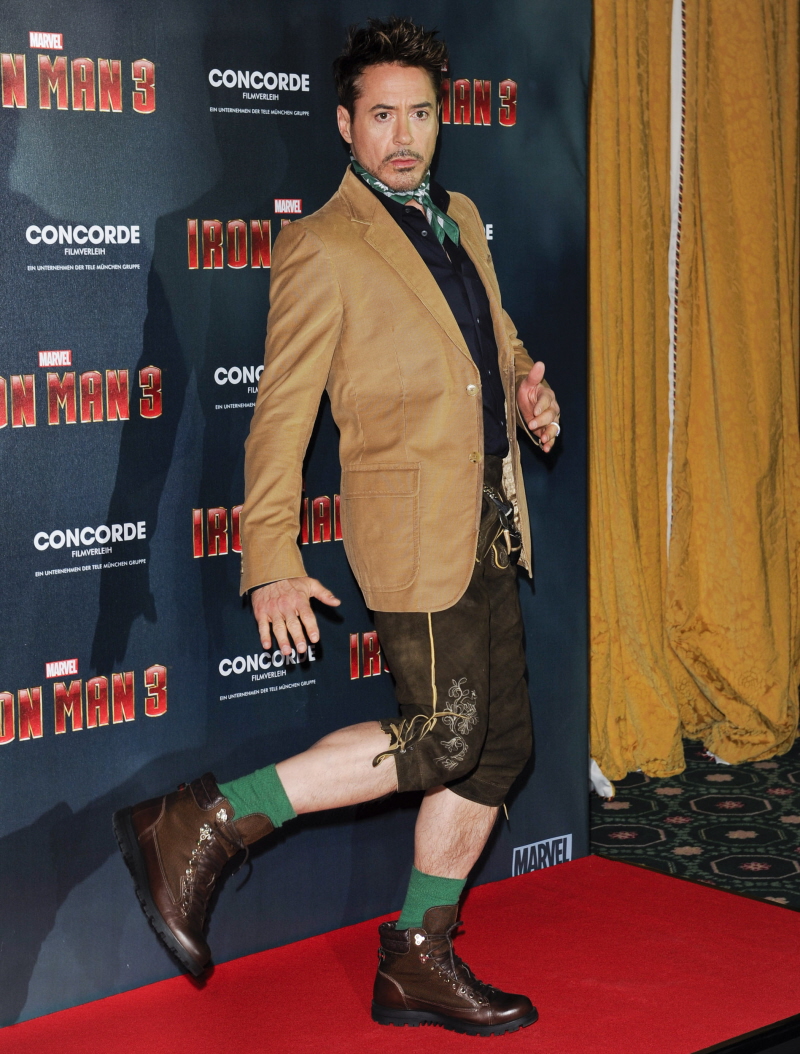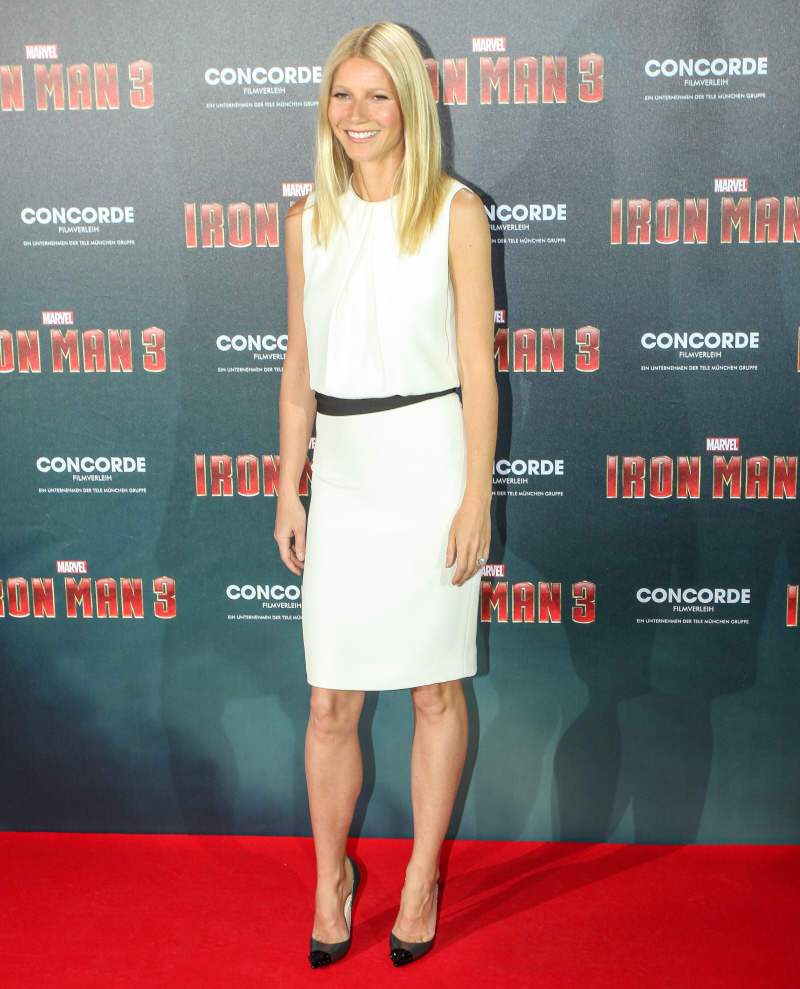 Photos courtesy of WENN, Fame/Flynet.