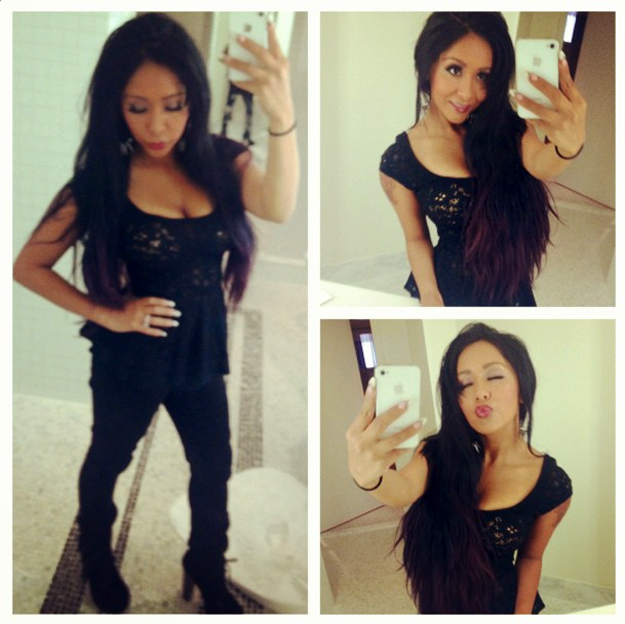 Nicole "Snooki" Polizzi has lost quite a bit of weight in the past several months since giving birth last August to her first child with Jionni LaValle, a boy named Lorenzo Dominic. She's been posting photos of her new figure all over her Instagram account, and the results are rather shocking. Girl is seriously tiny now. Look at how light she must be to be able to balance on Jionni's hands in this photo.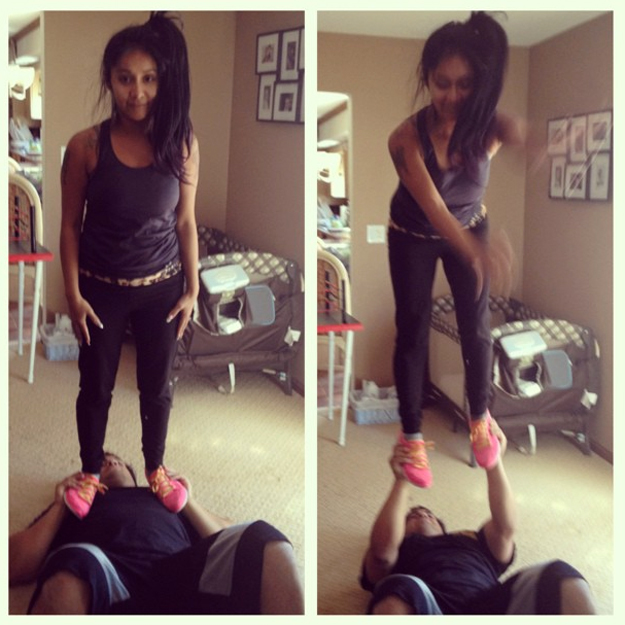 A new story in this week's Star says that Snooki isn't exactly losing her baby weight (and then some) in the healthiest manner. Naturally, Star talks to a few "experts" who have not treated Snooki, but the tabloid also legitimately quotes DJ Pauly D who mentions how Snooki discussed her teenage eating disorder while on "Jersey Shore." I think I remember that episode — it was right after the gang was enjoying a group dinner, and Snooki asked someone to pass the rolls to which Mike "The Situation" Sorrentino replied, "You already have a few of those." What a tool, right? The damage has been done, and here is the story from Star:
Ever since Nicole "Snooki" Polizzi became a mom last August, she's been shedding elements of her "Jersey Shore" persona, including her partying habit. But those close to her say that she may have shed a little too much lately: The 4'9″ former "meatball" has lost more than 42 lbs., attributing it to exercise — while friends claim she's just plain starving herself. "All she eats is lettuce and egg whites," says a source. "most of her calories come from booze, and she uses laxatives too. It's scary. She looks emaciated, and everyone is worried sick."

Snooki has been trying to hide her unhealthy behavior, but at a March 16 event in New York City that she attended with BFF Jenni "JWoww" Farley, her pals saw the evidence firsthand. "We all watched as Snooki refused the bread and then pretended to eat salad," says an insider. "JWoww said to her, 'Honey, you need to start eating something; this is ridiculous,' but Snooki just gave her a blank stare. All she did was drink wine."

Even Pauly D expressed concern at a recent event in Las Vegas over his former costar's dramatically thinner figure, which she has been flaunting nonstop on twitter. While on the show, he recalls, "Snooki told us all how she had battled an eating disorder in high school. We knew after that we were never allowed to talk about her weight."

Snooki's past struggles with food may be all the more reason to suspect that he's in trouble, according to New York psychiatrist Dr. Wendy Wolfson, who specializes in eating disorders. "Because she's admitted to having a disorder when she was young, I'd be concerned by her rapid weight loss," Dr. Wolfson says. "There's a high likelihood of relapse under stress, and having a child can cause that kind of stress."

Weight-loss expert Alicia Hunter agrees. "Snooki looks to weight between 80 lbs. and 84 lbs.," she says. "Even at her size, this is extremely low. It's obvious from her pointy chin and jutting collarbone that the last thing she should do is try to lose any more weight!"
[From Star, print edition, April 22, 2013]
I don't necessarily see Snooki's current size as evidence of an eating disorder, but if she's truly losing weight by eating barely anything and saving most of her calories for alcohol, it's obviously not a healthy or sustainable method. Then again, Snooks isn't as dumb as she portrays herself to be on television, so it could all be an act too.
Conveniently, Snooki just spoke to Us Weekly about how proud she is to have lost the baby weight, but she's contemplating a boob job because her boobs are now "just a flap of skin." She attributes her deflated bust to nursing Lorenzo, but I think it's probably more of a case of Snooki's sudden weight loss. I speak from experience while attesting that breast tissue doesn't regain elasticity after weight loss, and after losing a bunch of weight a few years ago, my own boobs are definitely much more deflated than after I nursed my daughter over a decade ago. Snooki's attitude about wanting a boob job is nothing new though, and she's forever talked about how much she envies JWoww's implants.
Here's Snooks in October 2010 at the height of society's ill-fated "Jersey Shore" fascination.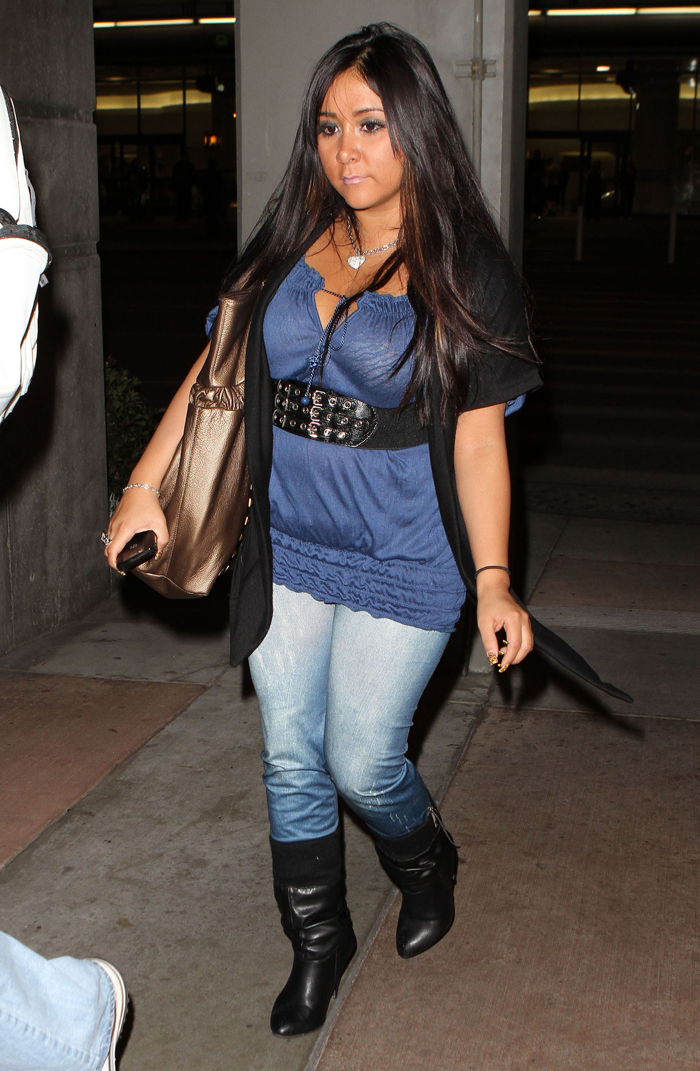 In comparison, Snooki looked smaller in December 2012 even though she'd given birth to Lorenzo just a few months prior.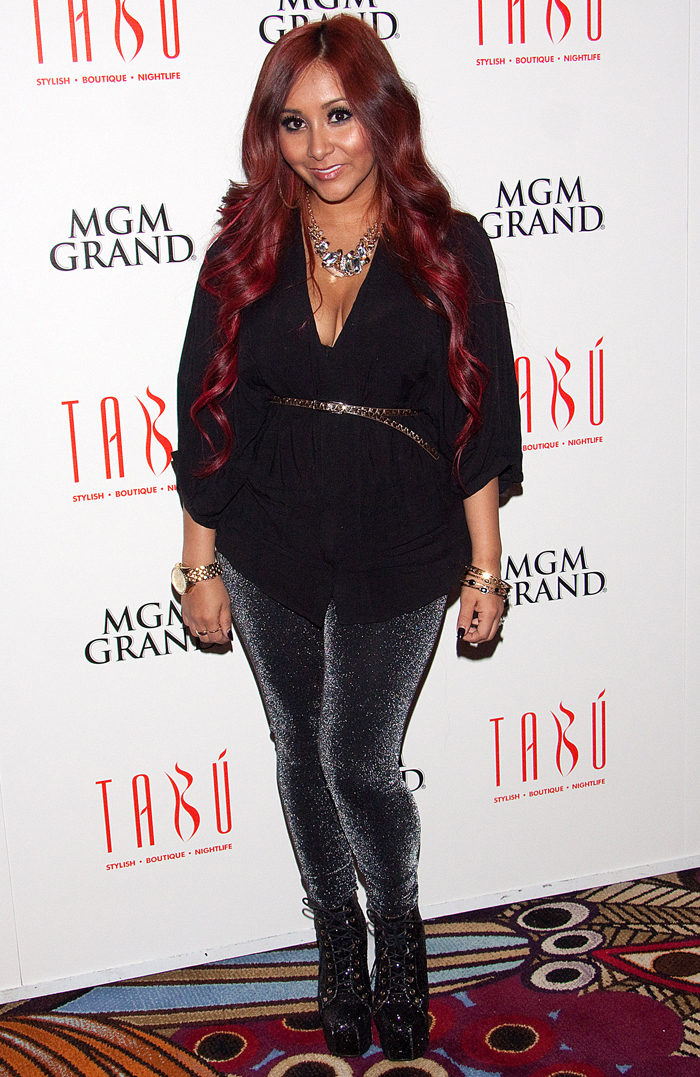 And here Snooki is on April 10. Girl looks incredibly tiny, doesn't she?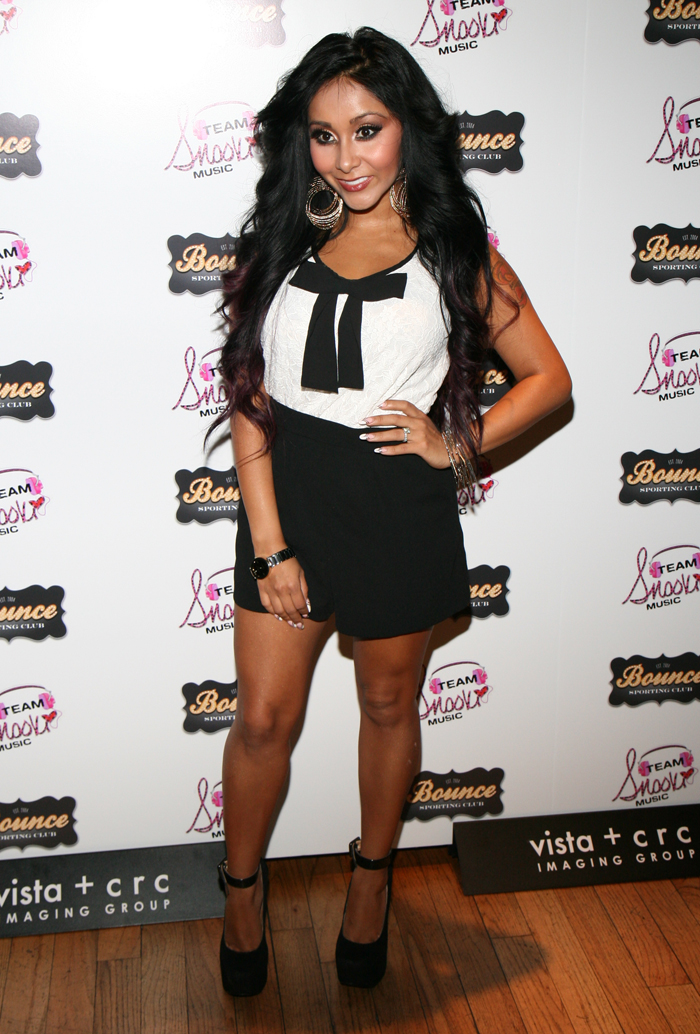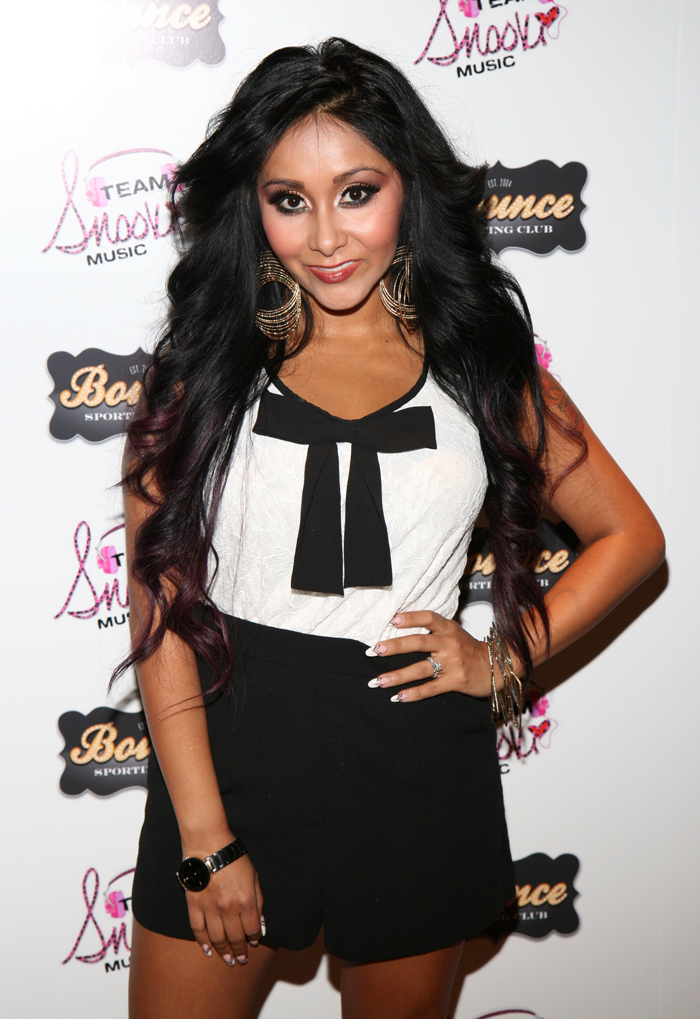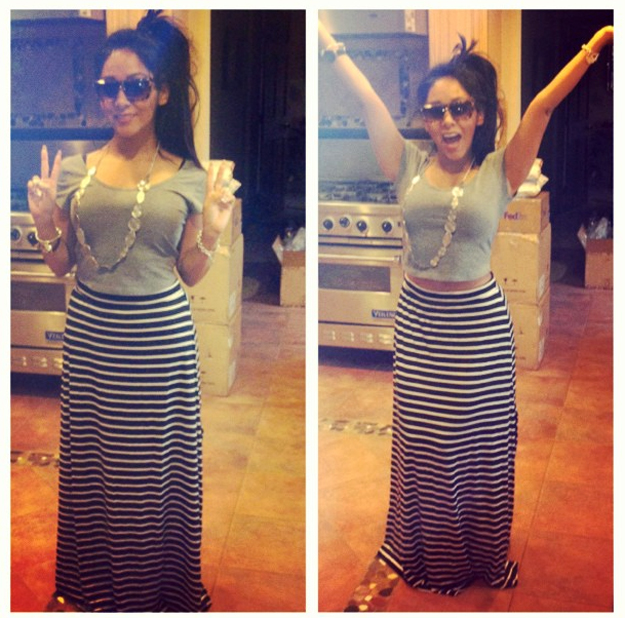 Photos courtesy of Instagram and WENN