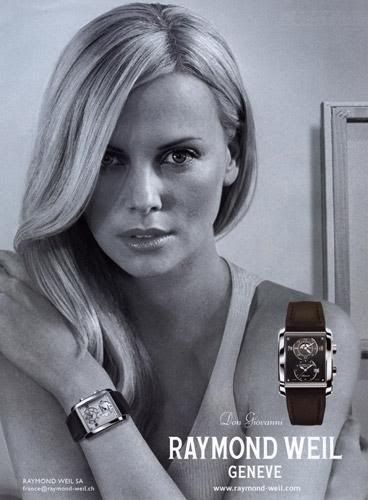 Swiss watch maker Raymond Weil paid Charlize Theron a whopping $20 million to represent their exclusive diamond-studded watches worth $7k and up. Charlize's three year contract as the face of Dior J'Adore perfume is said to be worth less than a third of that at a speculated $6 million. (Although one report has it at just $3 to $5 million.) Weil is suing Theron for breach of contract after she was seen wearing a Dior watch in a perfume ad, at the SXSW film festival last spring, and in an ad for an AIDS charity. The Dior watch she wore also had diamonds on it, and Weil's attorney says she's making them look like dupes in the industry:
The suit by Raymond Weil accuses the Oscar-winning star of "Monster" of two-timing the company by wearing a Christian Dior watch in public – a strict no-no in her $20 million deal.

"If you're the model for Ralph Lauren, you can't show up wearing Gucci at the Academy Awards," said David Jaroslawicz, an attorney for the watchmaker. "She undercut our entire ad campaign."

The South African stunner signed on as the face of a multimillion-dollar ad campaign in October 2005, allegedly agreeing to wear only Raymond Weil watches in public.

As an "international ambassador" for the company, Theron touted the limited edition line of diamond-covered Shine watches, which sell for $7,000 and have straps made of gold or alligator skin.

But Theron ticked off her sponsors when she turned up in a Tourneau catalogue wearing a diamond-encrusted watch over the words, "Charlize Theron wears Dior." She also had been photographed at a Texas film festival last March allegedly wearing a Dior watch.

"We spent a fortune on an ad campaign centered around her," Jaroslawicz said. "Then she goes off and makes us look silly in the industry by wearing Dior."
If someone gave me a watch worth a few thousand dollars I would forsake it for all others, even if I didn't like the style. Theron got a deal that paid 3-4 times the amount she was getting paid to rep Dior, so you think she could remember to put on the right watch when she appears in public. She hasn't been in many blockbusers, so this is where her bread and gilded butter come from and it's gotta hurt to be hit a lawsuit by her biggest sponsor.
Theron is not even supposed to wear jewelry that isn't Weil approved. It does look like she was moderately careful about it, though, as I searched for those ads for Dior where she's wearing a watch and couldn't find them. She usually didn't have any jewelry on in the Dior ads apart from holding up the perfume bottle like an earring. She was seen wearing jewelry which she discards like so much garbage in the commercial, though, which is below.
Theron is probably more friendly and in touch with the Dior people, which may explain the watch oversight. She went with Dior designer John Galliano to the Costume Institute Gala last spring, and he is responsible for her poofy monstrosity of an Oscar dress.
Jessica Simpson also forgot her duties as a brand representative for jeans, and is being sued for a whopping $100 million by Tarrant Apparrel for not wearing the jeans named after her and plugging the brand "True Religion" when asked in an interview what her favorite jeans were.
Note: I will be on vacation Thursday and Friday and have prepared some articles ahead of time. UrbanDK will be in charge and will cover current news stories. I apologize if I haven't been "on" as much as usual these past couple of days, I'm working hard to get ready for the trip and keep the gossip flowing.