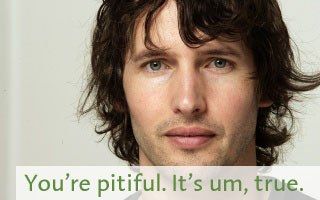 We obviously dislike James Blunt and zealously report negative news about him. The latest is that the woman he cheated on his hapless now-ex girlfriend with says he has an itty bitty peter:
WORD of advice: Never cross Tara Palmer-Tomkinson. Just days after revealing that James Blunt is a lousy lover, the posh babe has dropped a big hint why – he hasn't got much to crow about the manhood department.
Tara, 34, who now calls the Brit winner James c*** after he reportedly slept with her behind the back of girlfriend Camilla Boler Tara stormed: "Let's just say the whole experience was small in every sense of the word."
Blunt broke up with his girlfriend over the phone after lying to her and saying he didn't cheat with Tomkinson.
Tomkinson also says Blunt has been trying to contact her, but that she's not going there again. Maybe Jessica Simpson will get word of this and let go of her foolish crush on the untalented singer.