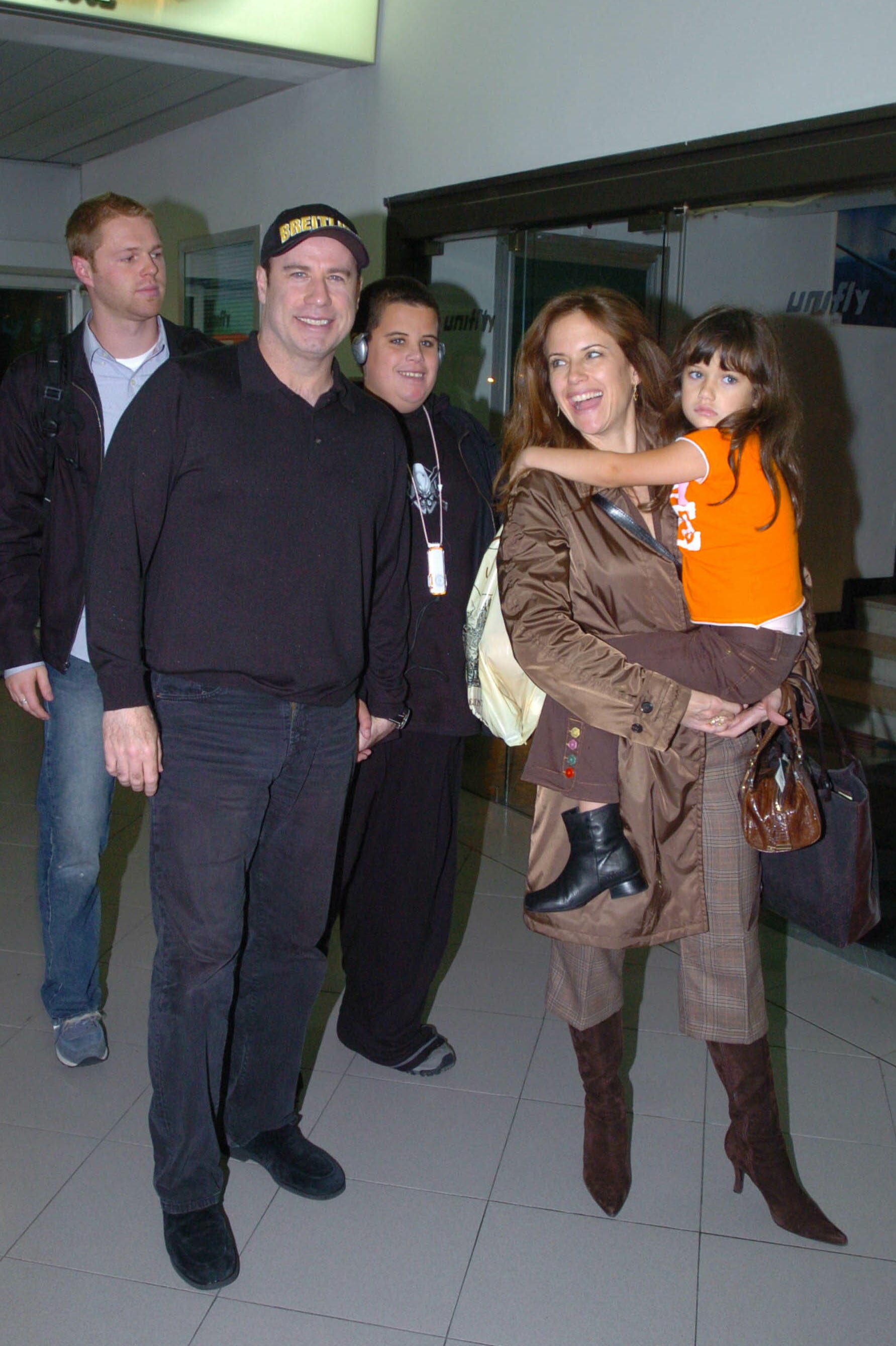 Jett Travolta, 16, died after suffering a seizure and a fall in the bathroom of his parents' vacation home in the Bahamas. His body was discovered on Friday morning. Police sources have him falling and drowning in the bathtub late Thursday night, a claim his parents deny. They say he fell in the morning right before he was found and that he was well cared for and watched by two in-house nannies. Jett leaves behind his parents, John Travolta and Kelly Preston, and sister Ella, 8.
Jett was rumored to have suffered from autism, which often co-exists with a seizure disorder but does not have seizures listed among the symptoms. Jett's mother, Kelly Preston, has only stated that her son had Kawasaki disease, a rare immune disorder caused by early childhood exposure to toxic chemicals.
In May of 2007, a story came out that John Travolta and Kelly Preston were ignoring their son Jett's autism. It was based on an interview with one of their neighbors, a restaurant owner who happened to have a four year-old autistic child and recognized some of the symptoms in Jett when the family came in to his establishment to eat. The neighbor told Hollywood, Interrupted that he asked Travolta to get involved in autism fundraisers and was rebuffed. According to this guy's diagnosis from afar, John and Kelly weren't getting the proper therapy for their child and were letting him eat junk food and play video games. The neighbor didn't explain how he knew that John Travolta and Kelly Preston were neglecting Jett, and it seemed to be based on just seeing them in his restaurant and getting handed a Scientology booklet by Travolta.
Scientology does not recognize autism
John Travolta and Kelly Preston are Scientologists. Scientology is a well-documented harmful cult that does not recognize autism as a disorder, does not allow followers to use psychiatric medication, and often blames sufferers for mental illness.
We don't know if Jett had autism or what his care was like
All we have is rumor and one guy's questionable assessment that suggests Jett had poor care. We don't know if he had autism, if he was receiving therapy or treatment, or if his parent's belief system contributed to his death in any way. From the reports that Travolta's people are giving TMZ, it sounds like Jett had very good care and that it was a terrible accident.
Jett was on anti-convulsant medication for a long time
According to the Travoltas, Jett was on anti-convulsant medication for years but it eventually stopped working for him. They say they met with neurologists who decided to take him off the medication as it was no longer effective. Even with medication people can still suffer from seizures and accidents do happen. Hunter Tylo's son died last year at 19 after having a seizure and falling into a pool and no one blamed her or her husband for his death.
There's little reason to blame the parents and it's hurtful
Now that John and Kelly have suffered an immeasurable loss, people are making the unjustified logical leap that they must be responsible in some way since their "religion" doesn't recognize autism as a disorder and preaches against the use of psychiatric drugs. I'm as against Scientology as the next person, but you can't take some small pieces of information and jump to conclusions. It's fine to speculate when it involves someone's love life, but when it involves the death of child it can be hurtful to say the least.
We don't know all the details surrounding his condition or his death, some early stories have been inaccurate, and even the medical experts among us couldn't pass judgment without being privy to the facts.
Let's not blame this suffering family for something we have no clue about. They've already lost their son and none of us know the circumstances of their home life or what happened that led to their son's death.
John Travolta has issued a statement on his website about his son's death. He says, in part: "Jett was the most wonderful son that two parents could ever ask for and lit up the lives of everyone he encountered. We are heartbroken that our time with him was so brief. We will cherish the time we had with him for the rest of our lives."
Update: Many of you have pointed out that John Travolta's brother Joey made a documentary about autism in 2006 called "Normal People Scare Me," in which John and Jett were not involved. It was thought to have been directed in some way at his brother.
The skepticism about Jett's treatment is completely understandable given his parent's involvement in Scientology. Of course there needs to be a thorough investigation and maybe the increased focused on the very dangerous practices of Scientology will finally help bring this criminal organization down. They need to be tried under the RICO act in the US.
All that said, I'm very disappointed at other media outlets' rush to judgment. Look at what happened with the Heath Ledger case. The initial details were wrong and people condemned and dismissed him as a drug addict. That was a full grown man who had died from a drug interaction, and this is a teen boy who was disabled and suffered seizures. He's barely dead and people are already saying "His parents are Scientologists, told you so."