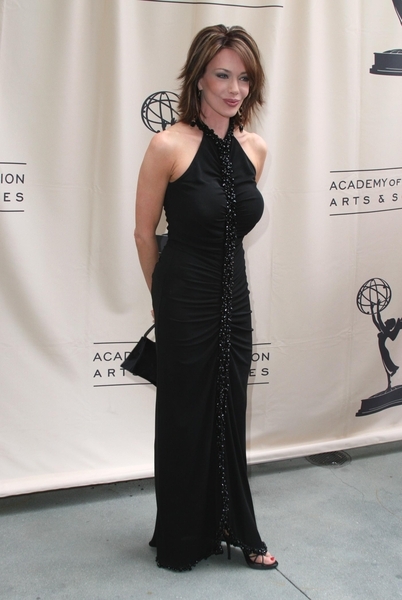 Last Friday, we reported on the death of "The Bold and the Beautiful" actress Hunter Tylo's son Michael. He was 19 years old, and appeared to have died after falling into the family's pool in Henderson, Nevada. Apparently Michael suffered from occasional seizures when he didn't get enough sleep, and he had been suffering from a bout of insomnia. It appears that he fell into the pool while having a seizure and drowned.
"Actress Hunter Tylo has spent years acting out dramas on soap operas like "Days of our Lives" and "The Bold and the Beautiful," but nothing could prepare the 45-year-old mother for the tragedy that befell her family on October 18. That day, while she was in Los Angeles, her son Michael Jr. drowned in the backyard pool of her Henderson, Nevada, residence. The 19-year-old was in town to visit his girlfriend, Stephanie Rivero and take one last high school exam. But by 11:55 that night, Michael was pronounced dead after his fully clothed body was found in the backyard swimming pool. Cause of death: accidental drowning following a seizure.

"The last time I heard his voice was Thursday [October 18] around 6 a.m.," Rivero, 17, tells Us. "I was going to come over, but he told me he was tossing and turning all night. He couldn't sleep, and when he doesn't sleep, he gets seizures. I told him I'd call him in an hour. He said, 'I love you.' And I said, 'I love you too." But Rivero never reached Michael again. At around 8 p.m., his half-brother Christopher, 26, found Michael's body in the pool. "It was an accident," a rep for the Clark County, Nevada, coroner's office tells Us. Rivero remembers Michael's sense of humor most of all. "He was full of life and so funny. He didn't even have to try. He just was."
[From Us Weekly]
This is such a heartbreaking story. When you think about the odds of something like this happening, it seems extra shocking. Hunter Tylo has been through a lot of drama in her life, including a daughter who suffered from retinoblastoma and eventually had to have her eye removed. Losing a child must be the most indescribable pain. Let's hope they're all doing the best they can.