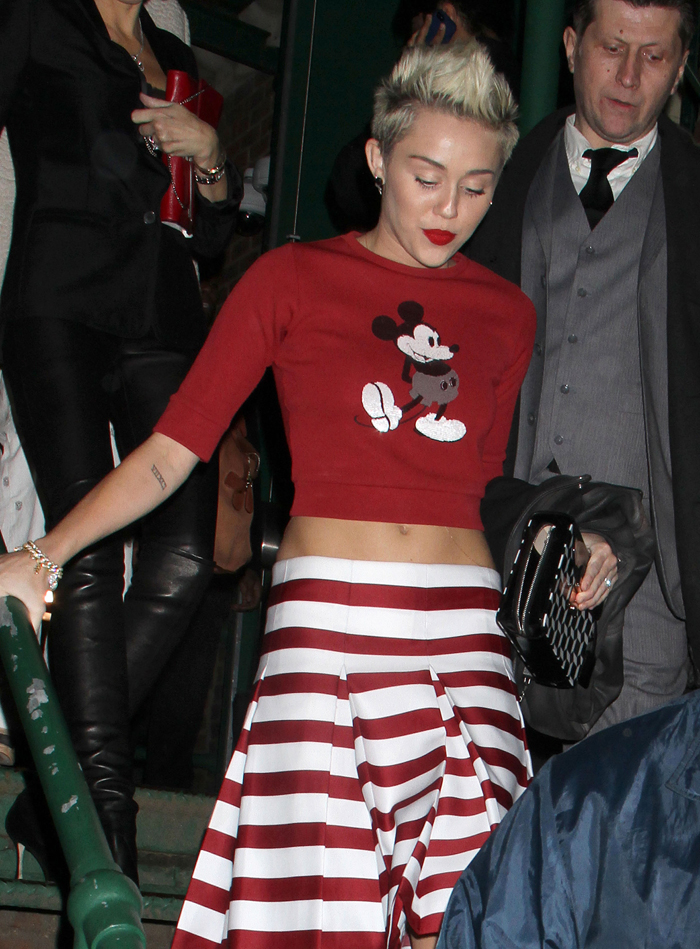 The Miley Cyrus and Liam Hemsworth "are they or aren't they?" affair is truly becoming a bit tedious, but the tabloids aren't done with this couple just yet. Nobody really seems to know what's going on with Liam and Miley, and even Billy Ray Cyrus has admitted that he doesn't know what the hell is happening. All we really know for sure is that Liam took a solo vacation in Australia to get away from things after he and January Jones supposedly made out at a pre-Oscar party. Then Miley played the ring game for awhile and Liam eventually returned to Los Angeles where they were trying to work it out, whatever that means.
Most recently, Life & Style published a story about how Liam and Miley had (at the very least) postponed their wedding, and People received the official publicist confirmation yesterday that this part of the story is true. Now a story in this week's Enquirer says that Miley found some new texts between Liam and January, and she's absolutely livid as a result. Here are the details: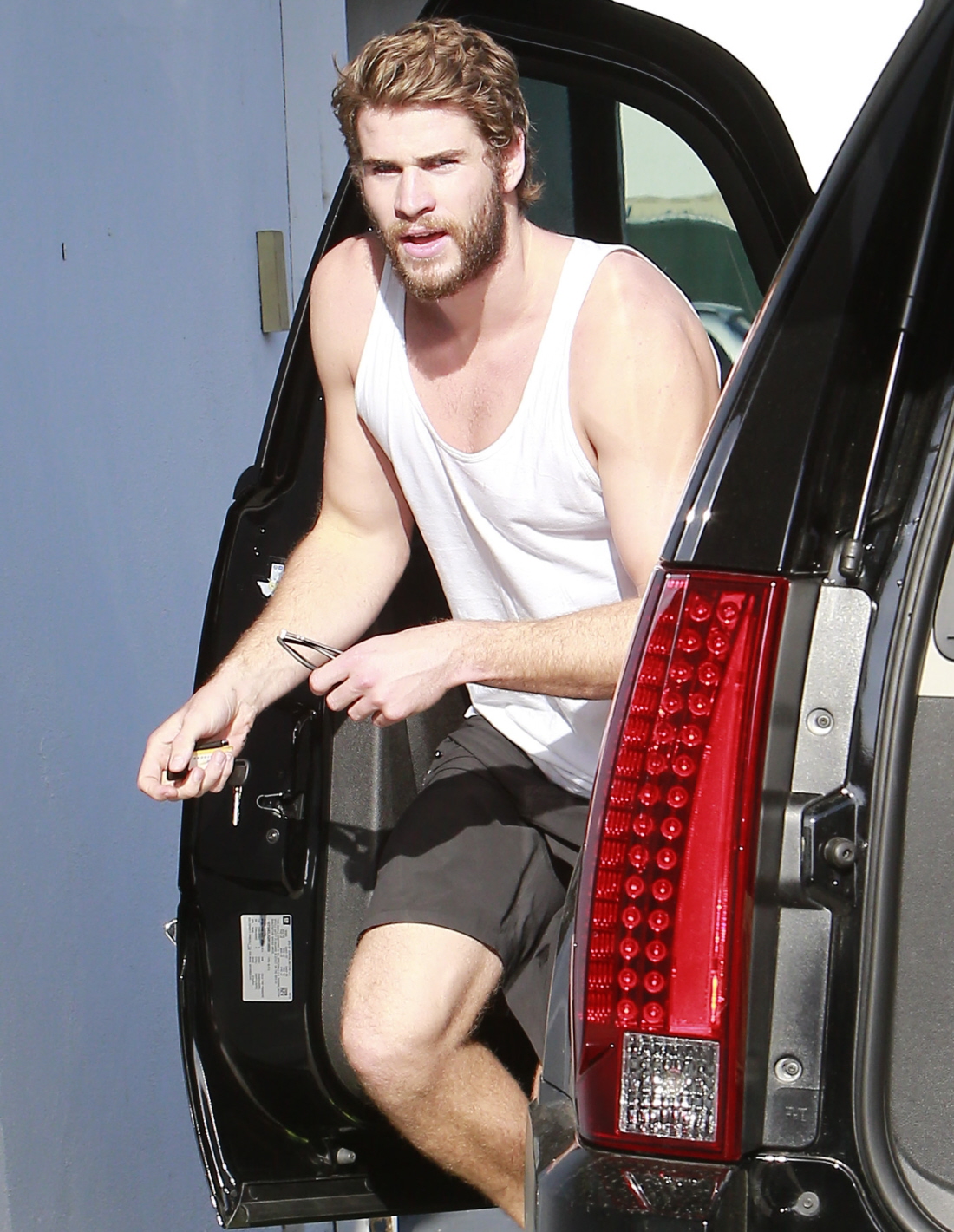 Miley Cyrus caught fiance Liam Hemworth texting "Mad Men" siren January Jones, and now she's telling pals they're kaput, say sources. "Miley couldn't believe it!" an insider told The Enquirer. "As if the embarrassment over Liam's fling with January wasn't bad enough, to find out that he's still in touch with her is pretty much the nail in the coffin as far as their relationship is concerned."

Miley, 20, and the Hunger Games hunk fell in love while filming the 2010 drama The Last Song. But they hit a rough patch after Liam, 23, was spotted leaving an Oscar party with Jones, 35, in February. The two were reportedly seen "making out," and Miley was so enraged that Liam fled to his native Australia for three weeks in hopes that she would cool off.

Despite a brief reunion upon his return, things have gone from bad to worse for the couple. Miley has been flirting up a storm with her ex Nick Jonas and model Patrick Schwarzenegger. She was also spotted smoking a suspicious-looking cigarette on a hotel balcony in Miami, where she partied hard at hip-hop mogul Pharrel Williams' birthday bash.

Meanwhile, Liam cozied up to a mystery blonde in a Los Angeles bar on the same weekend. Added the source: "Miley has been telling pals that Liam is no longer interested in even trying to talk things through, and now she knows why. At least she found out about his roving eye before they tied the knot."
[From Enquirer, print edition, April 29, 2013]
I hate to say it, but it doesn't sound entirely implausible that Liam would still be in surreptitious contact with January. They obviously are comfortable enough to (at minimum) share a car ride home from a party, so they've almost certainly got each other's digits.
That's not all of the tabloid fun for Miley this week. This week's issue of Star says that Miley is "guilting" Liam into sticking around by "deliberately acting out of control because she knows that he'll come "rushing in to save her. He has the kindest heart, and Miley knows he can't turn away if he thinks she needs help." I don't know if Miley and her pantless pot smoking are really going to bring Liam running to "rescue" her. These two haven't been photographed together in months, and she didn't even go to the MTV Movie Awards with him last weekend. One would think that if they were still a solid couple, Miley would want to show everyone what she's got. That hasn't happened.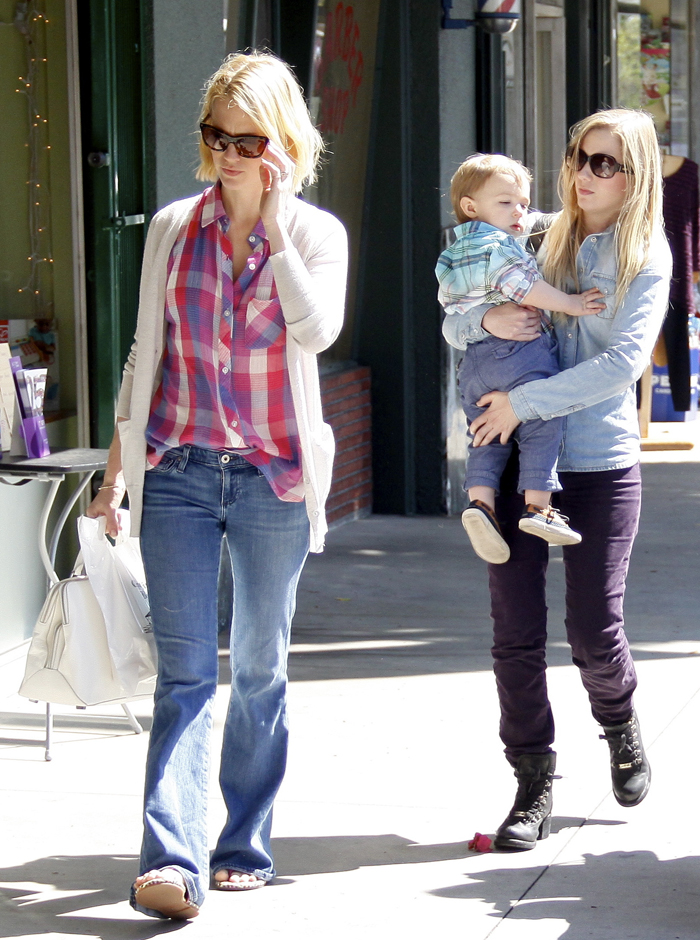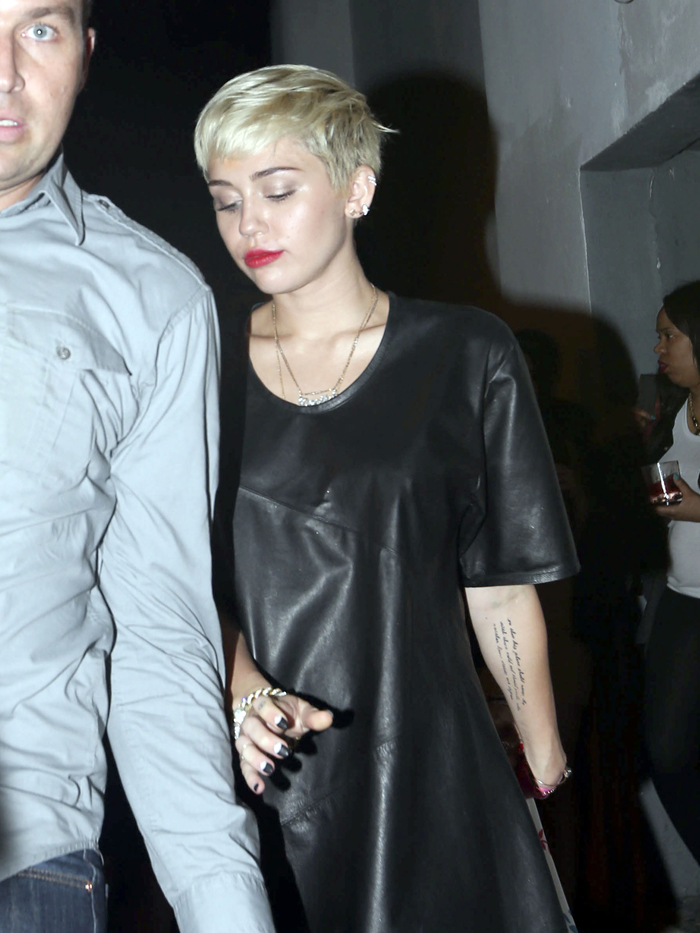 Photos courtesy of Fame/Flynet and WENN