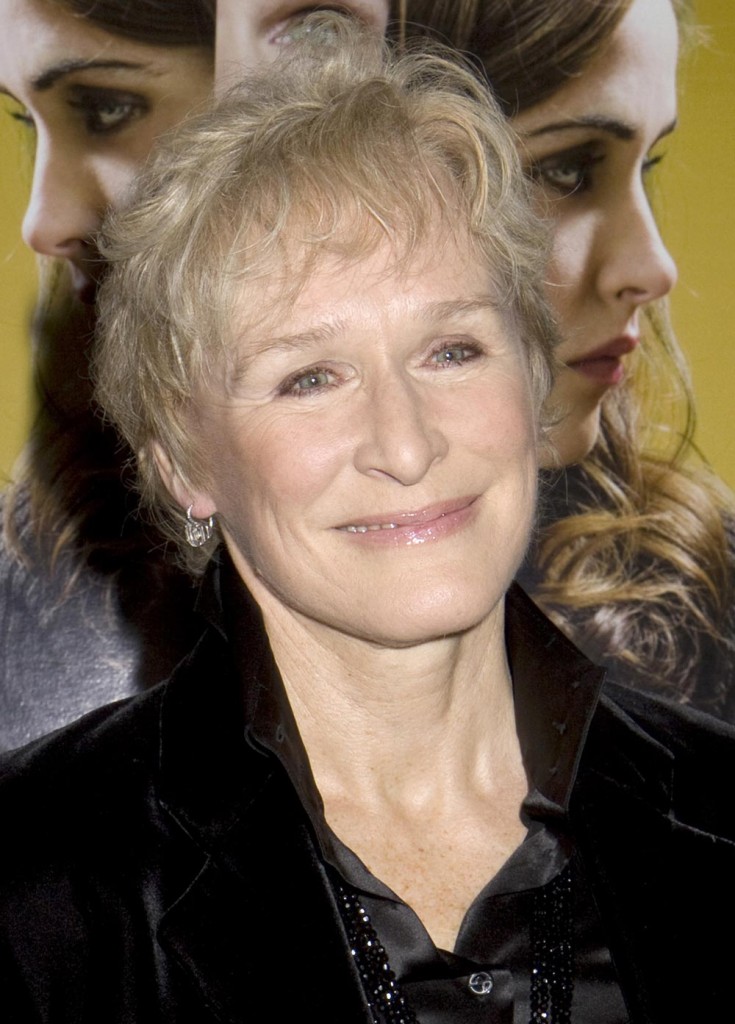 Last year, several film and television critics pointed out that the best parts for actresses over the age of forty were on television. There's Kyra Sedgwick on The Closer, Edie Falco on The Sopranos, Holly Hunter on Saving Grace, and Mariska Hargitay on Law & Order: SVU. Actresses of a certain age are in demand on the small screen, playing fully-realized characters that don't rely on twenty-something naiveté.
Glenn Close has joined this grand tradition of great "older" actresses enjoying a career Renaissance in television. Last year, the first season of FX's Damages premiered to overwhelmingly positive reviews. The show found a considerable niche audience of adults with attention spans who wanted to watch good acting and good stories – the numbers were good for cable, anyway.
For those of you not watching, it's a difficult show to explain. Calling it a "legal drama" makes it sound like yet another Law & Order spin-off, which couldn't be further from the truth. It's sort of like Lost, only set in New York, not a mysterious island. There's coincidences and conspiracies, the timeline goes back and forth, jumping all over the place. You don't know who to trust, which character is supposed to be "good", which one you're supposed to have sympathy for. The motto of the show could be:
"There is no sympathy." Glenn Close sat down for an interview with Newsday to talk Damages, fragility and backgammon.
"Damages" is about world-famous, stop-at-nothing litigator Patty Hewes (Glenn Close), who wrapped a big victory last year that gave new shades of meaning to the word pyrrhic. In battle with evil, Enron-styled dark lord Arthur Frobisher (Ted Danson), Patty found it necessary to snuff a dog, torment witnesses (leading to their ruination or death) and finally blackmail Frobisher into chucking his whole fortune (only to double-cross him in the last episode). Did we mention: She also tried to kill her colleague Ellen Parsons (Rose Byrne), the daughter she never had (not counting the one, Julia, who died at birth).

In the first season, Wall Street villain Arthur Frobisher (Ted Danson) survived a gunshot from an embittered former colleague, only to realize that he is the most hated man on Earth. Hewes' junior partner, Ellen Parsons (Rose Byrne), lives with the knowledge that her boss tried to kill her. She's also working with the FBI to bring Hewes down. Then, there is Lady Macbeth herself. She has blood on her hands, which nothing can ever wash away. Her guilt is towering, but then so is her ambition and idealism. Patty Hewes is a very good woman. She is also a very bad one. There was the scene that found her sitting in a lawn chair. Informed by her Uncle Pete (Tom Aldredge) that Ellen had been killed, Patty showed remorse that seemed to spread from her legs, to her torso, and then to her head. Finally, she burst into a full-body volcanic eruption of horror and regret. Patty got over that. But then Frobisher's lawyer, Ray Fiske (Zeljko Ivanek, who won an Emmy for best supporting actor), put a gun in his mouth and blew off the back of his head in front of her. That unspeakable memory has been harder to shake.

Simply put, Close's Hewes is the most extraordinarily complicated, maddeningly obtuse character – male or female – on television at the moment. So, yeah. That's why Close sounds pooped.

"At the end of last season when Fiske shot himself in front of me, that spun Patty to a place she's never been before, in a place of not being totally in control," said Close by phone from the "Damages" set in Queens, where cast and crew were nearing completion on the 13th and final episode for this season. (FX has already ordered a third.) "She's still in that place of being highly traumatized … still a little fragile."

Hewes, fragile? And there are other unexpected surprises in store this season. But first there's a character to be revealed, and that is part of what you'll be seeing as well. "You get to see a little bit more of the private side of Patty Hewes," Close says.

After the Frobisher victory, Hewes is nursing her psyche back to health while trying to figure out what to do next. Funding a huge charity? Seems like a good idea, though she has to convince a major benefactor, Sam Arsenault (Broadway's James Naughton, who will sing in a future episode), to kick in some dough.

Meanwhile, out of the dark, quite literally, appears an old acquaintance, Daniel Purcell, played by William Hurt. The last time Hurt and Close appeared together on-screen was in 1983's "The Big Chill." Of the reunion, Close says, "It was just a wonderful time with him [and] we have these competitive backgammon games in between [takes]."

The Purcell-Hewes relationship has a history, too. He's an energy consultant who has the goods on a major energy company's dirty tricks. He wants and demands Patty's help as part of an old debt. She's reluctant to give it.

"He's very much a character who's going to allow us to explore a substantial part of … Hewes' history," says Todd A. Kessler, one of "Damages'" three show-runners – the others are his brother, Glenn, who also plays FBI agent L.J. Werner, and Daniel Zelman. That history will include "a huge surprise for the audience, but just like Glenn Close and William Hurt, they have an equally rich history together and a lot of juicy stuff to discover about each other."
I have to admit that when the first season aired, I missed it. Then one weekend a few months ago, FX ran an all-day marathon, and I got hooked. It really is the kind of show to buy on DVD, so you can watch the whole season all at once. For the second season, which airs Wednesday at 10 p.m., Academy Award-winners William Hurt and Marcia Gay Harden join the cast, and it looks *so good*.
Glenn Close and the cast of Damages are shown at the second season premiere celebration in New York on 12/13/08. Also shown are William Hurt, Tate Donovan, Rose Bryne, Anastasia Griffith and Timothy Olyphant. Credit: WENN