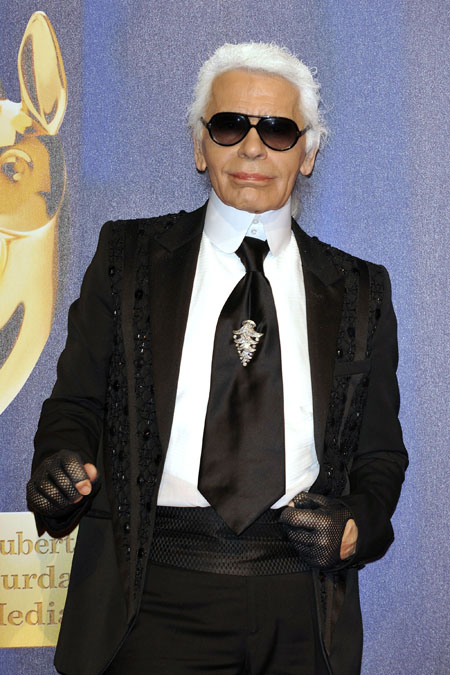 Karl Lagerfeld is either very stupid, or was pressed into making these comments about the fur trade by an interviewer. They are so inflammatory, he would have to be insane to put these comments out there without anticipating some kind of backlash. Or maybe that is what he was hoping for.
German-born Lagerfeld, 75, a contemporary of the late Yves Saint Laurent, said that he did not himself wear fur. But he defended the practice, saying there was "an industry who lives from that".

Hunters in the north "make a living having learnt nothing else than hunting", he said, "killing those beasts who would kill us if they could."

Animals should be killed "nicely" if at all possible, said Lagerfeld, who admitted to being queasy about eating meat.

"I can hardly eat meat because it has to look like something what it was not when it was alive," he said.

He concluded: "In a meat-eating world, wearing leather for shoes and clothes and even handbags, the discussion of fur is childish."

In an interview on the Radio 4 Today programme, Lagerfeld also said the issue of size zero models was insignificant compared to the "zillions" of fat people.

Doctors have criticised the use of size zero models, saying it has contributed to a rise in eating disorders among girls who feel pressured to conform to this idea of beauty.

But he said: "In France there are, I think, less than one per cent of people who are too skinny.

"There are nearly 30 per cent of young people who are too fat. So let's take care of the zillions of the too fat before we talk about the percentage that's left."
Of course, PETA and eating disorder groups hit back soon after the interview was published:
A spokesman for the support group Beating Eating Disorders said Lagerfeld's comments on size zero models were "a very sad reflection" on attitudes within the fashion industry.

She said: "We talk to thousands of people every year with eating disorders, who say 'If we look like that, we are told that we should be in hospital.' Yet these models are being celebrated."

A spokesman for People for the Ethical Treatment of Animals (Peta) described Lagerfeld as a "dinosaur" who had got his facts wrong.

She said: "Karl Lagerfeld is a fashion dinosaur who is as out of step as his furs are out of style.

"The vast majority of fur these days comes not from hunters as he suggests, but from Chinese fur farms, where no law protects the millions of animals who are routinely beaten and skinned alive.

"Lagerfeld's childish refusal to acknowledge the needless suffering behind every piece of fur and listen to public opinion means that he is being overtaken in the style stakes by an increasing number of designers who believe that cruelty has no place in fashion."
Strangely enough, if Karl Lagerfeld had put his comments in a more sensible way, PETA might even agree with him. After all, people who don't believe in hurting animals would probably agree that not just fur farms need to be targeted, but also the sources for leather and hides.
He is also correct in saying that obesity is an issue that needs to be targeted, but don't make light of being underweight either. Both are serious medical issues, and many girls try so hard to meet the model image.
Karl Lagerfeld is shown on 11/24/08 at the Bambi Awards. Credit: WENN