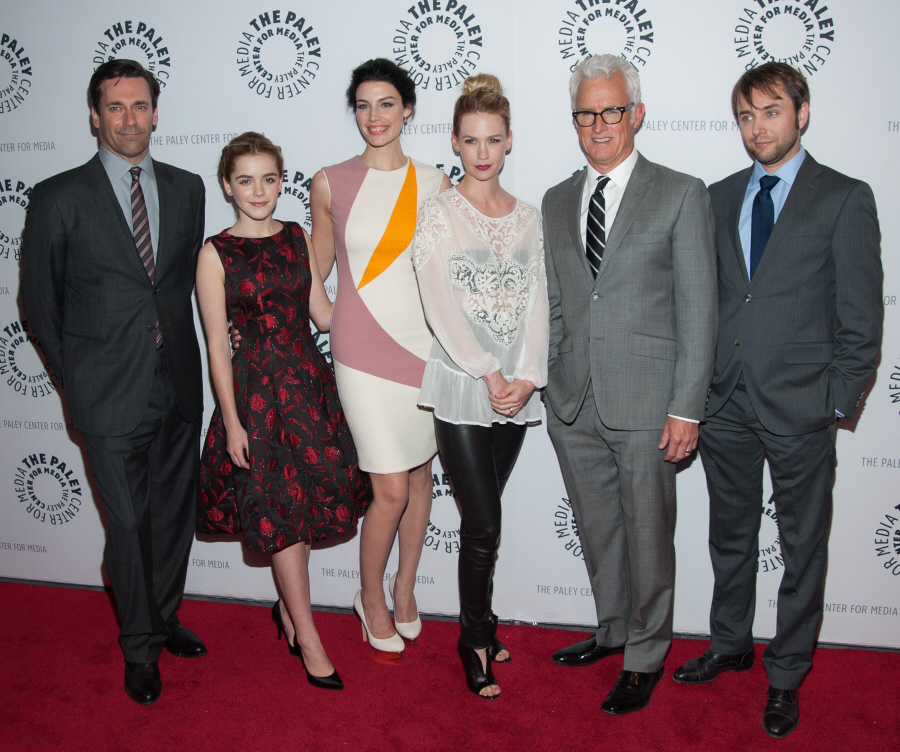 Here are some photos of the cast of Mad Men (minus Peggy & Joan) yesterday The Paley Center, where they participated in a discussion about the new season of Mad Men. I don't think Jon Hamm is going commando, but it doesn't even matter because I only have eyes for John Slattery, because I would marry Roger Sterling in a f—king heartbeat.
I'm really just writing about these photos because now that we're three episodes into the season (I'm counting the two-hour premiere as one episode), we have enough material to really discuss what's going on what we hate and what we love. So… let's talk about it. I'll just put up the spoiler warning for this season:
SPOILERS FOR THIS SEASON OF MAD MEN BELOW.
*It really feels like Joan and Peggy are being underutilized. That was the case last season too, especially for Peggy. In the end, Joan ended up having a rather meaty role last season, and I want that for her again this season. I want Joan and Peggy to succeed on their own terms, to carve out their own paths in advertising. And that's exactly what they're going to have to do – they are the female pioneers of Madison Avenue. Their stories need to be meatier, that's all I'm saying.
*I wanted to punch Harry Crane in the face when he stood in the partners' meeting and bitched about Joan sleeping her way into a partnership. What was weird/funny/interesting about it though was that none of the male partners really gave a sh-t. They accept that Joan slept her way into a place at the table. I also feel like they all respect her and understand that she deserves it and earned her place.
*Doorways! Remember Roger's speech to his therapist in the first episode? Doorways. Doorways, open doors, closed doors and listening at doors. That's the theme this season. Voyeurism, closed doors, inability to walk through literal and proverbial doors. DOORS. Will they start to use Doors songs?
*Roger is simply the best, isn't he? MORE ROGER. Please.
*I'm okay with Dawn the Secretary's increased role. I like her. I think she's a good secretary and I think one night, when Don is drunk, he's going to kiss her. And it's going to be HOT.
*I LOVED DON'S FACE when he listened to Peggy's pitch for Heinz. That destroyed him more than seeing his wife kiss another man. But Don didn't seem to feel betrayal… he was stunned, he was devastated, and there was a dash of pride too. He loves Peggy. He's proud of her. She is going to usurp him and he knows it. Do you think Peggy will ever come back to Don? Maybe if they offered her a partnership…?
*But really, this is what I wanted to discuss: how much does Don suck this season? I'm not saying Jon Hamm sucks at playing Don, and I'm not even saying that the writing is bad or off-side. I'm just saying that Don Draper sucks as a person this season. He's awful. He's petty and complacent and he's a coward. Before, his redeeming qualities added dimension – he loved Peggy and she brought out the best in him. He loves his daughter and he wants to be part of her life. But nowadays he just seems so… out of touch and small and mean. He's turned into an awful man.
*I'm fine with the lack of Fat Betty, by the way. She and her "rape jokes" can take a backseat.
*Oh, and Pete? Mini-Don, only WORSE. I was shocked by the scene of his mistress coming to his door after her husband beat the hell out of her.
*I loathe Megan Draper. She's such a child. But somehow, Linda Cardellini's mistress character is worse. I really hate her.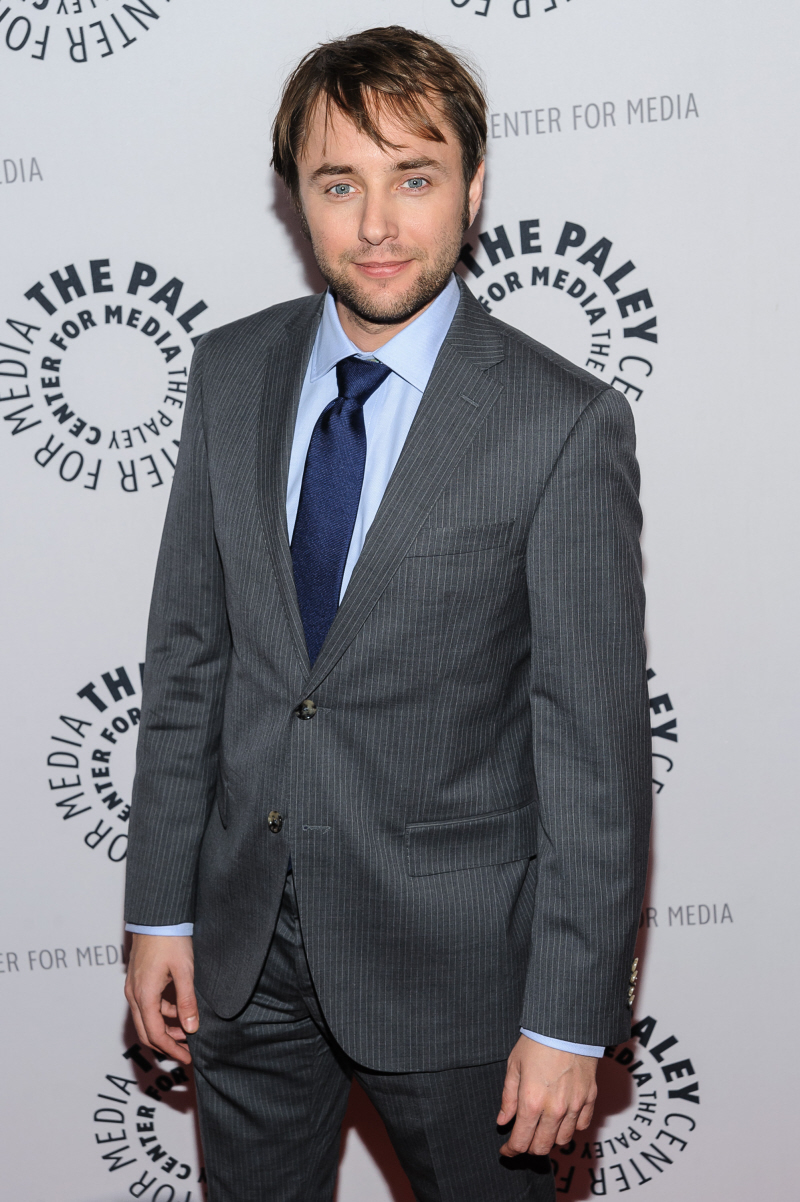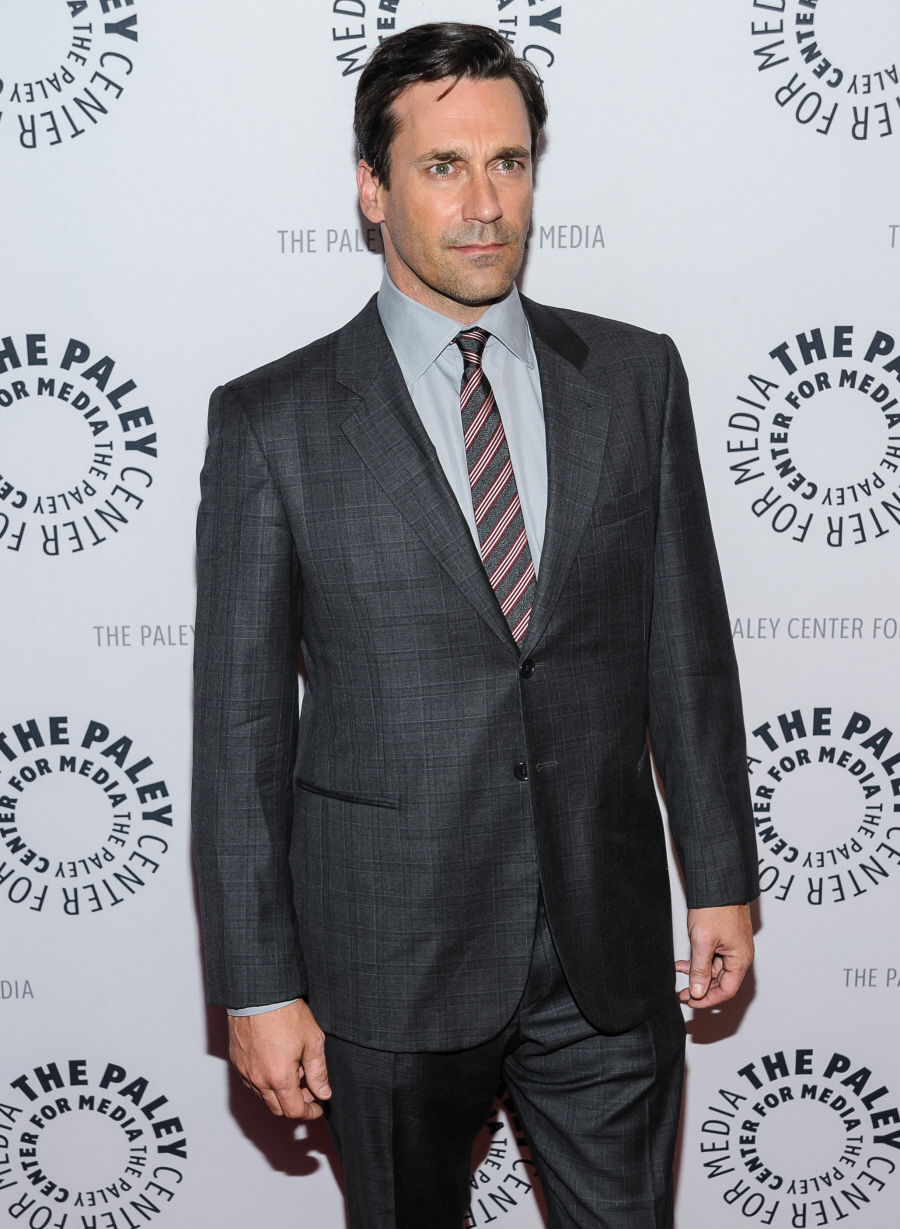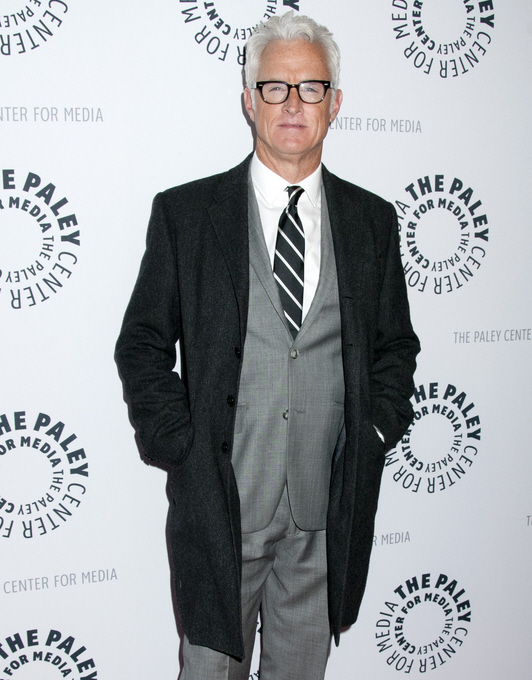 Photos courtesy of WENN and PR Photos.