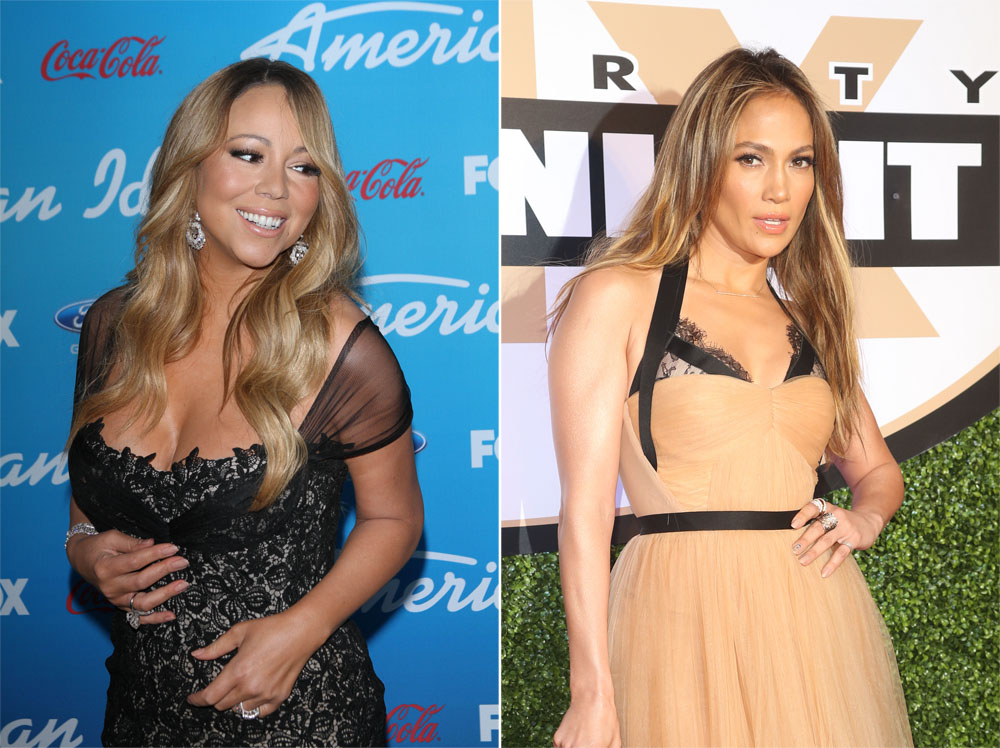 When I watched American Idol early this season I was impressed with how "nice" Mariah Carey was at that point, especially compared to Nicki Minaj, who was a real bitch, and not the funny awesome kind like us. I recently caught an episode from two weeks ago, (when Candice killed it singing the Cure's Lovesong) and Mariah was so self-centered that her advice rang hollow. Nicki wasn't bad, and although she played with her hair constantly she did seem more connected to the contestants and she gave good feedback. I put a call out on Facebook for opinions on the show, as my mom is the only one I know who watches it regularly. The fact that only one person answered out of 900-something people goes to show that not many people are watching it.
My one Facebook buddy who got back to me, Gigi of Gigi Eats Celebrities, says that she went to a taping last week and that "Mariah didn't stand up once – when everyone else did. I really think those two think the show is a complete joke. Perhaps they know something we don't- that AI is not being renewed? Or that they are both def not coming back."
I think Gigi is right, because Mariah Carey is doing so poorly that AI honchos tried to replace her midseason with ex judge Jennifer Lopez! Mariah's legal team shot that down really quick. It's not just about Mariah's lackluster personality, they need to shake things up because the show is tanking in the ratings.
With ratings in a steep slide, American Idol producers and Fox executives in recent weeks hatched a dramatic plan to jumpstart the show: replace judge Mariah Carey with Jennifer Lopez, according to knowledgeable sources.

These sources tell The Hollywood Reporter that Carey, who was touted as the big new addition to the judge's panel this year, responded with a threat of litigation. With that, the plan was dropped, though Idol's producers still are negotiating with Lopez, who served as a popular judge during the past two seasons, to appear on the show's finale in May. And insiders say a search already has begun to replace Carey, most likely Nicki Minaj and possibly the entire judge's panel for next season.

"This is just another ridiculous Idol judge rumor, likely started by talks of Jennifer performing on the finale," a Fox spokeswoman tells THR in a statement. Producer Fremantle NorthAmerica declines to comment. A rep for Carey denies these allegations. Idol producer Nigel Lythgoe tells THR: "I have not been included in any conversation regarding replacing Mariah with Jen this season."

American Idol kicked off its 12th season on solid enough footing. Earning a 6.0 rating with adults 18-49 and 17.9 million total viewers in its January return, the 17 percent dip was less precipitous than some of the bigger drops in recent years. But the months since have been less kind. The Wednesday performance show is currently averaging a 4.3 rating with adults 18-49, its worst performance since its inaugural season in 2001. And it is dropping nearly every week.

Even worse for Idol, the robust reboot of NBC's The Voice with Shakira and Usher recently has seen ratings climb to a 5.2 rating in the demo during the same week Idol bottomed out with a series low 2.8 rating. Adding insult to injury, Idol made headlines last week when preliminary numbers showed its total viewers for a results show was beaten by a repeat of CBS' The Big Bang Theory.
Maybe Idol isn't doing so well because it's predictable. They have the same format as they've had for years and it seems like every episode lasts forever. They drag things out to a ridiculous degree. They should think about mixing up the show, not the judges necessarily. It's probably not a bad idea to replace Mariah and Nicki though. THR goes on to report that producers are currently looking for judges for next season and they may go with an industry type who isn't necessarily famous. We saw how that worked out with Kara Dioguardi.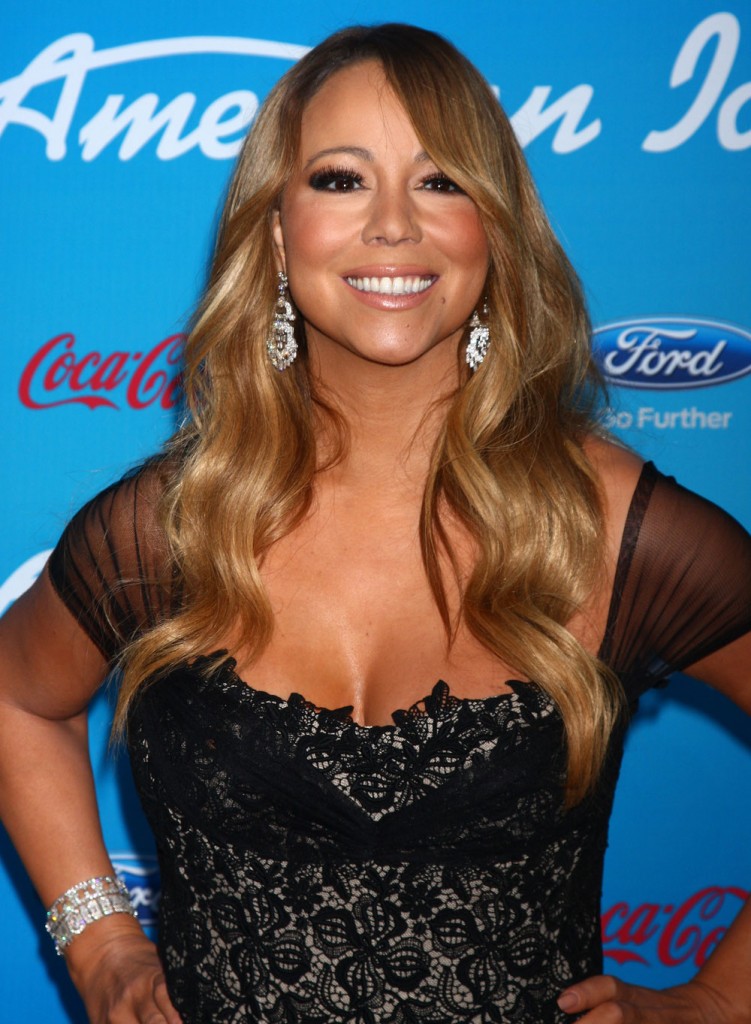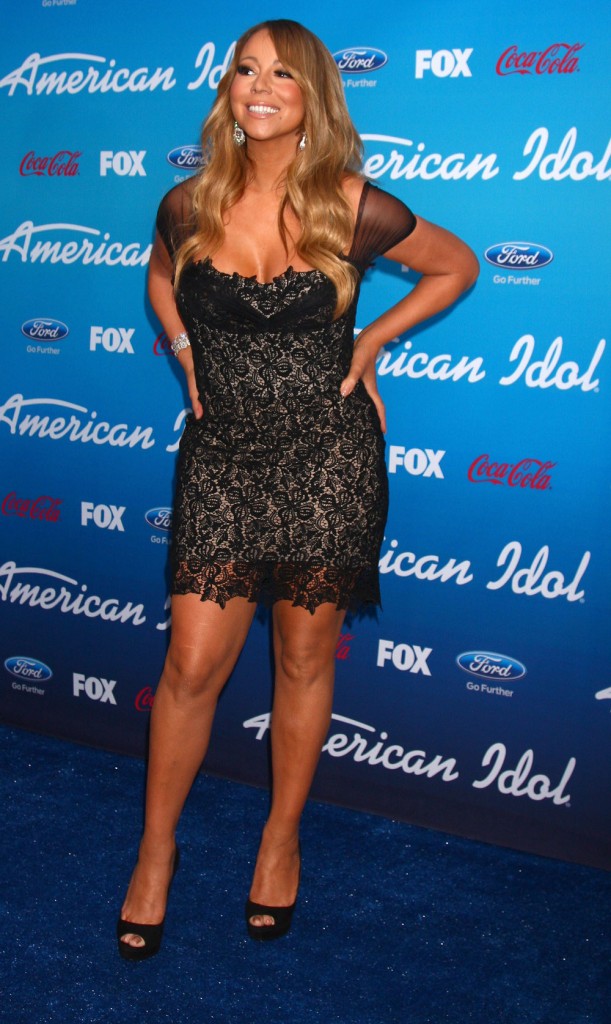 J.Lo is shown on 3-23. Mariah is shown on 3-7. Credit: WENN.com