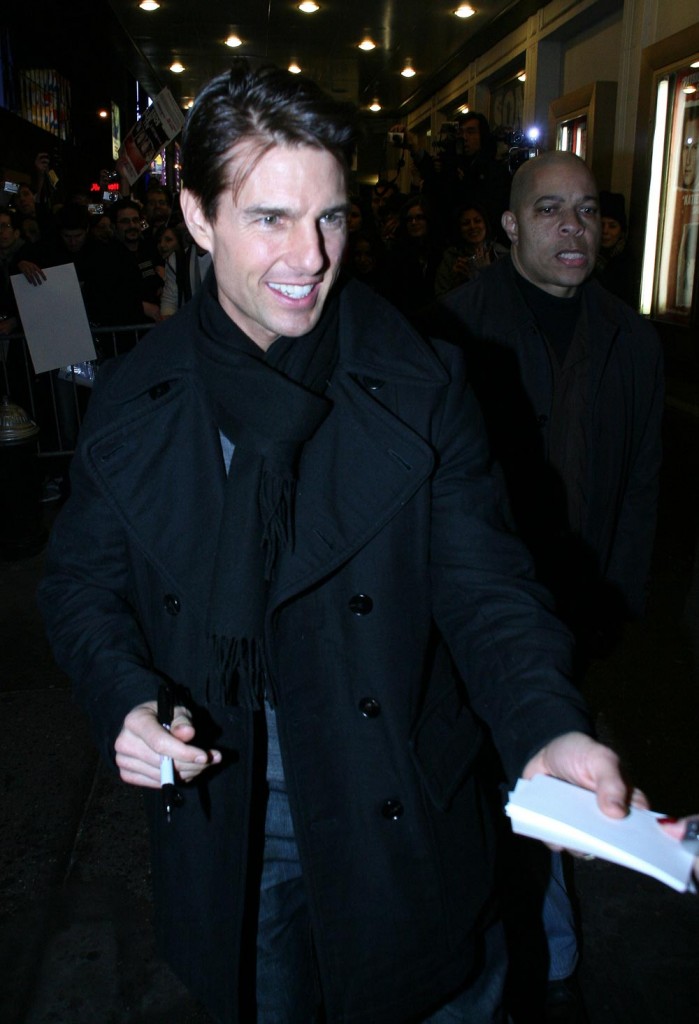 Cruise told Matt Lauer in his "Mea Culpa" return to the Today Show that he regretted his anti-psychiatry Scientology rant in 2005 and that he would try and tone down the rhetoric in the future. He said there was a "time and place" to talk about Scientology and that "I'm just here to entertain people."
American audiences are knowledgeable and wary enough of the cult for Tom to have to keep it zipped if he wants to improve his image, but apparently Cruise doesn't feel the same about Spanish people. He is quoted as telling a Spanish magazine that he "cured" his dyslexia with the help of Scientology's "study tech" developed by it's founder, failed science fiction writer L. Ron Hubbard. (It's somewhat possible Cruise gave these quotes earlier and they're being rehashed by the magazine, as the Associated Press notes in their coverage. It does sound like a new interview though.)
Actor Tom Cruise said Scientology teachings helped him overcome childhood dyslexia, a Spanish magazine reported.

Cruise was quoted by Spanish magazine XL Semanal as saying he was diagnosed with the learning disability when he was 7 years old.

Cruise said he was often anxious, frustrated and bored as a youth and couldn't concentrate in class, the magazine reported on its Web site Sunday.

The magazine quoted Cruise as saying he was functionally illiterate when he graduated from school in 1980, but learned to read perfectly as an adult through Scientology technology.

XL Semanal said the interview was conducted in Los Angeles, but did not say when. A transcript of Cruise's original comments in English was not available.

The Church of Scientology was established in 1945 by science-fiction writer L. Ron Hubbard, and claims 10 million members around the world. Cruise and fellow actor John Travolta among its more famed followers.
[From AP via Huffington Post]
Scientology's Study Tech has been widely discredited by education experts, and there are no independent studies to verify it's effectiveness. Critics say that it is a way for Scientologists to try and slip their belief system unnoticed into a school's curriculum and indoctrinate new recruits. Success stories largely rely on anecdotal evidence and testimonials.
The Andrew Morton unauthorized biography of Tom Cruise claimed that his relationship with Penelope Cruz was a deliberate move to try and expand the Scientology cult's empire into Spain and Latin America. The actor also had a brief relationship with Sofia Vergara that Morton says dissolved once she learned she was being used as a PR tool for the cult.
If Cruise did give these quotes, it seems like a calculated statement to try and hype Scientology to Spanish-speaking audiences. Cruise seems to know that there's a "time and place" to discuss the cult, and that American audiences are too savvy to buy it. Hopefully Spanish audiences are too.
Tom Cruise, Katie Holmes, and Suri are shown out in NY on 1/3/08. Credit: WENN