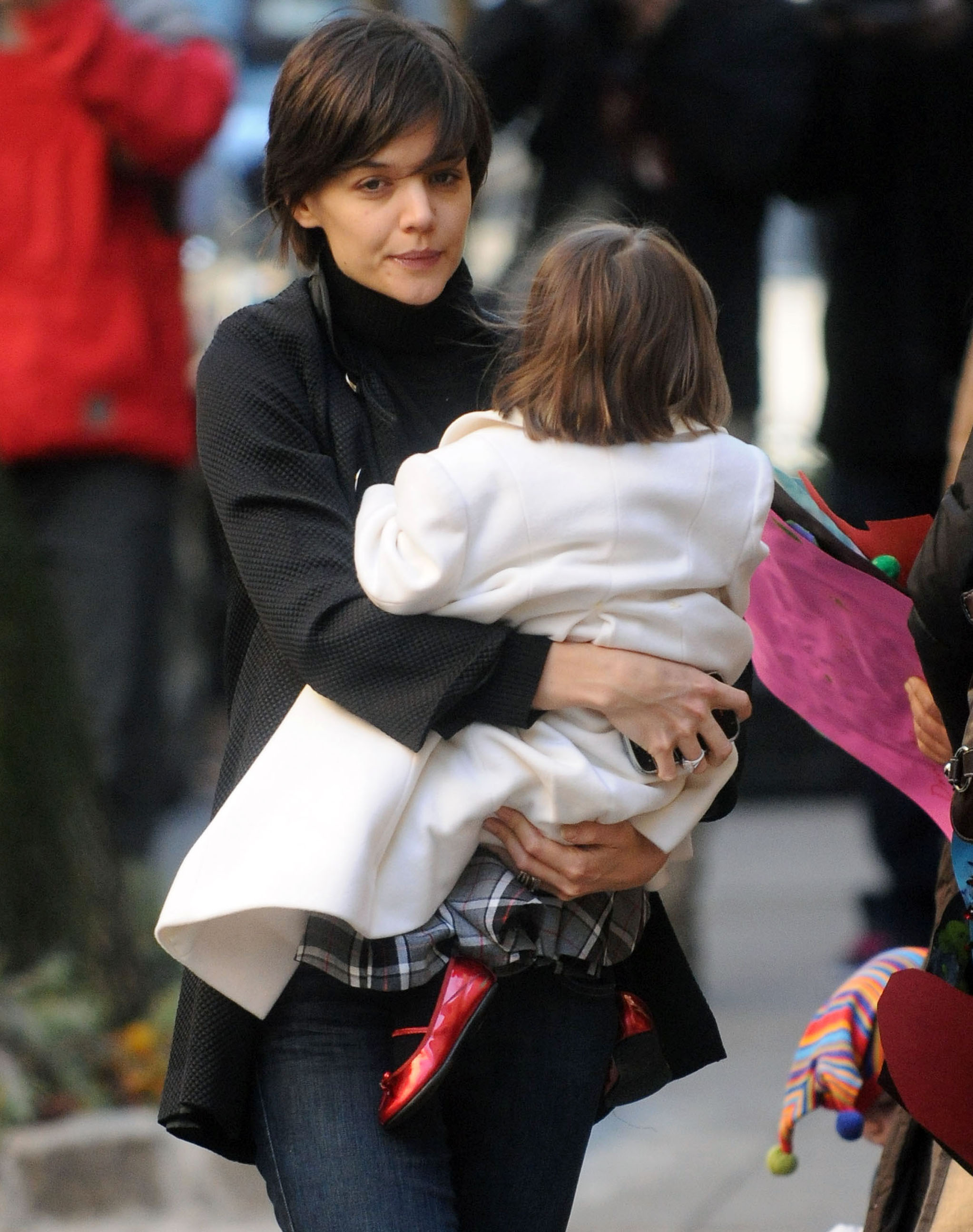 Katie Holmes is singlehandedly propping up New York City's economy, according to Page Six. Despite a dismal real estate market and poor retail sales, Katie's been shopping her heart out. In fact from the way it's described, it sounds like she doesn't have any other hobbies. Except, perhaps, running from body thetans.
As well as regularly frequenting the city's best restaurants, Holmes is often photographed with her daughter Suri carrying purchases from some of New York's most expensive shops. The New York Post's Page Six magazine estimates that, mainly due to her real estate purchases, she has spent more than $14 million (£9.6 million) since being in the city.

"While ordinary city dwellers are cutting back, Mrs Cruise has been valiantly doing her bit to boost our economy," the magazine said. "We tally up a conservative estimate of her 24-week NYC spending spree, and crown her Manhattan's Most Valued Shopper." Holmes has reportedly spent a reported $13,987 (£9,600) on child care and taking Suri out over the last six months

According to the publication, she and Cruise have bought three new apartments in the building where he has owned his home since 1985. A spokesperson for Cruise has denied the purchases but real estate executive Barbara Corcoran claims they bought a trio of lofts last year. The magazine says a similar, three-bedroom home on the same street is on the market for $4.8 million, (£3.3 million) and calculates that the Cruises would have spent $14.4 million (£10 million) on their apartments as a result.

Meanwhile the couple is reported to have spent an additional $7,000 (£4,800) on installing gym equipment in their home. The publication also claims that Holmes, 30, and Cruise, 46, have spent an estimated $7,315 (£5,000) on dining out at top restaurants such as brasserie Balthazar, and sushi restaurant Nobu and more than $17,000 (£11,700) on clothes for Holmes and Suri from shops like Hermes and Bonpoint.
[From the Telegraph]
Something tells me Tom is footing the bill for most of these purchases. I'm sure Katie's got some money of her own, but probably not enough to part with $14 million in half a year. What I'd really like to know is how she spent nearly $14,000 on Suri's childcare in just six months. Those must be some seriously good babysitters. Obviously the vast bulk of the spending was on real estate, which may or may not be a sensible investment. But Tom and Katie have more money than most of Manhattan, so a bad real estate investment or two won't negatively affect them like it would the rest of us.
In related Katie Holmes news, this is her last week starring in "All My Sons" on Broadway. No word on whether she'll stay in New York. It's often been reported that Tom wants her back in L.A. as soon as possible – but the couple obviously made some substantial investments in housing in Manhattan, so it seems likely that they're planning on spending more time on the East Coast.
Here's Katie and Suri doing a spot of shopping on December 18th. Images thanks to Bauer-Griffin.