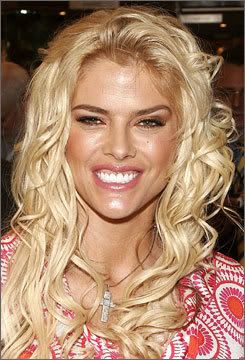 This is just horrible news. Anna Nicole Smith has died at the age of 39 after collapsing in her hotel room in Hollywood, Florida.
The blond bombshell — who recently became tabloid fodder all over again after the sudden, apparently drug-related death of her 20-year-old son — was found unresponsive while staying at the Seminole Hard Rock Hotel and Casino, said her attorney, Ron Rale. She was rushed to a hospital.

Edwina Johnson, chief investigator of the Broward County Medical Examiner's Office, said the cause of death is under investigation and an autopsy will be done on Friday………..

Meanwhile, the paternity of her now 5-month-old daughter remained a matter of dispute. The birth certificate lists Dannielynn's father as attorney Howard K. Stern, Smith's most recent companion. Smith's ex-boyfriend Larry Birkhead was waging a legal challenge, saying he was the father.

Debra Opri, the attorney who filed his paternity suit, said Birkhead "is devastated. He is inconsolable, and we are taking steps now to protect the DNA testing of the child. The child is our number one priority."
I really hope she didn't kill herself. After all, she had a beautiful baby girl who counted on her, I can't imagine how hard it's going to be for Dannielynn to grow up without her. I hope the two daddies involved in the paternity suit find a civilized way to solve their issues and help Dannielynn have a chance at a normal life.
Note by Celebitchy: Thanks so much to Chic Mommy for covering this. I am on vacation in Spain with my family until Monday, and do have internet access from our room. This is incredibly shocking news. Like a lot of you, my first thought was that Howard K. Stern killed her to cash in on some kind of insurance and to avoid being revealed as a hanger-on who isn't the father of Dannielynn. It's possible that she died of a drug overdose or natural causes, we'll have to wait for the results. There's also a suspect rumor that her deceased son is the father of her baby, but I doubt that's true. If there is any merit to that rumor, it would certainly give her motive to commit suicide.
Here are pictures from Anna's commitment ceremony to Howard.