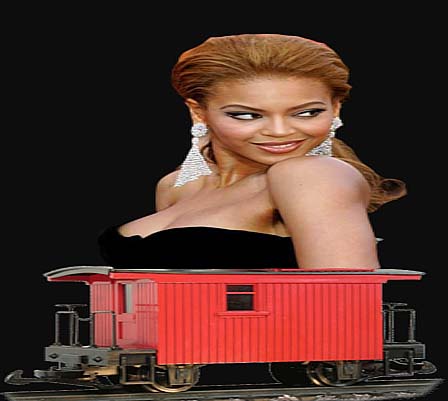 In an Academy Award season that proved that Destiny's Child wasn't neccessarily Oscar's bouncing baby … Beyonce's nomination dreams were deferred. And What happens to a dream deferred – Does it dry up like a raisin in the sun? Or fester like a sore–And then run?
Only if it's running along the tracks to the 21st annual Soul Train Music Awards.

RTE Entertainment reports
She was nominated twice for her hit single 'Irreplaceable', in the categories of Best R&B/soul Single and Best R&B/Soul or Rap Music Video. Her album, 'B'Day', is also up for Best Female R&B/Soul Album.
Those three nominations have Ms. Knowles at the head of this years Sooo-uuuu-ll train.
Perhaps the first time in the history of the modern railroad that a world famous caboose has lead the charge. Counterintuitive engineering … perhaps … but when you're ahead – why ask why.
Others with two nominations include Mary J Blige, Chris Brown, John Legend, Ne-Yo, Gnarls Barkley, Yung Joc and the Isley Brothers.
Twos nice for those who like that sort of thing .. very ying yang, matched end tables and all that … but it ain't three … with three you egg rolls … or found a girl group.
Pictures via the Sydney Morning Herald and Hartland Locomotive Works