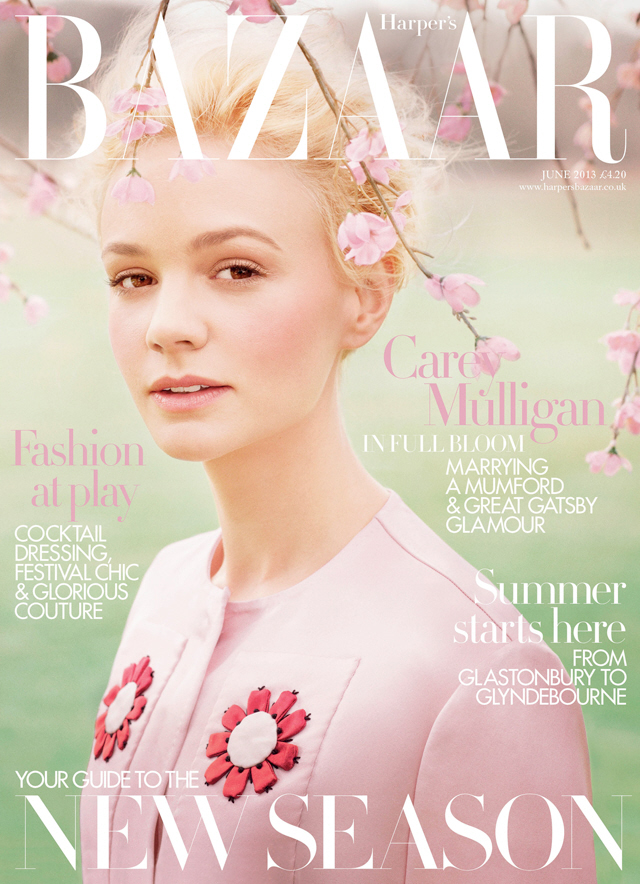 Carey Mulligan covers the June issue of Harper's Bazaar UK, and these are the newsstand cover and subscriber's cover. I think I'm alone in hating both covers. And I'm saying that as someone who likes/admires Carey, and I have high hopes that she's going to be a brilliant Daisy Buchanan. But instead of styling her like Gatsby's Daisy (which is what Vogue did for the May issue), they did this cotton-candy hair, Grey Gardens look. She looks like a little old lady. Or a ghost!!
The Great Gatsby is almost upon us. The big American premiere will be this Wednesday, and then it's on to Cannes, where I imagine it will be well-received. From what I remember, Cannes LOVED Moulin Rouge, and this seems to be in the same vein. And you know what I keep thinking about? How Blake Lively auditioned for the role of Daisy Buchanan. OMG. I cannot even believe that Blake got through the door on that one. But would you like to know how Carey got the part? She totally snogged Leonardo DiCaprio in the audition!! 'Atta girl.
Carey Mulligan bagged a role in Baz Luhrmann's "The Great Gatsby" by giving Leonardo DiCaprio a surprise kiss during her audition.

The Australian filmmaker recruited leading man DiCaprio to help pick an actress to play Jay Gatsby's love interest Daisy Buchanan in the upcoming big-screen adaptation of the classic novel, and it was Mulligan's brave smooch that really impressed DiCaprio.

Luhrmann tells The Hollywood Reporter, "Leonardo was at every audition. He worked with me – it was work. He is not an acting snob but I guess if he was a chef, he can really tell what is fine cuisine. So Carey came in. I'd swapped scenes (to read during the audition) and forgot and (the script said) she kisses him. (Mulligan) grabbed me… and she said, 'Should I? Should I kiss him?' I went, 'Yeah, but don't tell him!'

"So she does the scene, absolutely fantastic, and grabs him and kisses him. She went out the door and I was just thinking, 'My God, that is Daisy Buchanan.'

"I thought, 'I wonder what Di (DiCaprio) thinks'. He said, 'The way Carey manifests Daisy is like something Gatsby would never have met in his life, something so delicate that he would want to protect to her to an obsessive and almost impossible level.' And then it was done. It was done."
Yeah. So that's how she got the part. She inhabited Daisy. And I honestly think she's probably a smarter choice for the role than, say, Mia Farrow. I know that's slander around here, but Mia Farrow sucked as Daisy in the 1970s version. Robert Redford? SURE. He can inhabit Gatsby any day of the week. But Carey will be a fine Daisy.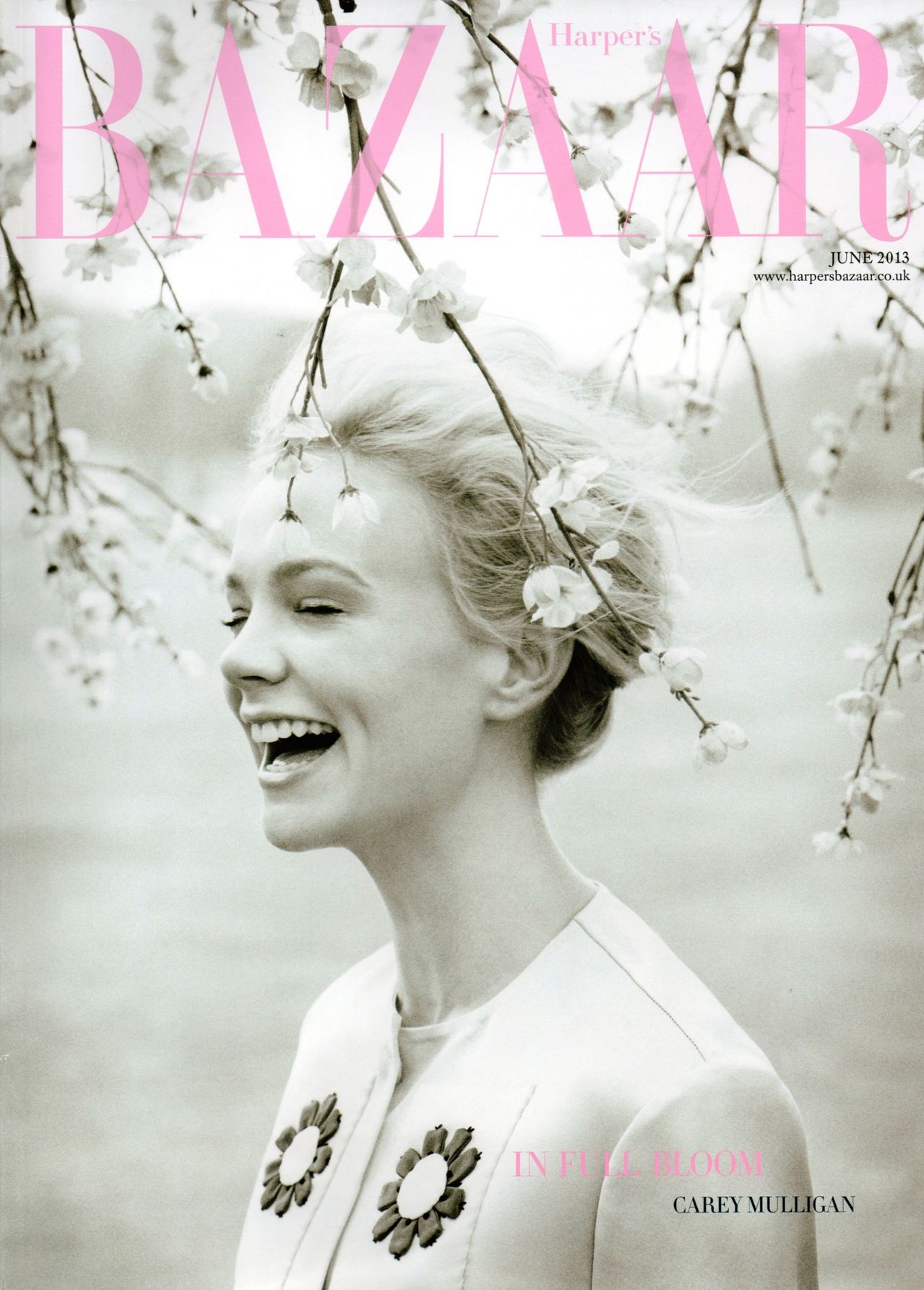 Photos courtesy of Harper's Bazaar UK.