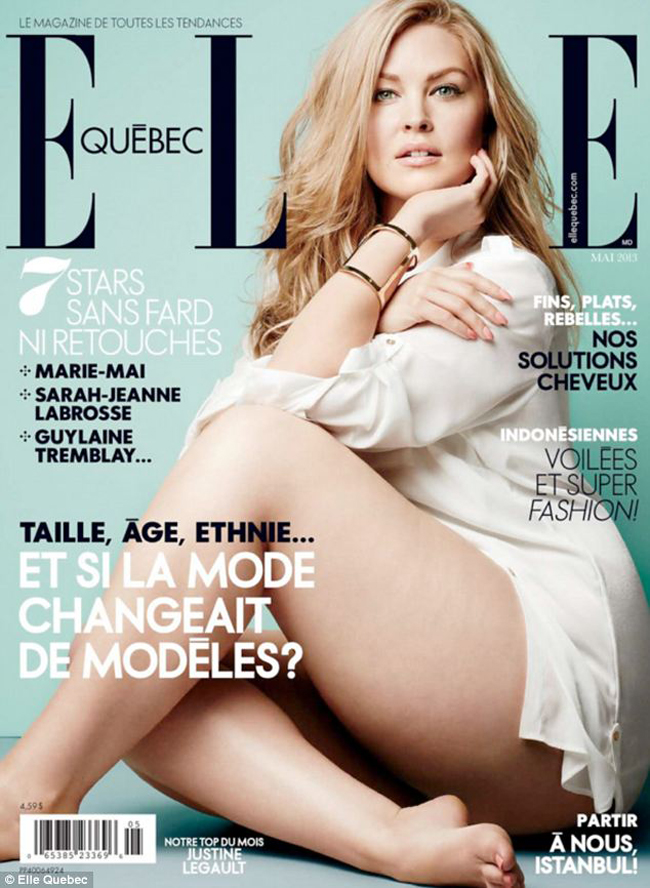 Small steps, people. Elle Quebec has officially featured (for the very first time) a cover model that is, incidentally, also a plus-sized model. Introducting Justine Legault, a French-Canadian model who is positively ravishing on this cover in a gauzy white shirtdress and flashing some thigh in an ever-so provocative manner. This is definitely progress. Last fall, Ralph Lauren hired its first plus-sized model, Robyn Lawley, who was greeted with much enthusiasm. Of course, Robyn was 6'2″ and a size 12, so she didn't really fit into the true "plus-sized" spectrum, but as a model, she definitely qualified as opposed to the size 0 types who can barely walk down the runway because they haven't eaten solid foods in days. Now here comes Justine, who is several inches shorter than Robyn at 5'9" and a size 14, and she's quickly taking the modelling world by storm in her own way.
As a side note, it does slightly offend me that some people will inevitably proclaim that it's entirely amazing to witness a fashion magazine representing on behalf of "real thighs" … as if female Olympians who strenuously work out on a near-daily basis possess "fake" thighs? Seriously, let's embrace all body types. All thighs are "real." Here are some excerpts from Justine's cover interview:
On her discovery: "At my first photo shoot, I remember hearing the photographer call my agent on the phone and say, 'Oh my god! We've got something here!'"

On her regime: "My beauty regime is similar to that of other models. Except that I love a good meal and I eat very well!"

On criticism: "How many times have people told me during an audition: 'I don't like your hair, I don't like your teeth…?' I didn't listen to those people and I continued to have confidence in myself. I prefer to remember compliments from people who like me how I am, and believe in me."
[From Elle Quebec]
I love this woman. She demonstrates a very smart attitude towards an industry that possesses a commonly accepted and dumb attitude towards female body types. Please, let this be the very beginning of true body diversity acceptance in mainstream fashion magazines. One can only hope, right?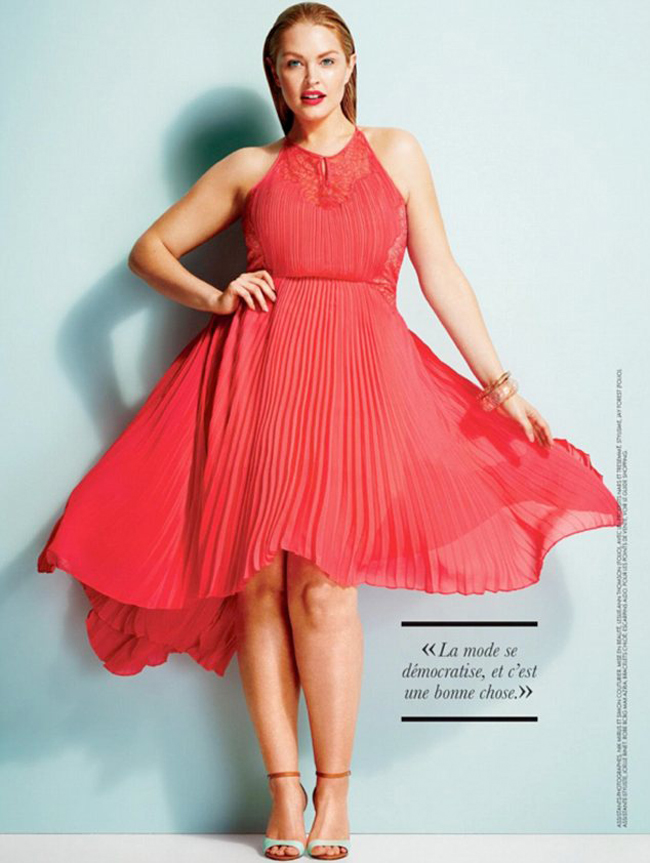 Photos courtesy of Elle Quebec