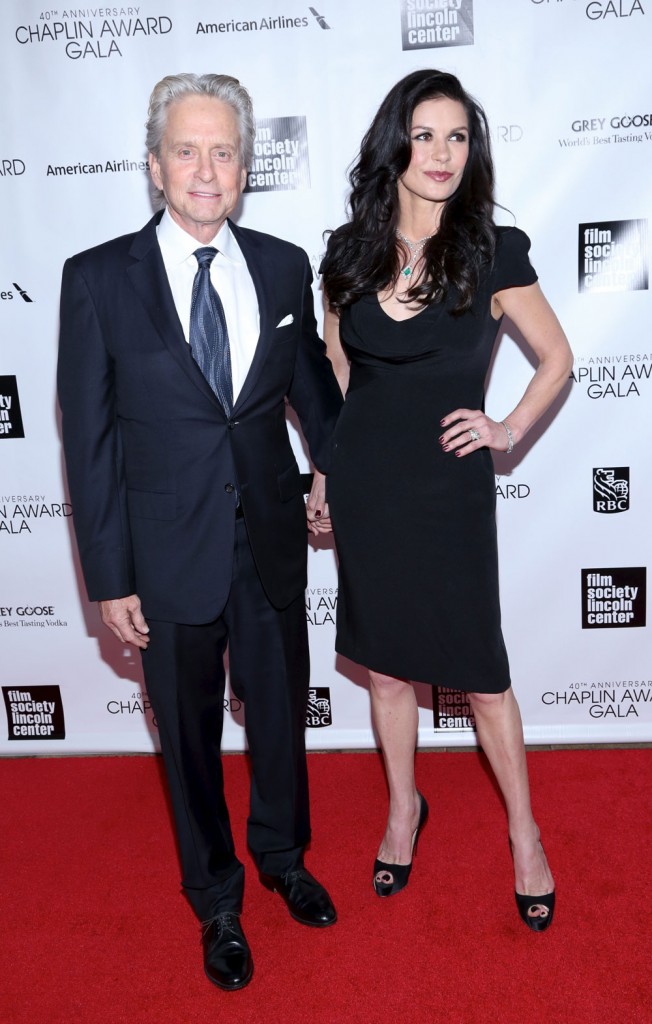 Last week we heard that Catherine Zeta-Jones had checked into a psychiatric facility for routine maintenance for her bipolar II disorder. Many people assumed that it was to adjust her medication, which can be difficult and stressful to do at home. The Daily Mail has a long article pointing to Catherine's floundering career, saying that she's having problems at home with her marriage, and claiming that things must be horrible for her if she's checking into treatment. I don't agree, but I'd like to talk about it. Here are some excerpts, with more at the source:
While the actress's spokeswoman tried to play down the episode, there are fears that problems in her marriage to Douglas — who was said to have moved out of the couple's New York home for a time last summer — and a string of film flops may have sparked a relapse in her condition.

It is the second time she has sought treatment: two years ago, she was admitted to the £770-a-day Silver Hill Hospital in Connecticut for five days because of the stress of coping with Douglas's battle with advanced throat cancer.

Once the news broke, Catherine's Los Angeles-based PR team went into overdrive. Her spokeswoman, Cece Yorke, issued a statement saying: 'Catherine has proactively checked into a health-care facility. Previously, she has said she is committed to periodic care in order to manage her health in an optimum manner.'

According to her team, her 30-day 'maintenance' stay has been arranged so doctors can monitor her drugs and has 'always been part of the plan'.

It is a claim that has been disputed by mental health professionals.

'What her spokesman has said makes no sense at all,' renowned Beverly Hills psychiatrist Dr Carole Lieberman told the Mail this week.

'If there was nothing wrong and she was coping with life, she wouldn't need to go into a hospital.

'The idea that you can have this so-called maintenance programme is just not how it works. You can't schedule it, like bringing your car in every six months. The reason patients are admitted to a psychiatric unit is because their condition is so serious and acute that they need to be in hospital.'

It isn't clear exactly what has triggered this suspected relapse, but the Douglases — who are worth £185 million — have had their fair share of problems of late, any one of which could bring about understandable marital tensions…

They spoke out following claims in a U.S. magazine they had undergone a 'hush-hush trial separation'.

The reports were prompted by claims that Fatal Attraction star Michael, 68, had briefly moved out of the couple's main home, a stunning Thirties white mansion which they bought for £3.2 million in the upmarket enclave of Bedford, New York.

He was said to be living nearby in a converted barn owned by a multi-millionaire friend. It was claimed the marriage had buckled under the pressure of Michael's cancer, for which he underwent aggressive chemotherapy and radiation treatment in 2010…

At around the time of the couple's alleged split, Catherine's friend Charlotte Church hinted at tensions in the marriage when she told chat-show host Graham Norton that Douglas had been angry over his wife's boozy partying with the Welsh singer following a celebrity golf tournament.

'We were singing and having a great time and Michael was really p***** off. He was fuming and went to bed early,' she said.

Certainly, the couple's relationship is far from conventional. As she laughed off the claims of problems, Catherine — who found fame in the Nineties in The Darling Buds Of May — let slip that they give each other 'space'.

'That's why our marriage lasts,' she insisted. That 'space' has involved them spending 'me time' apart from each other at their various homes around the world, which include a house on Bermuda overlooking the Atlantic, a rural home in Majorca, a vast apartment with views of Central Park in Manhattan and a mountain retreat near Quebec.
I think it's unfair for some random doctor to claim that she must be in an awful state to check into a facility. That might be true in general for people of average means, in certain countries, but I know people in Germany who have gone to 30 day inpatient treatment centers just to get their medication adjusted. When you run the risk of side effects and problems from discontinuing medication it's probably best to do it in a monitored environment. She can afford the best of everything, so why not do it under supervision?
As for whether Catherine and Michael are having problems, I bet they are. It sounds like Catherine has been dropping subtle hints. But they're sticking together for now, and that's what matters. I really hope that they work it out and that she's able to get her condition stabilized. They've gone through so much with Michael's cancer and Catherine's illness. I'm rooting for them.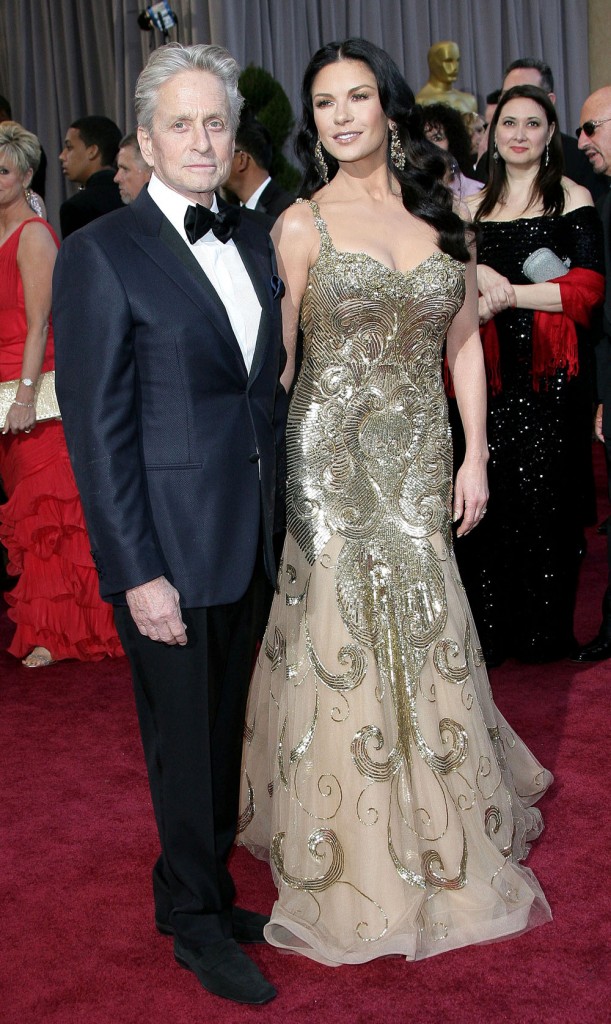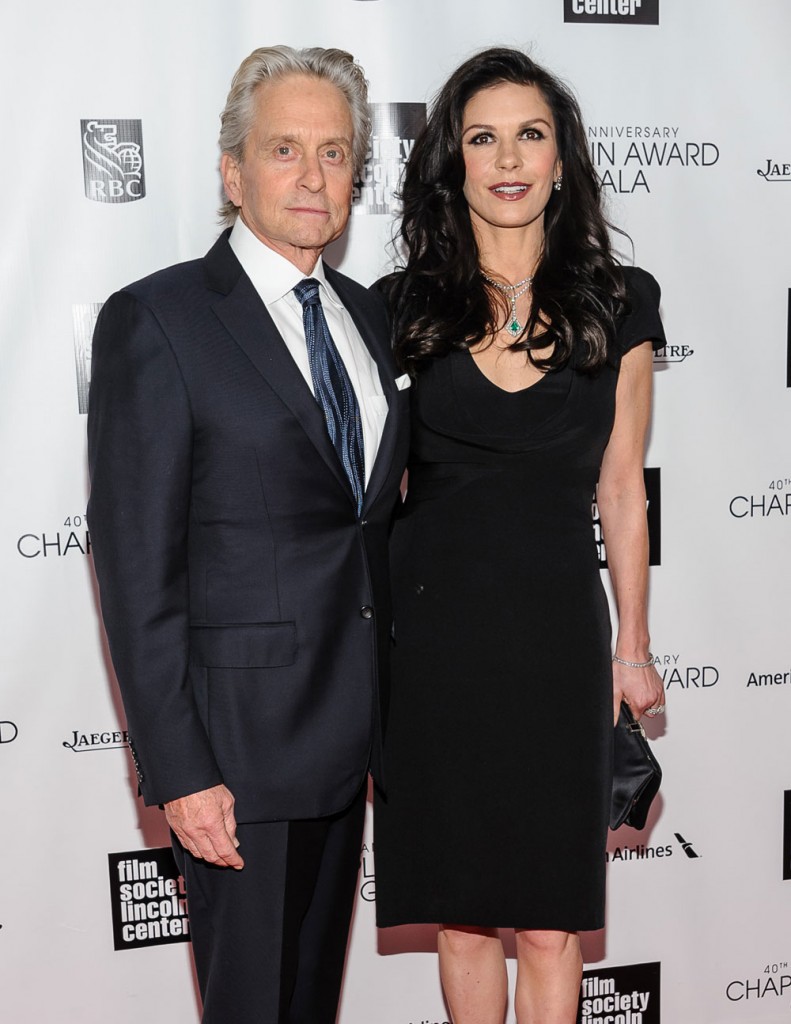 These photos are from 4-22-13 and 2-24-13. Credit: WENN.com