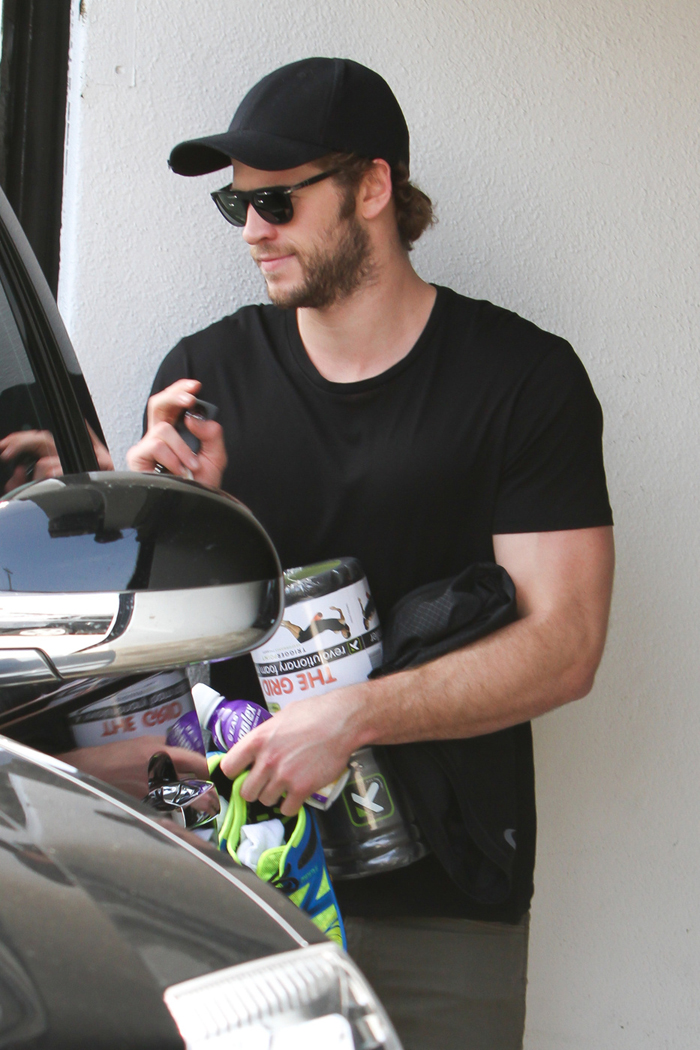 Here are some photos of Liam Hemsworth doing what he's always doing lately — leaving the gym. Oh and before I get into this week's tabloid coverage of this doomed romance, Miley Cyrus is indeed the winner of the #1 slot on the Maxim Hot 100 list, which has been released in full. Here's the rest of the top 10: (2) Selena Gomez; (3) Rihanna; (4) Mila Kunis; (5) Jennifer Lawrence; (6) Jennifer Love Hewitt; (7) Ashley Tisdale; (8) Kate Upton; (9) Vanessa Hudgens; (10) Elisha Cuthbert.
Yesterday, we discussed how Liam's brothers, Chris and Luke, had allegedly staged an intervention to tell him that his relationship with Miley obviously wasn't working and that it was time to cut the cord. My opinion on the matter is that Liam is probably still sleeping with January Jones and knows that Miley won't dump him, but he's too much of a chickensh-t to do it himself. According to this week's issue of In Touch, Miley is trying to talk Liam into going with her to couple's counseling. Good luck, Miley: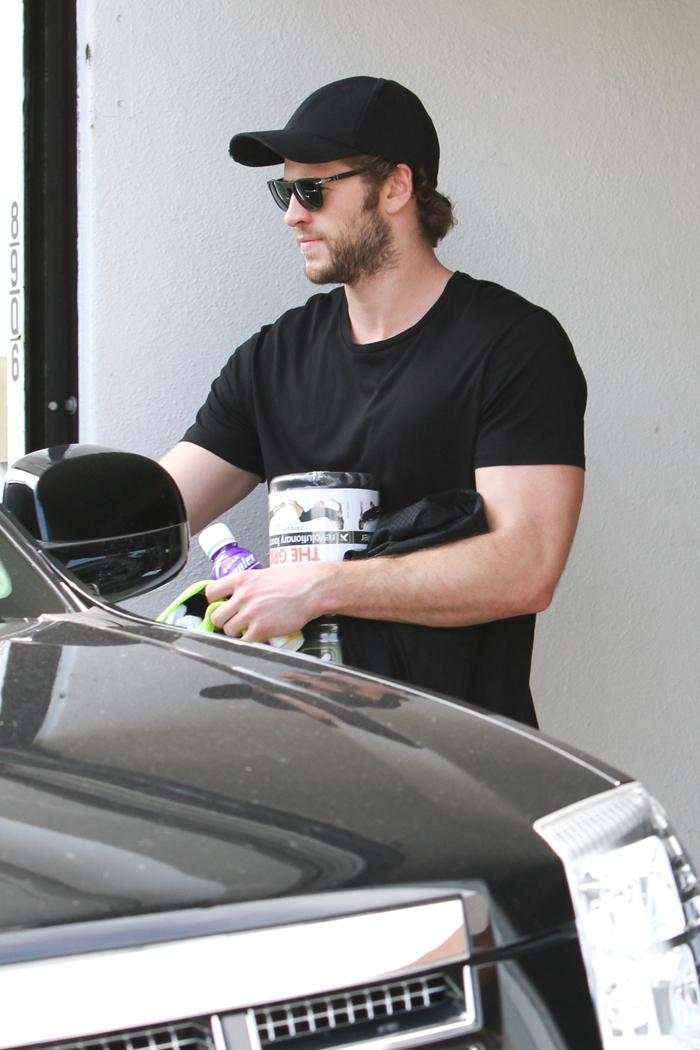 The've postponed their wedding, and she's taken off her engagement ring, but Miley Cyrus, 20, isn't ready to throw in the towel with Liam Hemworth just yet. "She's hoping to save her relationship by enlisting a therapist," reveals an insider close to Miley. "She knows that Liam is one foot out the door and that she'll lose him if she doesn't act fast." But Liam, 23 — who seems to have checked out of the relationship since February, when he was seen leaving a pre-Oscars party with "Mad Men" actress January Jones, 35 — isn't sure they have a future together. "Miley and Liam fight constantly because he's always questioning if she's the same girl he fell in love with," says the insider. Miley is hoping that "professional help" will turn things around, adds the insider: "They need to find some common ground."
[From In Touch, print edition, May 20, 2013]
Hmm. If this story is true, then at least they're considering couple's therapy before marriage rather than waiting until they're married and miserable. Good idea? Most of the married couples that I know who have tried therapy have waited until things are super, super broken already, so they didn't get much out of the process, but premarital counseling makes a lot more sense, assuming that both parties are into it. This week's issue of Star adds that Miley is using shopping as her current form of self therapy:
Forget pints of ice cream and sappy movies — Miley Cyrus' remedy for her broken heart is to shop until she drops! The 20-year-old star has been spending wildly since her reported split from fiance Liam Hemworth, who is now secretly dating "Mad Men" vixen January Jones, as Star previously revealed. In addition to ordering a $150,000 new Porsche, Miely has dropped more than $60,000 on furniture for her Toluca Lake, Calif., home and at least $100,000 on jewelry and clothes.

"Miley can't seem to stop spending," her friend says. "She is really sad, and it's the only thing that seems to cheer her up. Now her friend worries that her costly new hobby is becoming an obsession, saying, "All she wants to do is work on her new album and shop."
[From Star, print edition, May 20, 2013]
Well, it's not like Miley (who supposedly has a net worth of $120 million) can't afford a few shopping sprees and a new car as a form of therapy. Honestly, I think that Liam really is "out the door" and just can't admit it, so Miley spending her money on clothes is probably more productive than blowing it on couple's therapy.
There's other Miley news spilling forth too. We recently covered the photoshoot and some excerpts of Miley's recent Elle UK cover feature, and now the magazine has released a weird excerpt that reveals how Miley thinks her old London flat was haunted by the ghost of a young boy who watched her take a shower. Spooky.
Back to Liam and Miley though. These kids haven't been photographed together since late 2012, and their body language at the time is very telling, isn't it?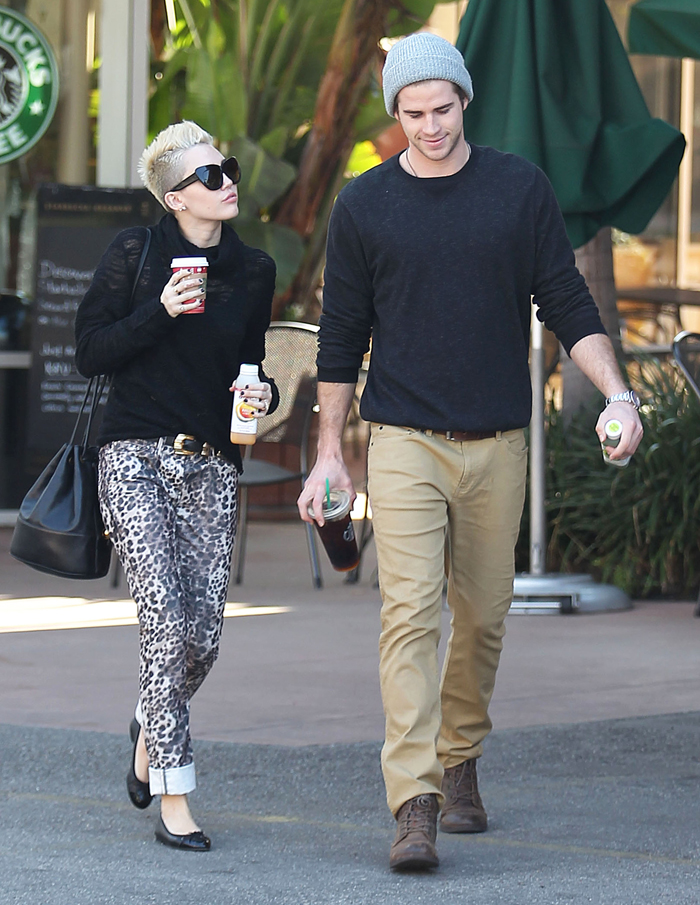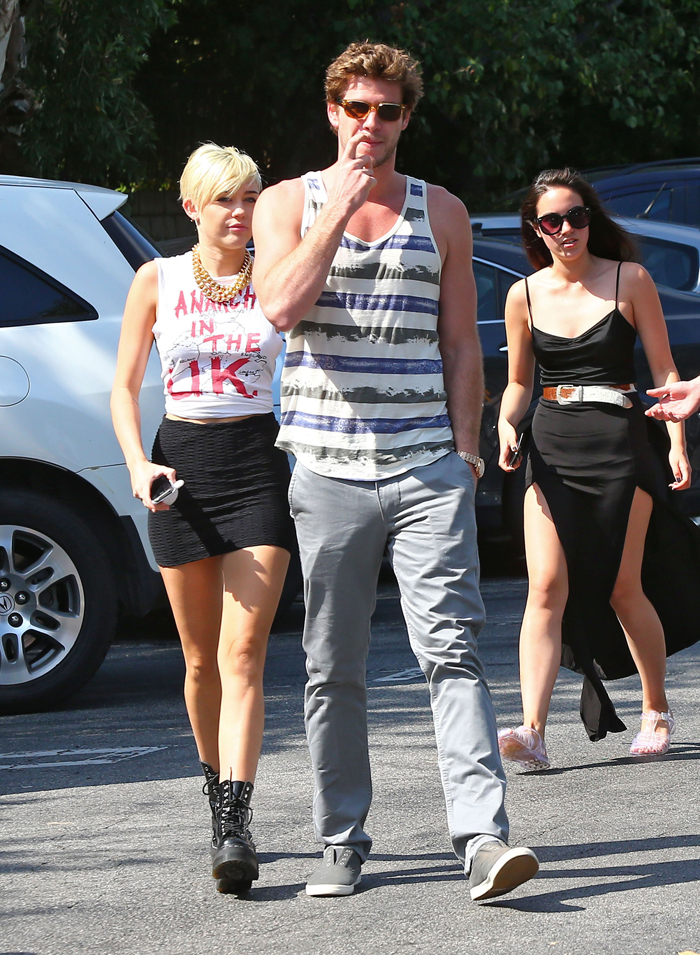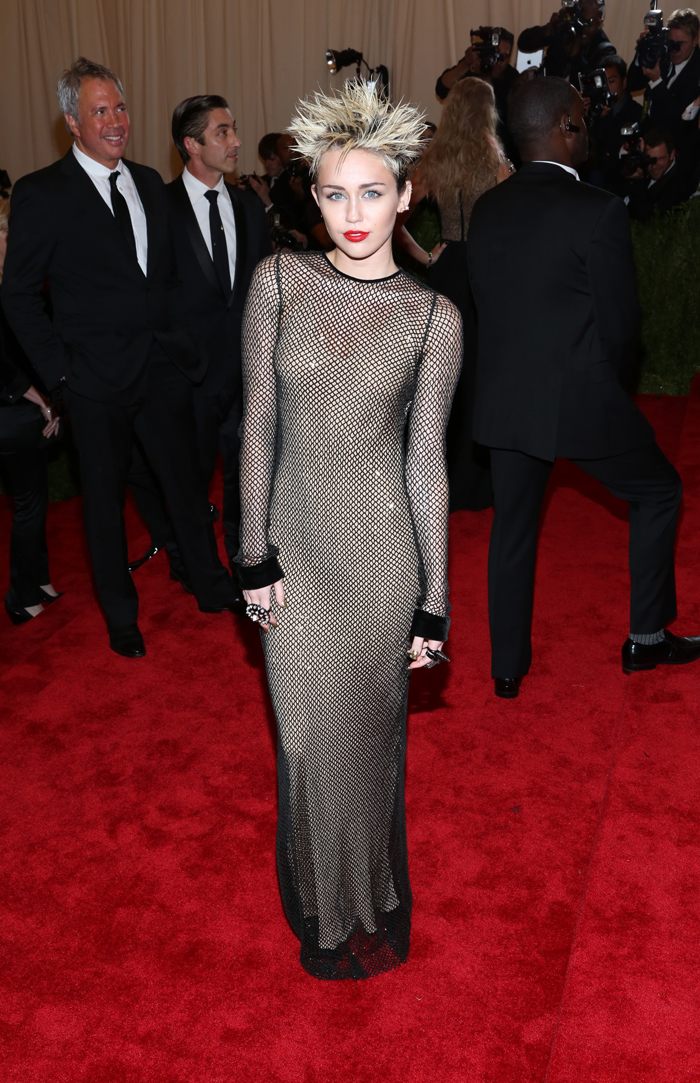 Photos courtesy of Fame/Flynet, Pacific Coast News, and WENN