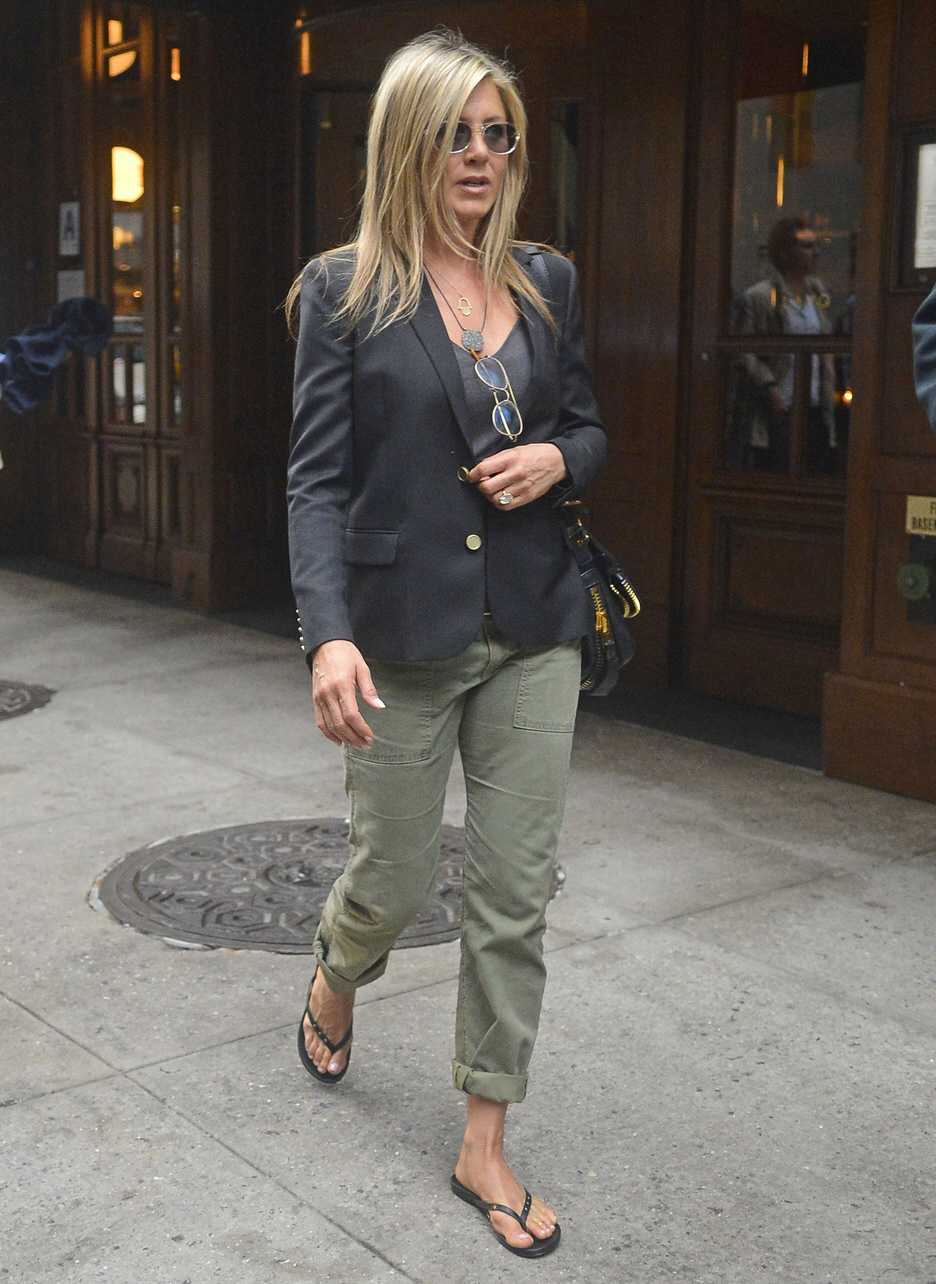 Yesterday, Jennifer Aniston did an event for her latest side-project/endorsement/investment deal, Living Proof. That's the MIT-created haircare line she invested in, takes a percentage from, and is the face of. We don't have photos of her at the event, but you can see them here. Hilariously, her hair looks really flat and thin in those photos. The photos that I'm using in this post are of Jennifer just out and about in NYC yesterday, I guess before the Living Proof photocall or whatever. I like her flip-flops. I like that she walks around NYC in flip-flops as opposed to Louboutins. At the Living Proof event, Jennifer discussed hair and hair issues:
We'd have thought Jennifer Aniston could do pretty much anything with her hair, but it turns out even the world's most enviable mane has its limits.

"We all want somebody else's hair," Aniston told PEOPLE at an N.Y.C. Living Proof event, citing Gisele Bündchen as the star whose tresses she envies, and adding "I also love Kate Moss's hair. It's that rolled-out-of-bed look. Somehow she can wear a couture dress and just have that. I've tried to do that but it doesn't work."

Aniston adds that no matter how many times she asks her longtime stylist Chris McMillan to give her that hair, "he'll do whatever he wants to do." That's why — even though she takes care of it with Living Proof's Restore mask, and she'll go anywhere to get it washed — only McMillan is allowed to go near it with scissors.

And we can't say that we blame her for being a little paranoid, considering some of the past disasters she tells us she's had to contend with. As a kid, "I'd only had mullets! Or those haircuts when you were a kid and you'd get those crazy, like, long at the front and shaved at the back," she says. "Oh, I just learned so many lessons from my youth of what not to do."

So that's why she's bringing her "Good Hair" Living Proof webisodes (which feature McMillan and girls on the street expound on hair philosophy) to the masses. It's all about learning from your mistakes and working with what you have, which is what, as the co-owner of the haircare line, she wants to communicate to women.

"Those girls are adorable and they've gotta get better perspective on their hair because they don't have horrible hair," Aniston says of the girls in the video series. "It's so interesting how girls have the wrong perception of themselves."
It's funny that she's making fun of mullets, because at its heart, "The Aniston" hair cut really was a mullet – long in the back and short up front. It was a grown-out mullet. As for envying Kate Moss's bedhead look… yeah, Moss does that really well. I don't think Jennifer has ever REALLy tried to do a real bedhead look though. Jennifer always ruins it with flat-ironing and poker-straight blow-outs. Her hair has natural curl, and it kills me a little that she hates her own waves that much.
Here's a Living Proof video with Jennifer and her hair guy/BFF Chris.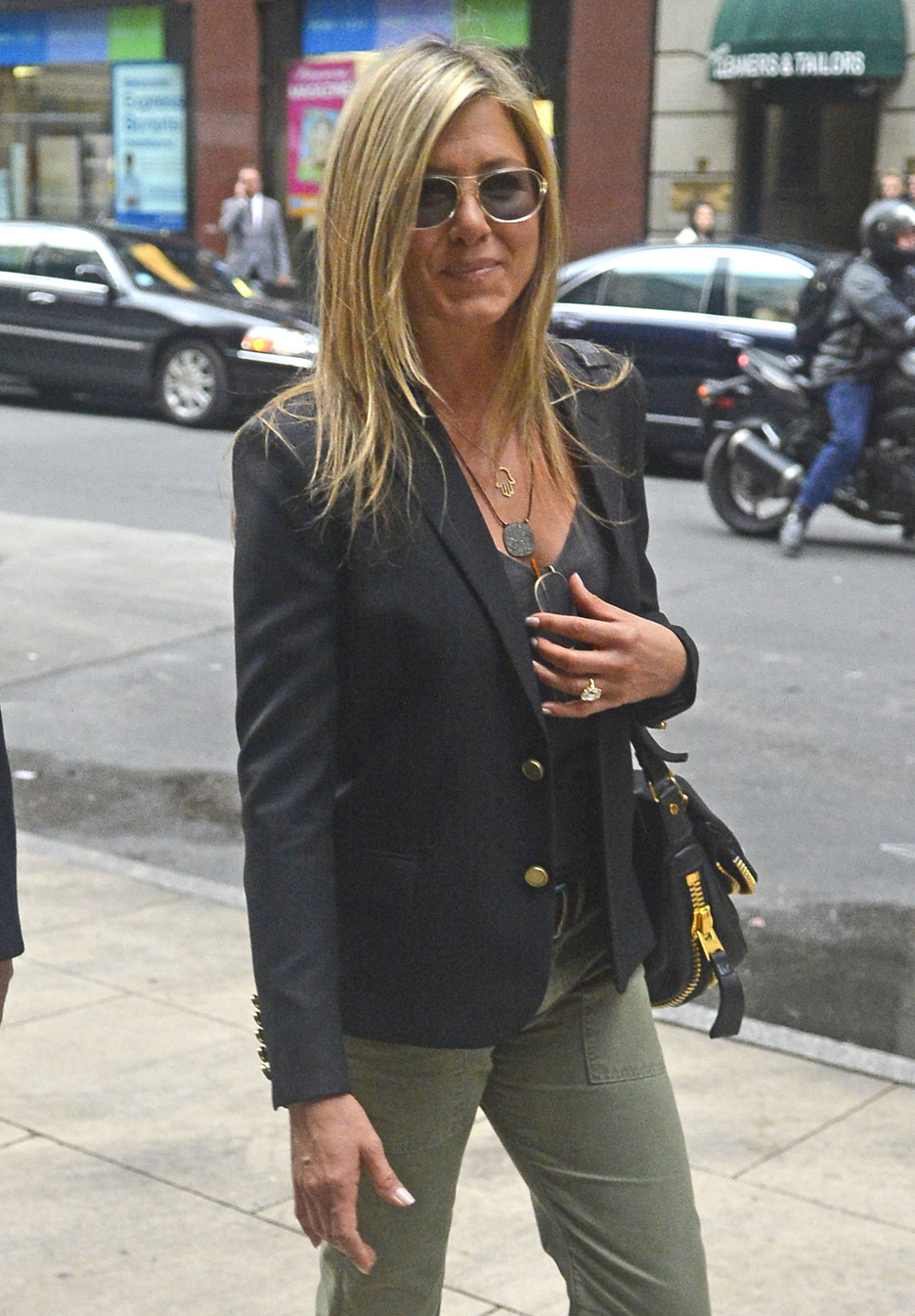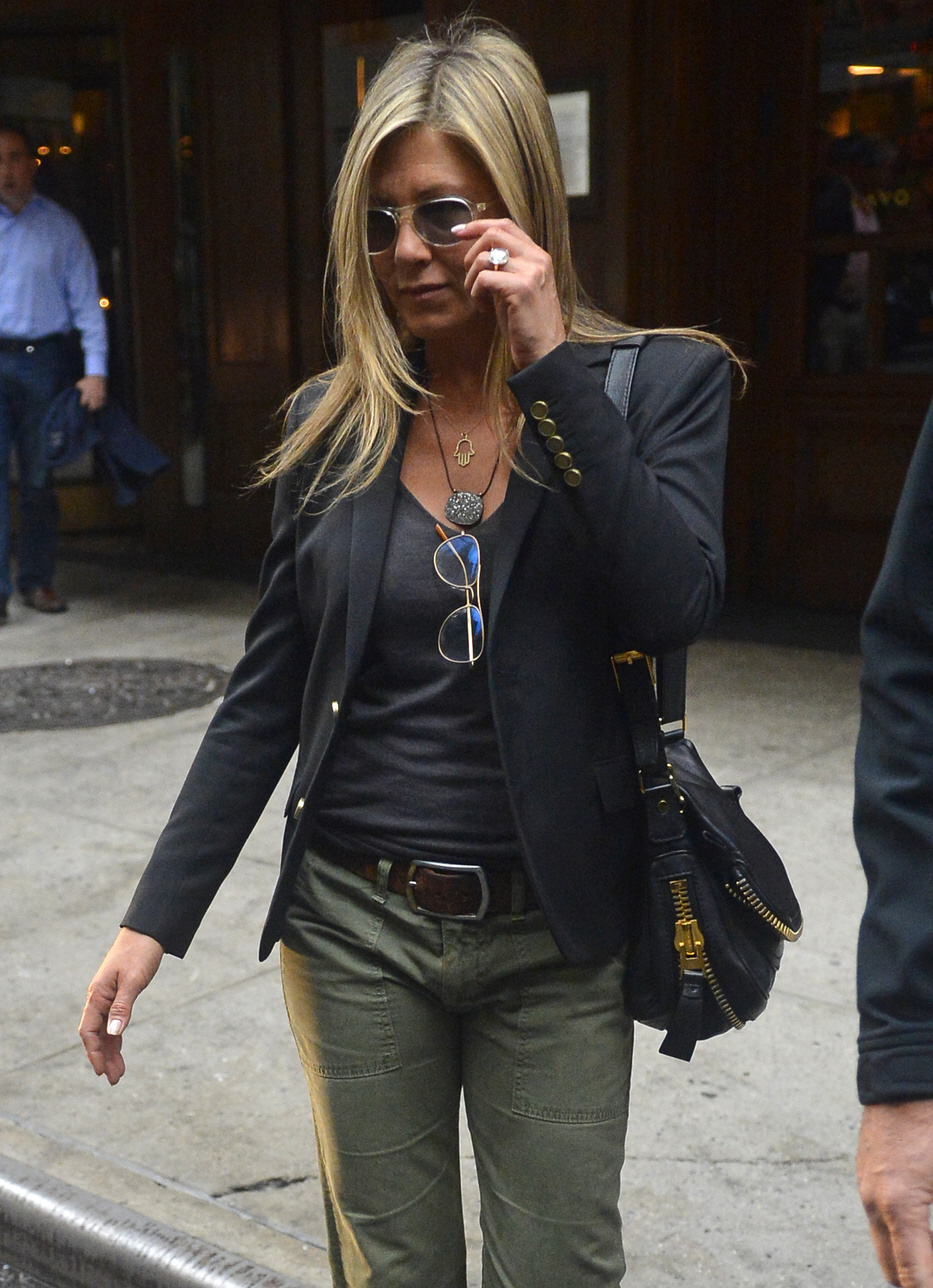 Photos courtesy of Pacific Coast News.