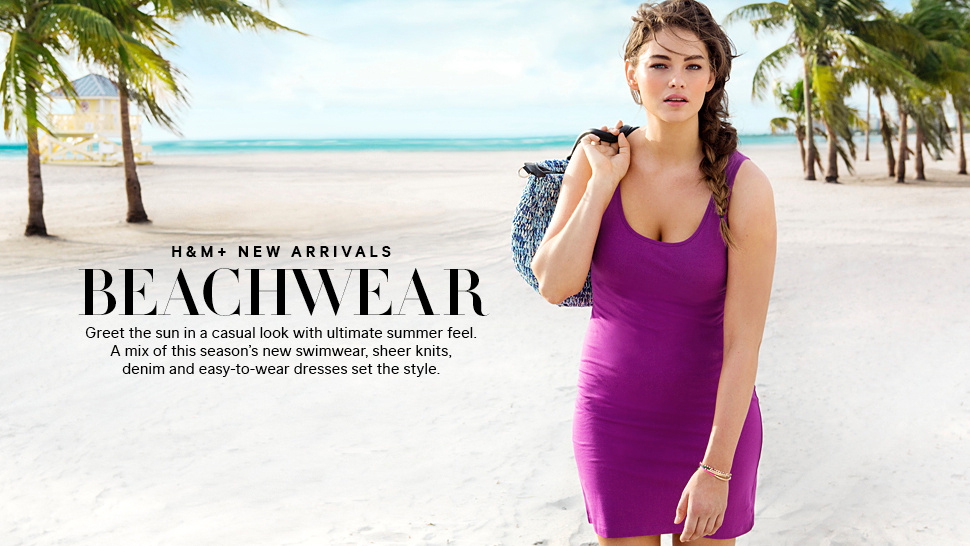 I know, I know. This is yet another article praising the success of a plus-sized model within mainstream fashion. Last year, I went apesh-t over Ralph Lauren's first "plus-sized" (and let's use that term loosely) model, Robyn Lawley, a 6'2″ and size 12 beauty, and then just a few weeks ago, Elle Quebec featured leggy Justine Legault as its very first plus-sized cover model. Now I'd like to introduce you to the positively sultry Jennie Runk, 24, who has taken H&M by storm at size 14 and (gasp!) modelled swimwear to an excellent reception.
Mind you, Jennie is not just a pretty face or a luscious body. She has composed an essay that has been published on the BBC site, and she explains her perspective in an amazingly relatable manner. She also stresses that all body types should be embraced, which makes me a huge fan already. Here's what Jennie had to say: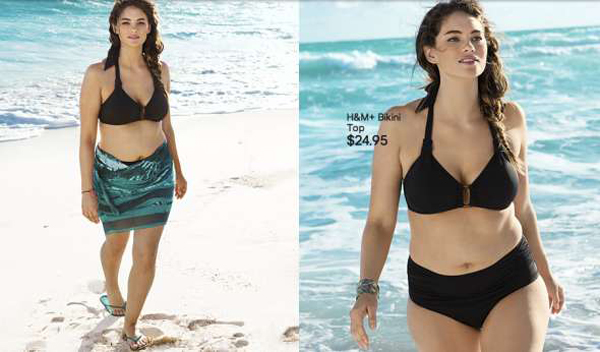 I had no idea that my H&M beachwear campaign would receive so much publicity. I'm the quiet type who reads books, plays video games, and might be a little too obsessed with her cat.

So, suddenly having a large amount of publicity was an awkward surprise at first. I found it strange that people made such a fuss about how my body looks in a bikini, since I don't usually give it much thought.

When my Facebook fan page gained about 2,000 new likes in 24 hours, I decided to use the attention as an opportunity to make the world a little nicer by promoting confidence. I've since been receiving lots of messages from fans, expressing gratitude.

Some even told me that my confidence has inspired them to try on a bikini for the first time in years. This is exactly the kind of thing I've always wanted to accomplish, showing women that it's OK to be confident even if you're not the popular notion of "perfect."

This message is especially important for teenage girls. Being a teenage girl is incredibly difficult. They need all the help and support they can get.

When our bodies change and we all start to look totally different, we simultaneously begin feeling pressured to look exactly the same. This is an impossible goal to achieve and I wish I had known that when I was 13. At 5ft 9in and a US size eight (usually either a UK 10 or 12), I envied the girls whose boyfriends could pick them up and carry them on their shoulders.

Gym class was a nightmare. While the thin girls were wearing shorts, I was wearing sweat pants because my thighs were the size of their waists, and those pants were embarrassingly short because I was taller than the average adult, but still shopped at (pre-teen clothing store) Limited Too.

I also had thick, curly hair that only drew more attention to me, hiding behind my braces and beige, wire-rimmed glasses. On top of all this I've always been rather clumsy, so to say that my adolescence was awkward is an understatement.

Having finally survived it, I feel compelled to show girls who are going through the same thing that it's acceptable to be different. You will grow out of this awkwardness fabulously. Just focus on being the best possible version of yourself and quit worrying about your thighs, there's nothing wrong with them.

After all, I never thought of myself as model material but then I was discovered at a Petsmart, while volunteering in my too-short sweat pants no less.

I was given the option to lose weight and try to maintain a size four (a UK six or eight), or to gain a little – maintain a size 10 (a UK 12 or 14) – and start a career as a plus-size model. I knew my body was never meant to be a size four, so I went with plus.

People assume "plus" equates to fat, which in turn equates to ugly. This is completely absurd because many women who are considered plus-sized are actually in line with the American national average, or a US size 12/14 (somewhere between a UK size 14-18).

I can't argue that some styles look better on one size than another.

While the idea of separating women into size categories seems stigmatising, clothing companies do this in order to offer their customers exactly what they're looking for, making it easier for people of all sizes to find clothes that fit their bodies as well as their own unique stylistic expression.

The only problem is the negative connotations that remain stubbornly attached to the term "plus-size". There shouldn't be anything negative about being the same size as the average American woman, or even being a little bigger. Some women are perfectly healthy at a size 16 (a UK 18 or 20).

There are also negative connotations associated with thinness. Just as bigger women get called fat or chunky, thin women get called gangly or bony.

There's no need to glamorise one body type and slam another. We need to stop this absurd hatred towards bodies for being different sizes. It doesn't help anyone and it's getting old.
[From BBC]
Doesn't Jennie make a lot of sense? She's not arguing that plus-sized is necessarily the best way for a person (or even a model) to be. Instead, she is arguing for acceptance of all body types. I'd also like to proffer the theory that one can even be super fit and healthy while fitting into many body types. From Denise Richards to Kate Upton, health and beauty comes in many shapes and sizes.
Oh, and Jennie Runk? She is GORGEOUS.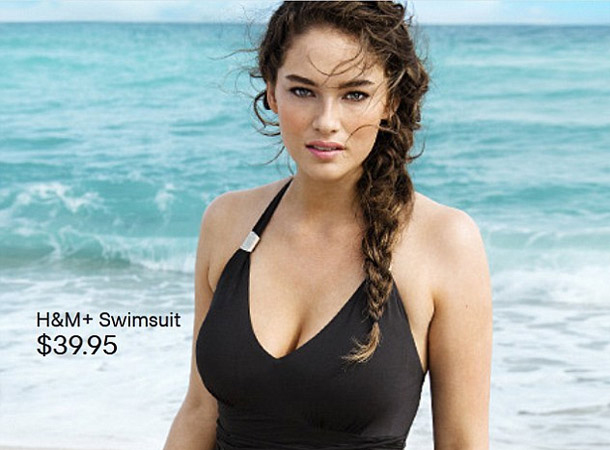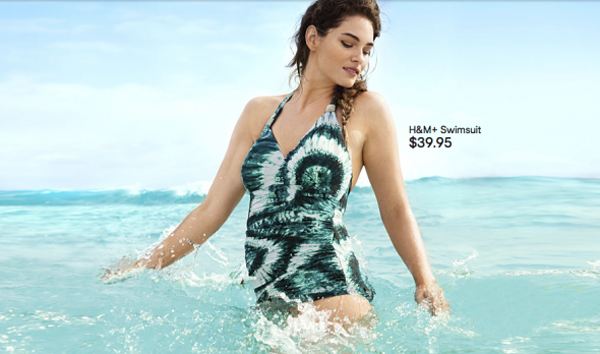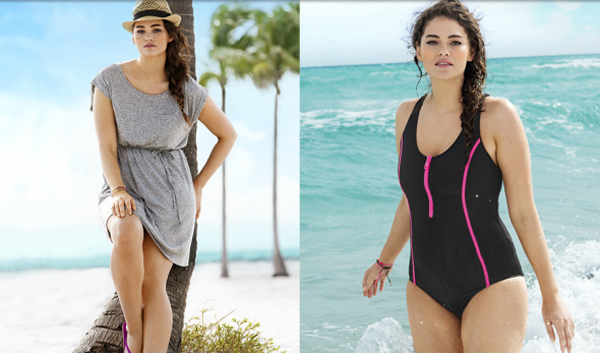 Photos courtesy of H&M